Williams Sonoma, Inc (WSM) reported their earnings this past week and proved that, even in a choppy market environment, strong earnings can be rewarded. In fact, look at the chart below, which shows the stock spiking a nifty 30% in just two days as traders cheered their performance.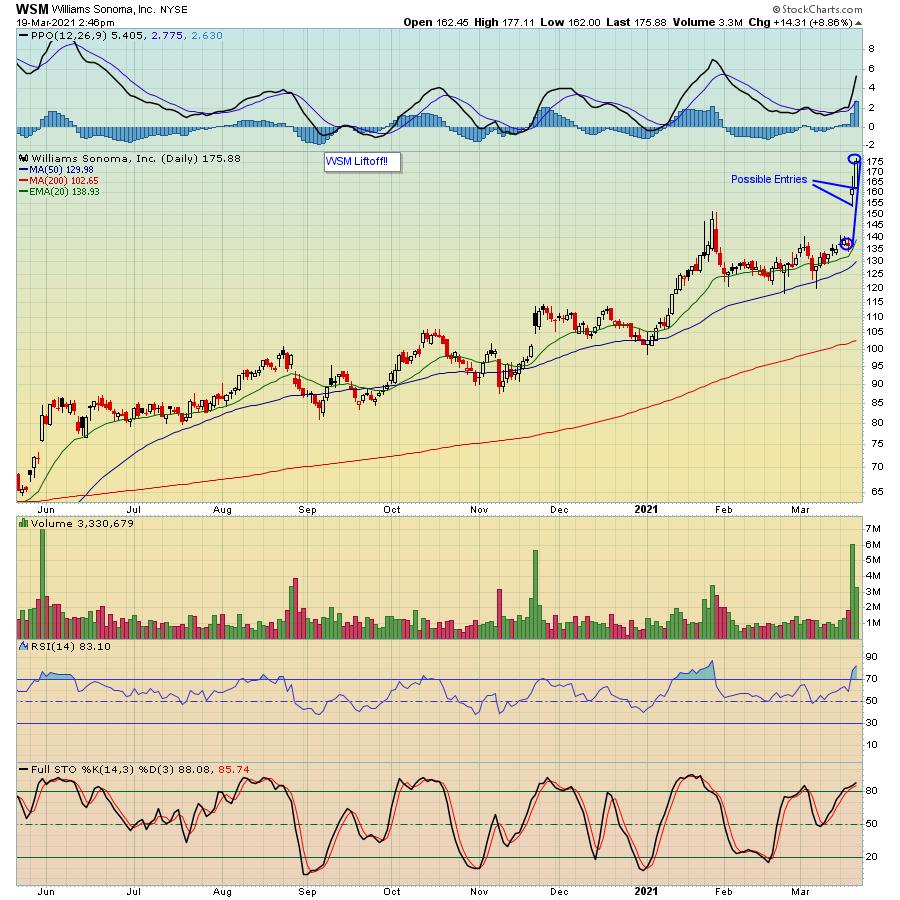 WSM had the hat trick, with strong bottom and top line results plus a perky future forecast, all adding up to stock nirvana and putting the company on the radar screen of serious traders.
That nice 30% pop to the upside would have been even sweeter if you owned the stock into the earnings report. But the next best thing will be to be patient and watch for a pullback to a level that could present a nice reward to risk opportunity. For example, the low on the stock on Friday was $162, so that's one level to watch for. Even better would be a pullback to just above $153, with a tight stop just in case the stock moves below that level.
WSM's nice showing could be a sign of what could be coming when Q1 earnings start coming out in the beginning of April, in spite of all of the worry about how rising rates might put a damper on results. However, we can't ignore the fact that there has been a shift in sentiment towards value stocks, with traders shying away from Tech stocks. But will that last? Time will tell, but in the meantime, our Chief Market Strategist, Tom Bowley, will be conducting a webinar this Tuesday, March 23 entitled "Changing of the Guard", where he will be discussing how the recent shift might impact the earnings picture in Q2. This is a FREE event open to all EarningsBeats.com community members and if you are interested in attending, just click here to sign up for Tom's free EarningsBeats Digest. You will receive additional information and a room link prior to the 4:30 pm Eastern start.
At your service,
John Hopkins
EarningsBeats.com