Over the long haul, earnings and Fed policy have more to do with stock market direction than anything. Focus on these two and you'll be just fine. Tune everything else OUT. President Biden's possible tax hike on capital gains was a problem..... for an hour on Thursday. I didn't see the big deal on Thursday and I still don't. Raising taxes at the individual level has no impact on stock valuations whatsoever. I do realize it can impact the market if wealthy investors decide that the risk isn't worth the reward if taxes are too high, however. But I don't believe we're at that level just yet and a lot can happen between now and the passage of such a tax increase. Can the President actually garner enough support in the Senate to pass something of this nature? It's way too early to tell. But the market's action on Friday is about what I would have expected. It was a collective yawn.
So let's turn our attention to earnings. If you haven't been paying attention, the numbers have been astounding. Most companies are beating estimates by a mile, which is exactly why you should view PE ratios as useless. The "E" part of PE is exploding higher. There have been so many awesome quarterly reports out already, but I'll highlight two of my favorites:
Wells Fargo (WFC)
I've already written one article in my Trading Places blog regarding the stellar earnings report of WFC, so I won't spend a lot of time here discussing it, but let me say this: the long-term relative downtrend in WFC has ended. It's just my opinion, of course, but I honestly believe this will be a leading bank moving forward. Here were the latest quarterly numbers:
Revenues: $18.06 billion (actual) vs. $17.50 billion (estimate)
EPS: $1.05 (actual) vs. $0.69 (estimate)
WFC, perhaps more importantly, has now reached a 1-year relative high vs. its bank peers: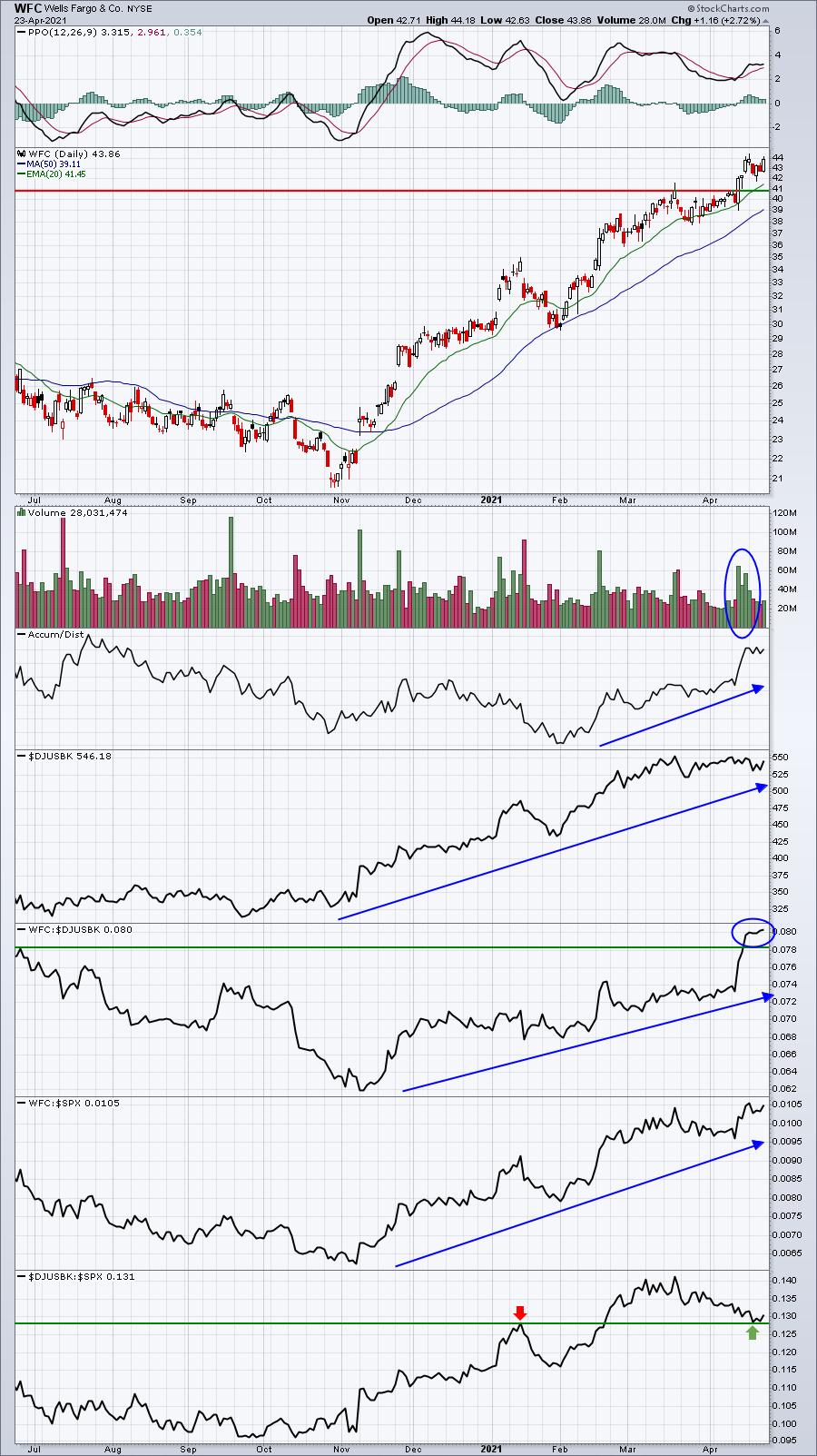 There's little to not like about this chart. The banking group has been strong and WFC is a leader, posting excellent quarterly results. Look for further strength ahead.
Intuitive Surgical (ISRG)
Talk about blowing numbers out of the water? Revenues weren't close. Neither were earnings. Check out these quarterly results:
Revenues: $1.29 billion (actual) vs. $1.11 billion (estimate)
EPS: $3.52 (actual) vs. $2.61 (estimate)
These numbers aren't close. You know that Wall Street will have to re-crunch their valuation numbers after this blowout; this is why PE ratios are meaningless right now. By definition, PE is price divided by earnings. The problem is that earnings are rising much, much faster than forecasts. As estimates are raised, PEs will fall... well, except that bull markets anticipate future earnings acceleration, so those following PE ratios will always be warning you to stay away from the market. And, in 10 years, those PE ratios will legitimately be too high. In the meantime, the 10-year treasury yield will net you 1.6%.
Technically, ISRG looks exceptionally strong as well. Check out the breakout that resulted from earnings earlier this week:
Medical equipment ($DJUSAM) has suddenly regained strength and it would be hard to find many stocks within this industry performing better than ISRG. I love to see large hollow candles on extremely heavy volume, as it suggests that demand was so overwhelming that market makers could not gain control of the action and likely had to cover their short positions at a loss, adding to the buying frenzy. The top of gap support is 840.92. I'd expect that level to provide excellent price support as we move forward.
On Monday, April 23, 2021, I'll provide you ALL of my favorite earnings reports released this quarter thus far, and I'll also provide you a look into the stocks that I believe will report blowout earnings results in the weeks to come. This webinar will be roughly an hour long and is an EarningsBeats.com members-only event. For more information on the event, CLICK HERE.
Also, we have a free EB Digest newsletter that's published 3x a week. There's no credit card required and you may unsubscribe at any time. You can enter your name and email address HERE to join!
Happy trading!
Tom