Each week in my DecisionPoint Diamonds reports, I give readers 10+ stock picks to consider. This week, we had 11 picks. I look for stocks that are beginning to show positive momentum, bullish chart patterns, breakouts and improving relative strength among not only the SPX, but also against its industry group.
Today, I thought I would share three of last week's "Diamonds in the Rough." I have two "Darlings" and one "Dud." They aren't all winners and certainly are not "sure things," so I feel it is appropriate to show you the trade that didn't work out.
This week's "Darlings" come from the Biotech industry group, which really broke out this week. This week's "Dud" wasn't actually too bad. It was a timing issue, but it actually looks pretty good going forward. As part of a DP Diamonds subscription, you also get entrance into the Friday "Diamond Mine" where we review in detail the "Diamonds in the Rough" that presented for the week. I also take symbol requests and we look at BUY points for symbols with promise. An added bonus is that, at the end, we "mine" for new opportunities going into next week.
Below I have the "Diamonds in the Rough" as they were presented originally, followed by my comments on the chart today.
Darling #1:
Illumina, Inc. (ILMN) - Up +4.43% since 6/9
EARNINGS: 8/5/2021 (AMC)
Illumina, Inc. engages in the development, manufacturing, and marketing of life science tools and integrated systems for large-scale analysis of genetic variation and function. It operates through Core Illumina segment, which serves customers in the research, clinical and applied markets, and enables the adoption of a variety of genomic solutions. The firm's products include instruments, kits and reagents, selection tools, software and analysis. Its services include sequencing and microarray services; proactive instrument monitoring; and instrument services, training and consulting. The company was founded by David R. Walt, John R. Stuelpnagel, Anthony W. Czarnik, Lawrence A. Bock and Mark S. Chee in April 1998 and is headquartered in San Diego, CA.
Below is the chart and commentary from Wednesday (6/9):
"ILMN is down -0.01% in after-hours trading. I was surprised I hadn't covered this one before. It's not as volatile as many of the biotechs out there. We have a nice breakout from a trading range. The breakout occurred Monday and price has held above support today and yesterday. The RSI is on the overbought side, so we should be aware of that. The PMO is on an oversold BUY signal and has now reached positive territory. There was a recent IT Trend Model "Silver Cross" BUY signal when the 20-EMA crossed above the 50-EMA. The OBV is confirming the rally and the SCTR is almost in the "hot zone" above 75, meaning it is in the upper quartile among all large-cap stocks. Outperformance is clear. I like that you can set a reasonable 7% stop."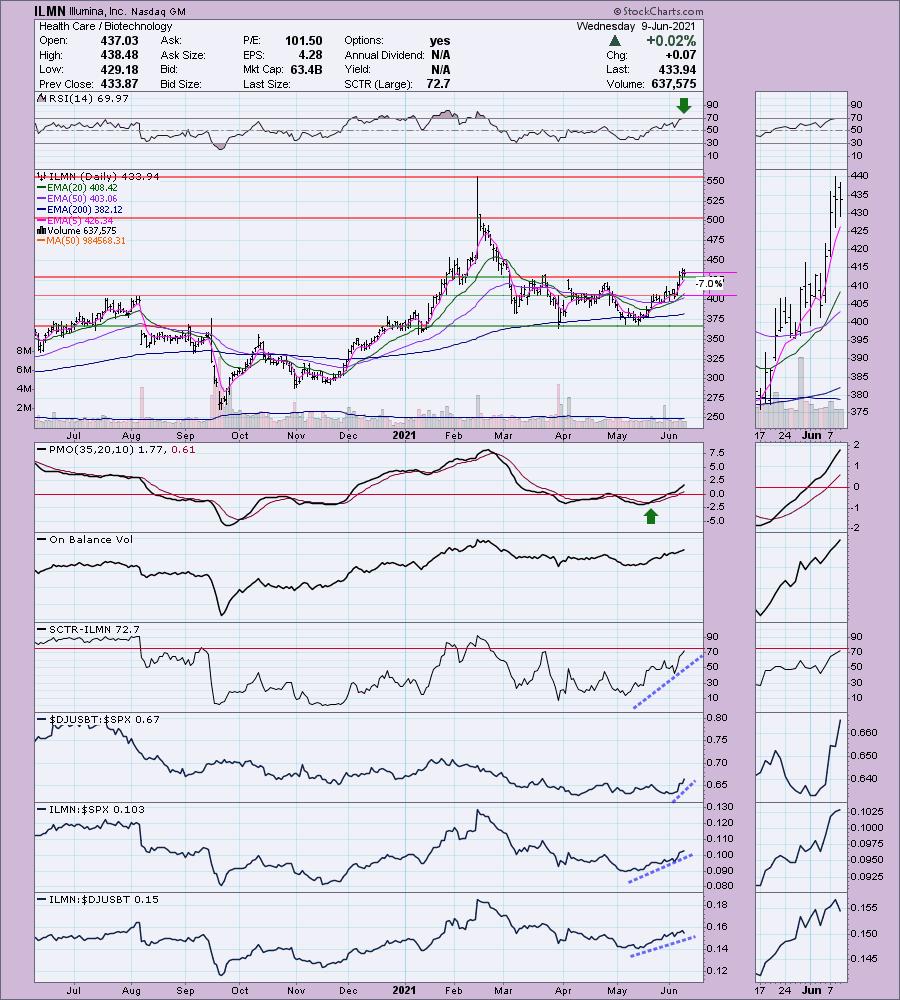 Here is today's chart:
The biggest flaw is the overbought RSI, which is flattening out. ILMN needs to consolidate Thursday's breakout. It began to today, I still love this Biotech and you can tighten the stop more too. The SCTR is now in the "hot zone" above 75, meaning it is in the top quartile among its peers in the large-cap "universe." Also, regarding the SCTR, the calculations are heavily based on intermediate- and long-term indicators.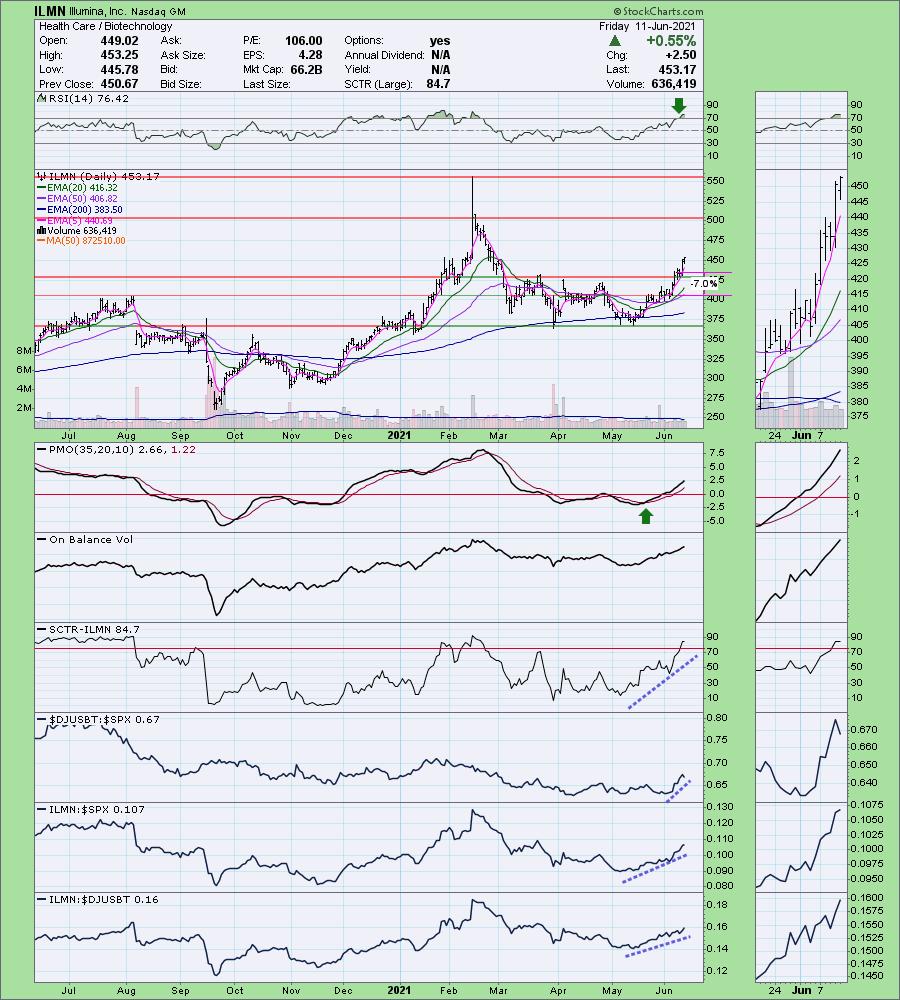 ---

Take advantage of our Spring special! Ending in July!
Get 50% off your
first
month of DecisionPoint:
Use coupon code: SAVE50 at checkout!
---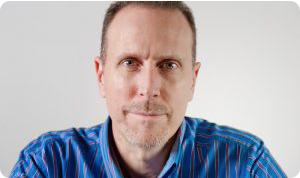 Arthur Hill, CMT in the free DecisionPoint Trading Room!
Arthur Hill, CMT, is the Chief Technical Strategist and main author at TrendInvestorPro.com. Schooled in classical technical analysis, Arthur crossed over to the dark side, quantitative analysis, in 2012. Classical technical analysis provides a solid foundation for learning, but is largely subjective and discretionary in nature. Quantitative analysis puts classical technical indicators to the test with clear rules, signals and results. Taken together, classical chart analysis and quantitative analysis provide the basis for Arthur's systematic approach to analysis, trading and investing. Next level technical analysis.
If you missed Arthur's appearance, here is a link to the recording:
Topic: DecisionPoint Trading Room
Start Time : Jun 7, 2021 08:41 AM
Meeting Recording Link.
Access Passcode: June-7th
Register now for the free Monday DP Trading Rooms!
Click here to register in advance for the recurring free DecisionPoint Trading Room! Recordings are available!
---
Darling #2:
Novavax, Inc. (NVAX) - Up +2.31% since yesterday
EARNINGS: 8/9/2021 (AMC)
Novavax, Inc. focuses on the discovery, development and commercialization of vaccines to prevent infectious diseases. It provides vaccines for COVID-19, seasonal flu, respiratory syncytial virus, Ebola and Middle East respiratory syndrome. The company was founded in 1987 and is headquartered in Gaithersburg, MD.
Here is the chart and commentary from Thursday (6/10):
"NVAX is up +0.16% in after hours trading. I covered NVAX as a Reader Request on July 30th, 2020. It hit its 9.2% stop when price dropped in August, so the position would be closed at this point. However, I like it today given the improvement in the Biotech space and knowing that this one is a leader based on the 98.9 SCTR. Today, price pulled back toward the breakout point. This took the RSI away from overbought territory. The PMO shows no damage and is now rising in positive territory on an oversold crossover BUY signal. Volume is coming in and, despite the pullback, the OBV didn't sustain much damage either. The stop is set below the August 2020 top."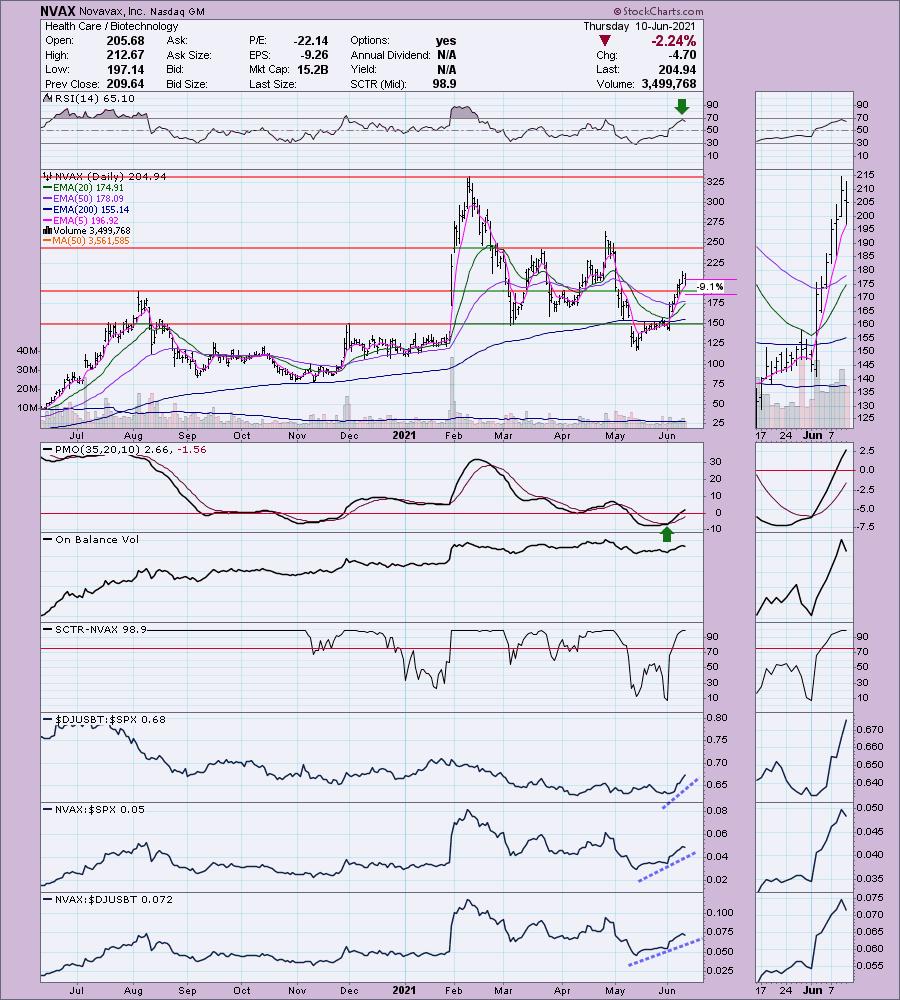 Below is today's chart & commentary:
The trade still looks good and it isn't too late for entry. The RSI is positive and not overbought. The PMO is rising strongly on a BUY signal. Most interesting is the nearing of an IT Trend Model "Silver Cross" BUY signal, which will be triggered when the 20-EMA crossover above the 50-EMA. Join me in the free Trading Room on Monday and we'll explore the best BUY points! Register HERE if you haven't already.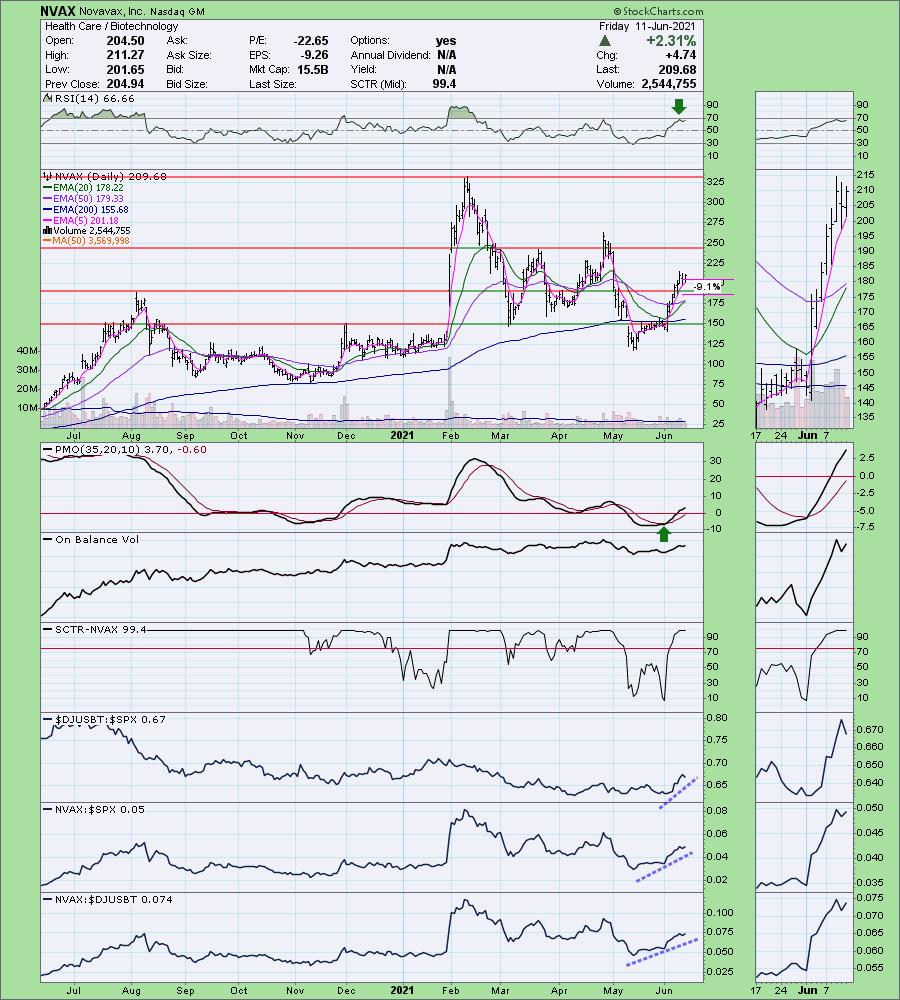 ---
---
Dud:
Dycom Industries, Inc. (DY) - Down -2.91% Since 6/8
EARNINGS: 8/25/2021 (BMO)
Dycom Industries, Inc. provides contracting services throughout the United States. Its services include engineering, construction, maintenance and installation services to telecommunications providers, underground facility locating services to various utilities, including other construction and maintenance services to electric and gas utilities, and others. The company was founded in 1969 and is headquartered in Palm Beach Gardens, FL.
Below is the chart and commentary from Tuesday (6/8):
"DY is up +0.72% in after hours trading. I covered DY in the October 14th 2020 Diamonds Report. I didn't put a stop on the chart, but an 8% stop wouldn't have triggered even on the big gap down in November. This means that the position is up +26.7%. The end of May was killer for DY, but it is retracing the decline rapidly. The first of two gaps has now been covered. Today's rally pushed DY above the 20-EMA. The PMO had already begun to curl upward. The RSI isn't positive yet, but it is on its way. The industry group is outperforming the SPX and DY is outperforming both. The stop is set below the gap, right around the 200-EMA at $77.28."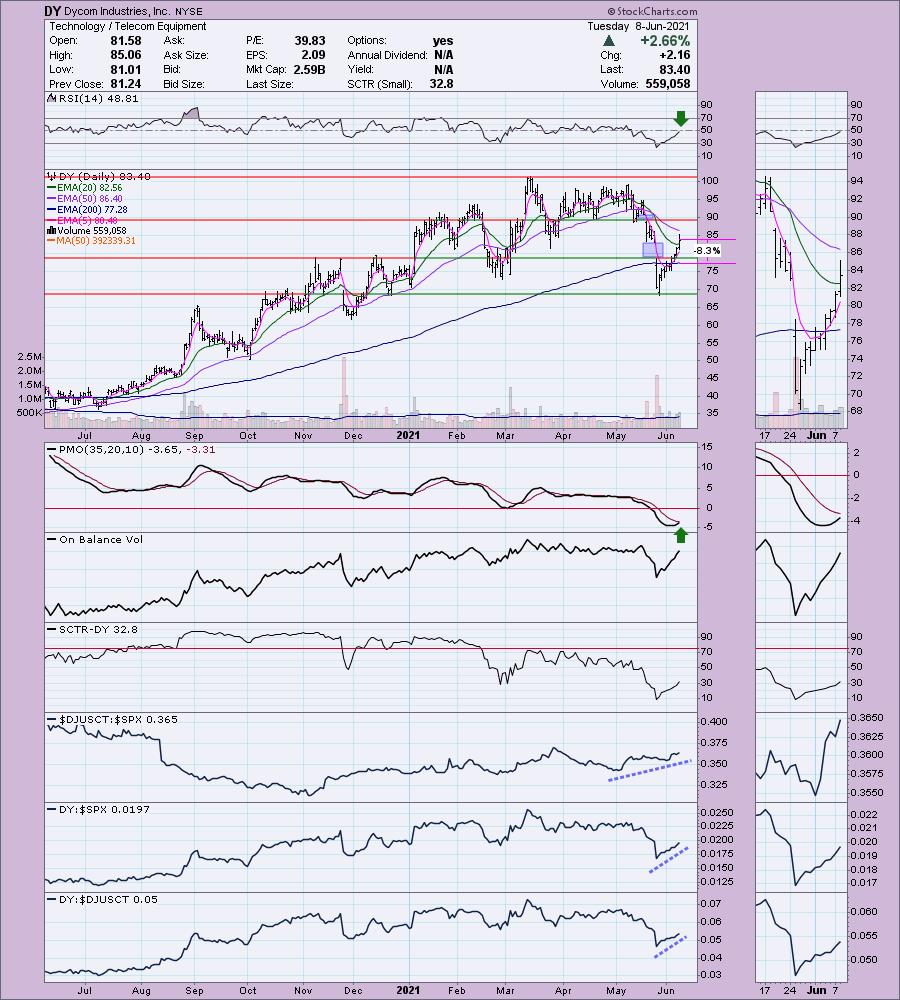 Below is today's chart:
While a lot of things went wrong on this chart, everything still looks bullish, especially after today's strong rally. A short-term flag has formed. The PMO had a positive crossover today. The RSI is still negative, but it is rising again. The timing was just off for it to look good this week. However, if we revisit this chart later, I expect that flag will have resolved upward and we'll be challenging the highs from April and May.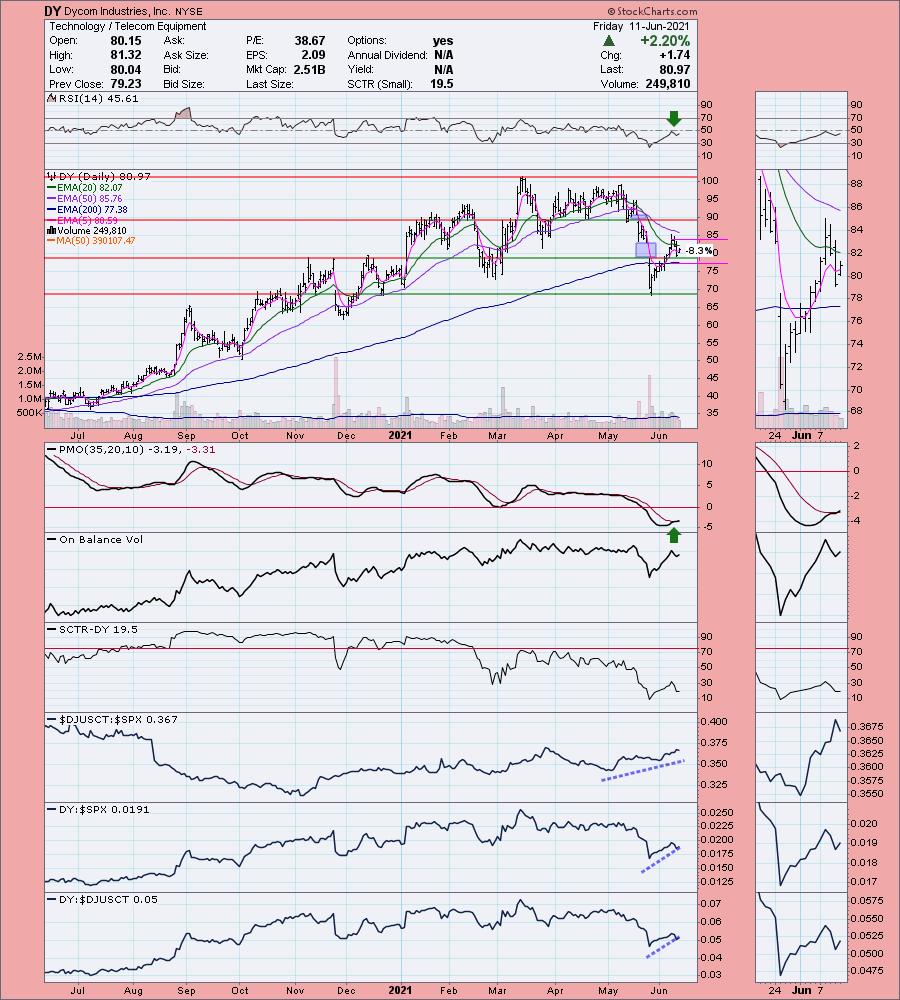 Happy Charting! - Erin
---
Technical Analysis is a windsock, not a crystal ball.
---
Helpful DecisionPoint Links:
DecisionPoint Alert Chart List
DecisionPoint Golden Cross/Silver Cross Index Chart List
DecisionPoint Sector Chart List
Price Momentum Oscillator (PMO)
Swenlin Trading Oscillators (STO-B and STO-V)
---
DecisionPoint is not a registered investment advisor. Investment and trading decisions are solely your responsibility. DecisionPoint newsletters, blogs or website materials should NOT be interpreted as a recommendation or solicitation to buy or sell any security or to take any specific action.