Friday, June 18th is the next monthly options expiration day and, if it's like recent option-expiration Fridays, then get ready for crazy reversals. To best illustrate how the madness around options expiration works, we'll review past results.
Before I do that, let me explain that I host a "Max Pain" webinar the Tuesday before the 3rd Friday of every calendar month. Options expire on the third Friday every month, so we want our members to at least be aware of crazy reversals that could materialize in the market makers' attempt to wipe out options premium, saving themselves BILLIONS in premium payouts each month.
When a company's stock makes a big run in either direction and is heavily traded on the options exchange, you'd better keep one eye on max pain, which I define as the point in which in-the-money call premium is completely offset by in-the-money put premium. I'll give away my age here, but I like to use the analogy of a seesaw. When a stock makes a big advance, there will be thousands (quite possibly hundreds of thousands) of in-the-money calls, while there'll be relatively few in-the-money puts. If you think about the call premium (heavy) on one side of the seesaw and the put premium (light) on the other side, you should be able to picture what that seesaw would look like. The call premium side would be weighed down to the ground, while the put premium side would be way up in the air with legs dangling. That provides market makers an incentive to see that stock fall into options expiration day, minimizing the net payout of all those in-the-money calls and balancing the seesaw.
I'm going to provide you the best max pain monthly call that we made in 2021:
May 2021
While we've had plenty of success in 2021 with max pain, I think May 2021 really stood out, as both our long candidates and short candidates worked out quite profitably. Keep in mind that we provide our EarningsBeats.com members a handful of trade candidates each month based solely on max pain characteristics. We discuss them on the Tuesday night before Friday's options expiration, so we're talking about very short-term trades to take advantage of the market inefficiencies created by options expiration. The following table shows you the Tuesday close, the Max Pain price (think about that evenly-balanced seesaw with legs dangling on both sides) and the price point at which the most profit would have been generated: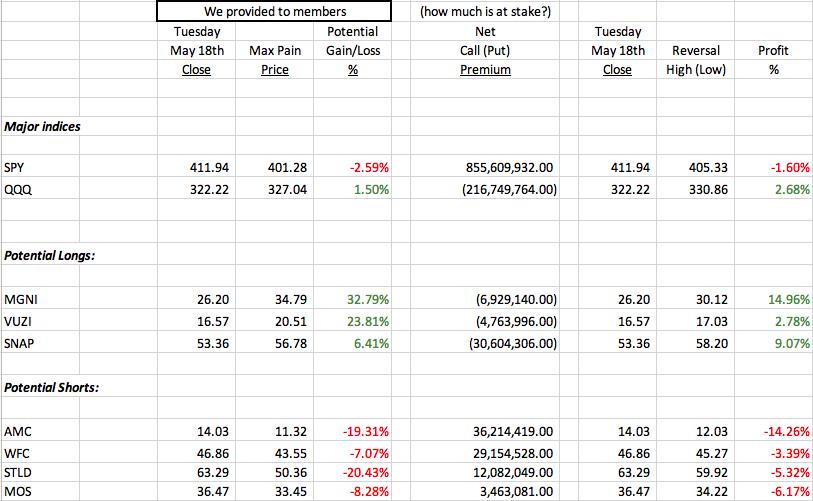 The best potential trade would have been AMC Entertainment (AMC), which was discussed as a short candidate at Tuesday, May 18th's closing price of 14.03. It fell as low as 12.03 within 48 hours, wiping out about $28 million of the $36 million of net call premium. Here was the intraday chart that week showing the price being driven lower: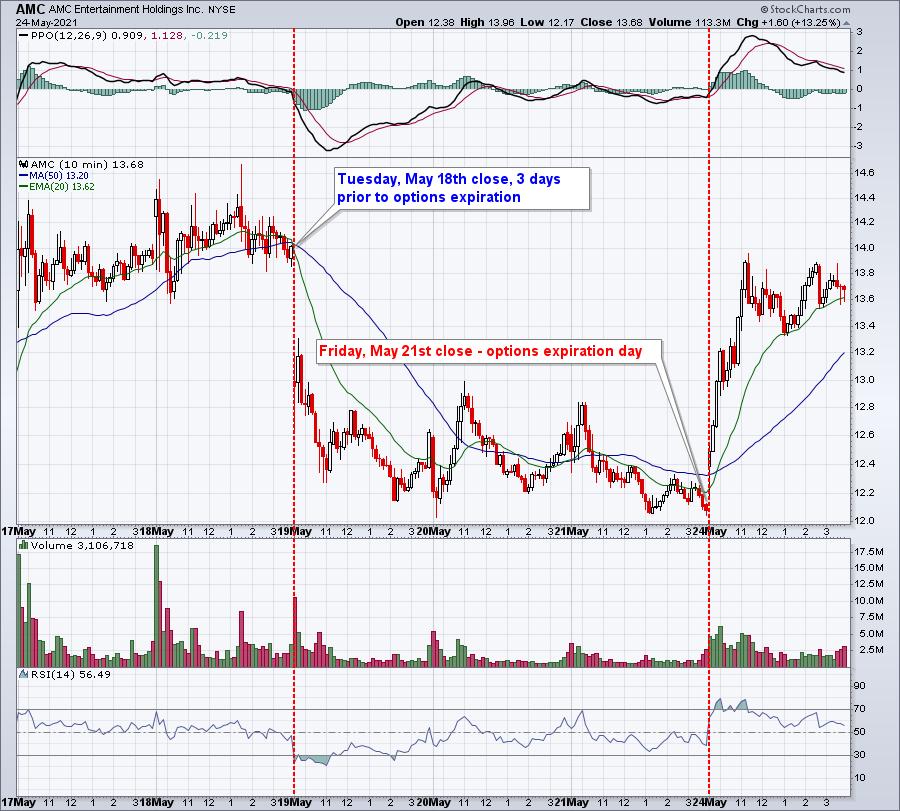 On the flip side, Magnite (MGNI), a software stock, had millions of net put premium, indicating that it was in the market makers' best interest to see prices finish higher. Check out MGNI's chart over the final three days before its options expired: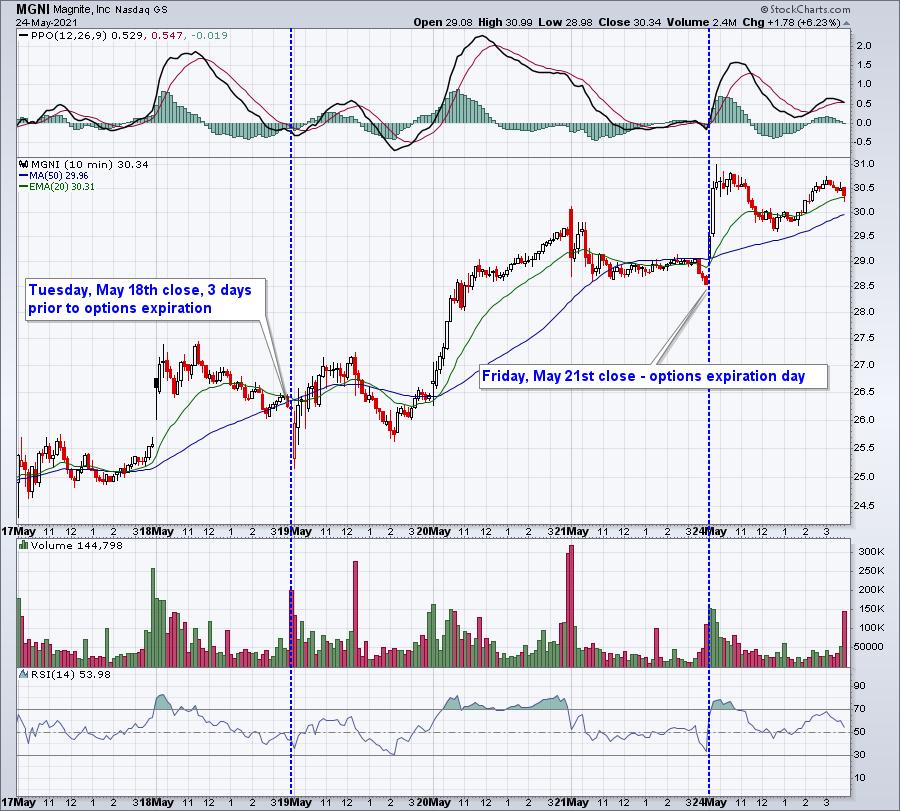 We've been doing this for many years and I can tell you that max pain, like anything else, isn't a guarantee and doesn't work all the time. But I look at it like this. If I was thinking about buying AMC at 14.03 on Tuesday, May 18th, I think it would have been good information to know that it was in the market makers' best interest to see prices decline short-term, even if just temporarily. That would have enabled me to enter into a position on AMC much lower.
This Tuesday, June 15th, I'll be hosting our June Max Pain webinar. These webinars are reserved for our members, but during our Spring Special, we're going to open it up one time to the public. Everyone is welcome. Room instructions will be mailed to everyone in our free EB Digest newsletter community on Tuesday. If you'd like to be included in this webinar, with no strings attached, you just need to be an EB Digest subscriber. CLICK HERE to enter your name and email address in the space provided on our home page. If nothing else, I believe this event will be eye-opening and very educational.
Now is also a great time to become an annual member at EarningsBeats.com, as we're running our annual Spring Special, providing 2 free bonus months. For more information on this special, HERE is the link.
Happy trading!
Tom