Over the past couple of weeks, over 50% of the companies in the S&P 500 have reported results for Q2 2021. Of those, 88% have reported EPS results above estimates. This is well above the average over the past five years.
The markets are all about future growth, however, and the good news is analysts are upgrading their EPS estimates for Q3 by an average of 3.6%. This marks the third largest increase in EPS estimates during the first month of a quarter in eleven years. (source: Factset Research)
Even better news, many of those companies that reported strong 2nd quarter earnings and also had their estimates revised higher are posting huge gains. Each of the top performers from the S&P 500 last week was a company that came in ahead of estimates and had their outlooks upgraded.
Below are four of many examples, and their average gain for the week was 11% -- well above the S&P 500's generally flat performance.
TOP PERFORMERS IN S&P 500 LAST WEEK

It's not too late to capitalize on this market action, as there are plenty more corporations due to report their 2nd quarter results. Below are two companies due next week. They're in industry groups where peer companies have seen explosive moves following strong results, as they provide products that are in high demand.
First up is Small Cap Semiconductor stock Rambus (RBMS), which provides chip design products for the computing, gaming and graphics market. Analysts are anticipating 2nd quarter earnings to grow 875% vs. last year as demand for their products has grown substantially.
RBMS is in the same industry as much larger Applied Micro (AMD), which is listed among the outperformers above. In addition to bullishly receiving a price target upgrade last week, Rambus is a hair away from a 1-month base breakout at $24. The company is due to report earnings after the market's close on Monday.
DAILY CHART OF RAMBUS, INC. (RMBS)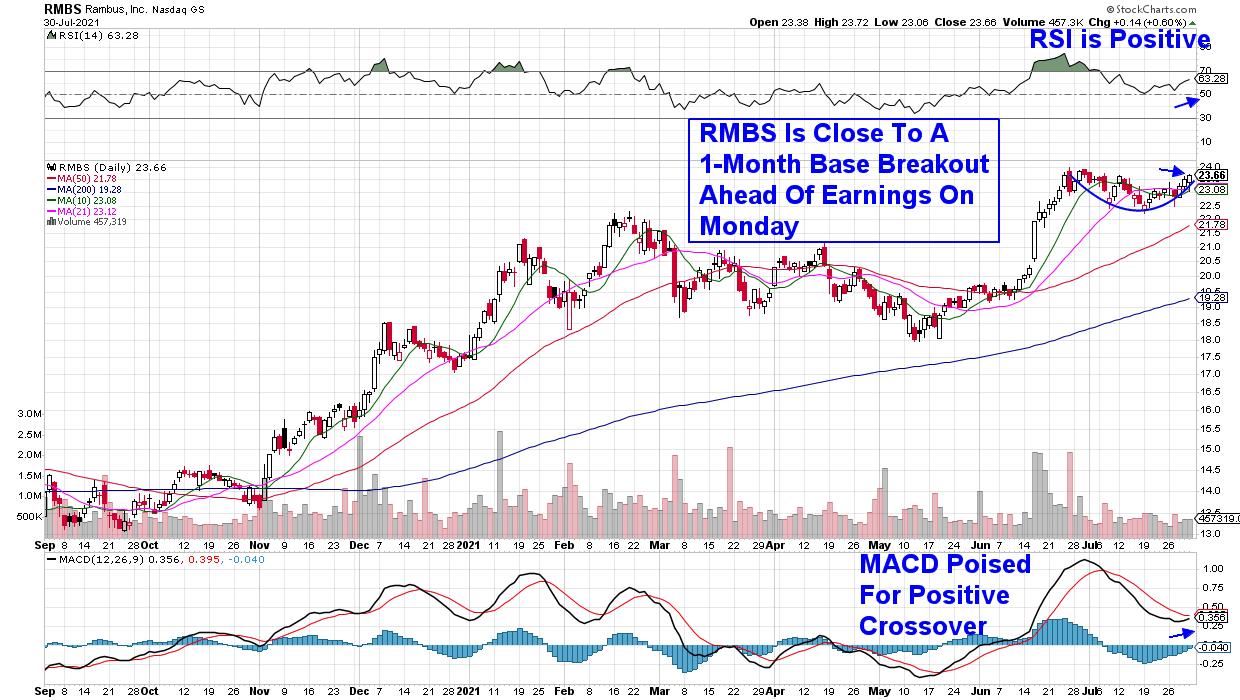 Next up is Western footwear and apparel retailer Boot Barn (BOOT) which is due to report earnings after the market closes on Wednesday. The average estimate is calling for $1.16 in earnings per share, which would be well above last year's negative report due to the pandemic.
BOOT also received a price target upgrade last week ahead of their report, and the stock is in the strong Footwear group, where several peer names such as Crocs (CROX) have gapped up to new highs after coming in ahead of estimates, with analysts raising estimates going forward.
DAILY CHART OF BOOT BARN HOLDINGS, INC. (BOOT)
When searching for additional stock candidates that may far outpace the markets following the release of their 2nd quarter results, here are some key attributes that will improve your success:
First, you'll want the stock to be part of an Industry Group that's seen a number of companies beat estimates and guide higher. This means you're in an area that is experiencing high product demand.
Subscribers to my MEM Edge Report were introduced to West Pharmaceutical (WST) in late April, as it was breaking out of a lengthy base following strong 1st quarter results. The stock is among the top performers (above) as, last week, it gained 9% following another strong quarter. The Medical Supply company provides inject-able drug delivery products which have seen increased demand as vaccine rollouts continue globally.
Another attribute is an analysts' upgrade within 2 weeks of the earnings release. Wall Street analysts are not going to put their neck on the line unless they have some researched insight that have them positive. With Advanced Micro (AMD) listed above, Citigroup finally turned bullish on the stock 2 weeks prior to the company's earnings.
Lastly, a bullish chart is always going to provide an advantage. You'll want the stock to be trading above key support and in an uptrend. While many Bank stocks have been reporting very strong quarterly results, their current downtrends are holding them back from trading higher on the news.
Of course, you'll need the broader markets to remain positive for the above strategy to work. Subscribe to my bi-weekly MEM Edge Report to remain on top of the broader markets, while also being alerted to stocks poised to outperform the broader markets. In depth sector analysis is also included. Use this link here for a special 4-week trial offer!
Warmly,
Mary Ellen McGonagle, MEM Investment Research
---
In this week's edition of StockCharts TV's The MEM Edge, I review last week's market dynamics and uncover what's supporting the continued uptrend in the broader markets. I also share how to capitalize on the strength in 2nd Quarter GDP. Watch now!