Last week was an eventful period for the markets, as two highly impactful news items converged in a perfect storm that could push the markets higher over the near-term and beyond.
At the beginning of the week, Pfizer's COVID-19 vaccine was fully approved by the FDA. The news set off a flood of employers announcing vaccine mandates for workers. While we're still a long way from a potential herd-immunity rate of ~80%, increases in inoculations since the announcement are pushing economically sensitive areas of the market higher on renewed hopes of a successful reopening of the economy.
Later in the week, Fed Chair Powell signaled that the Fed may begin to pull back from their generous monetary policy by year-end. He also stated that he's in no rush, which was just what the markets wanted to hear. Growth stocks outperformed the most on the news.
The result was a broadening out of the markets to include most areas, which is quite positive.
The best performing sector last week was Energy, which gained far more than the broader markets. Most stocks in this sector were in a bear market before this week's rally, despite posting solid quarterly results and increasing their dividends.
DAILY CHART OF ENERGY SECTOR (XLE)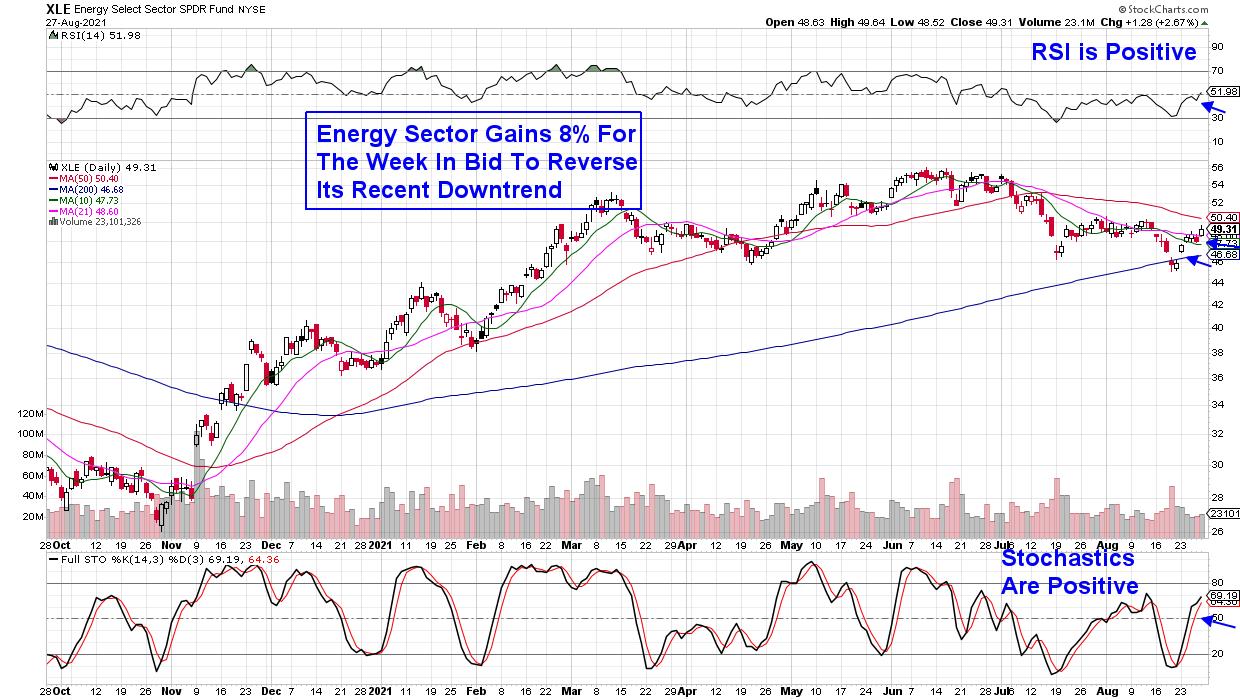 Last week's sharp gains in Energy stocks pushed select names into an uptrend, with others flashing signals that they're poised to follow suit. Below are two names that have more work to do, but are in the beginning stages of reversing their downtrends.
Getting into downtrend reversals early in their upside advance can be very lucrative. Subscribers to my MEM Edge Report are very aware of this, as we identified the turnaround in Energy last Fall while also alerting them to the top names that went on to gain over 100%.
DAILY CHART OF NATIONAL OILWELL VARCO (NOV)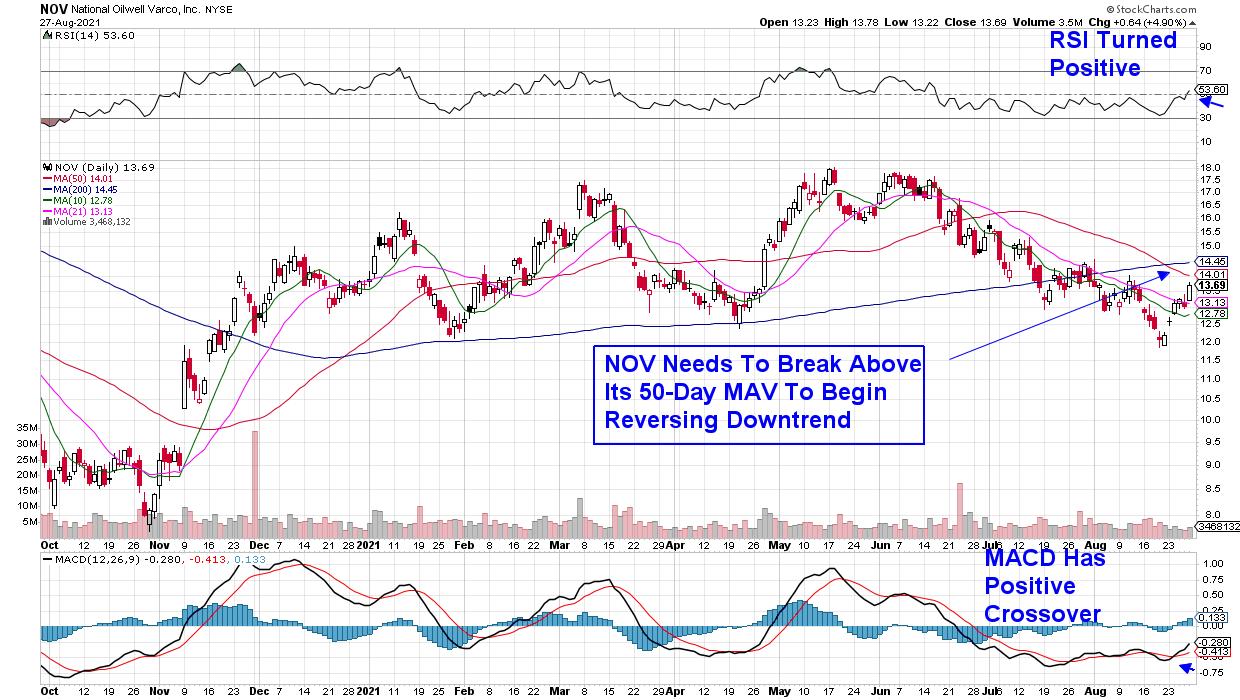 Above is a chart of National Oilwell Varco (NOV), which supplies parts and services to the energy sector. As you can see, this week the stock has rallied from a near-term low in price which, in turn, has pushed the stock above both its 10- and 21-day moving averages.
This is the first step to reversing its downtrend, as further upside price action will pull these shorter-term moving averages into an uptrend so that they can then act as support. From here, NOV will need to break back above its 50- and 200-day moving averages as well, before entering an uptrend.
DAILY CHART OF OCCIDENTAL PETROLEUM (OXY)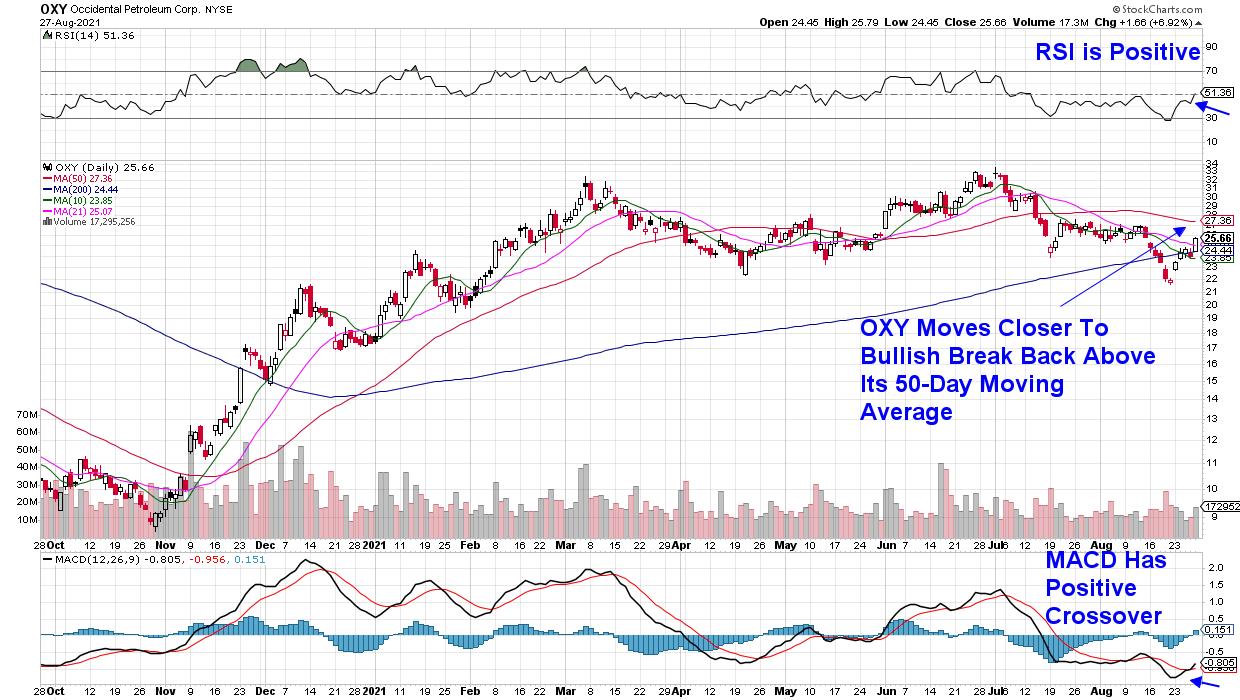 Next up is Occidental Petroleum (OXY) which is in a more constructive position as the selloff from its peak in price in late June was not as severe. Historically, downtrends that last longer and experience a larger percent loss will take longer to reverse.
Occidental has been investing in strengthening their operations, which helped the company report earnings and sales earlier this month that were ahead of estimates. This week's rally has pushed the stock above most of its moving averages, with the RSI turning positive while the MACD had a positive crossover. A push back above its 50-day moving average on volume would put the stock in a position to go much higher.
In addition to the possibility of increased oil usage, another key consideration with Energy stocks is the actual price of oil. Last week, Brent Crude oil rose over 11% for the week to put the per-barrel price at $73. This is very constructive as higher oil prices translate into more revenues for these companies.
If you'd like to be alerted to Oil stocks that are already in an uptrend and poised to trade higher, use this link to take a 4-week trial of my bi-weekly MEM Edge Report. This Sunday, we're adding a new stock from this area to our Suggested Holdings List.
As mentioned, Growth stocks are continuing their advance to greater heights and my MEM Edge Report will put you in front of the top Tech stocks as well. I hope you'll take advantage of my special offer!
---
In this week's episode of StockCharts TV's The MEM Edge, I review shifting dynamics in the market after several impactful news items were released. I also share a major group that's just now turning bullish with much further upside ahead.
---
Warmly,
Mary Ellen McGonagle