It wasn't too long ago that a $5 billion market cap company was considered a "mid-cap". But in today's mega-cap world of Apple (AAPL) and Microsoft (MSFT) sporting $2.46 trillion and $2.25 trillion market caps, respectively, $5 billion to them is spare change. So, in this land of giants, I thought I'd pour through all of my quarterly earnings research to try to find a $5 billion nugget that might soon grow to be a $10 billion nugget.
The Exhaustion Gap
An exhaustion gap occurs at the end of a very strong and lengthy trend -- either to the upside or downside. It's typically characterized by extremely heavy volume. In my experience, an exhaustion gap that ends an uptrend is usually a black candle, which is a huge opening gap higher followed by intraday selling. Alternatively, in the case of a bottom, a huge opening gap lower, followed by intraday buying. Again, the key is for massive volume to accompany the day's price action. Enter Fastly (FSLY), which recently reported a revenue miss and lowered both revenue and EPS guidance for the upcoming quarter and fiscal year 2021. Longs were not happy and, based on the chart action, I'd say they threw in the towel: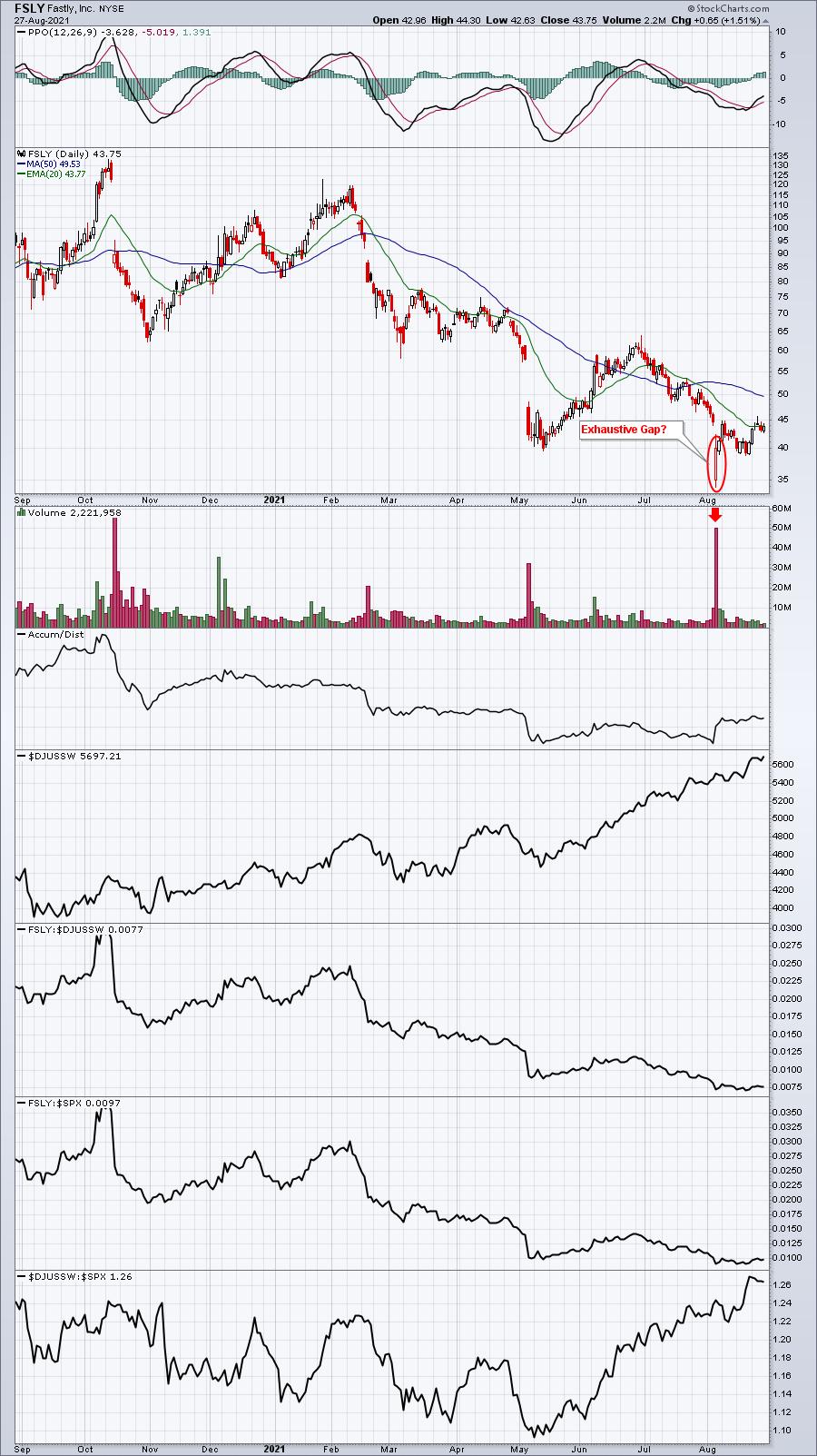 Clearly, FSLY has been in a downtrend. But the "feel" of this latest drop and decline is different from those in recent months. This latest drop after earnings began with another HUGE opening gap lower, but it finished with a big hollow candle, meaning that its close was well above its opening price -- a sign of possible accumulation. Combine that with the next two days' candles, which were similarly hollow, and a case could be made that FSLY has run out of sellers. FSLY's AD line also recently moved to a 3-4 month high.
But there's one other bullish point to be made on FSLY's weekly chart:
FSLY's breakout past 35 in May 2020 had not been retested.....until that earnings-related gap lower. The weekly chart suggests 35 could definitely be a turning point and the exhaustion gap is adding to that possibility. Obviously, a close beneath 35 challenges this theory, but, until then, I'd be looking for higher prices ahead for FSLY -- potentially much higher prices.
Another software stock gapped lower with its earnings, printing a double bottom, before rallying strongly. I believe it's in a bottoming phase as well and will feature it in our free EB Digest newsletter on Monday morning. If you're not already a free subscriber (no credit card required), CLICK HERE to register with your name and email address.
Happy trading!
Tom Bowley, Chief Market Strategist
EarningsBeats.com