While the S&P 500 and the Nasdaq 100 (QQQ) are in striking distance of their early September highs in price, over 20% of the Large Cap stocks within these Indices are in a bear market.* That is to say, they're down at least 20% from their 52-week highs.
Among these 107 stocks that are well off their highs, 35 have a buy rating from at least two-thirds of analysts that were polled by FactSet. In fact, the implied upside potential, using these analysts' price targets, is as high as 68%. I examined the charts of those 35 down and out stocks that Wall Street is embracing, and most of them are in confirmed downtrends with further downside ahead.
There were 3 stocks, however, that are in the throes of reversing their downtrends and, while price targets alone will not edge a stock higher, there are other characteristics that make the stocks below attractive.
DAILY CHART OF NEWS CORP. (NWSA)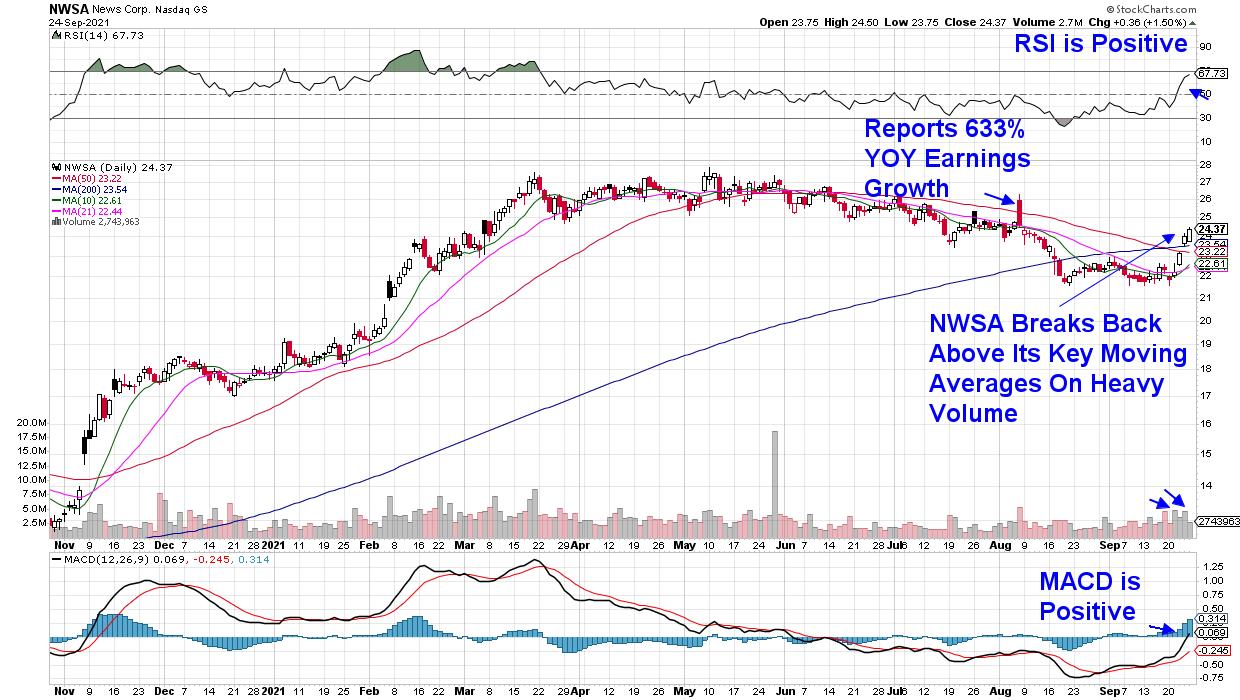 First up is News Corporation (NWSA), which is a media and information services company that's led by Rupert Murdoch. The company reported robust quarterly results in early August, led by growth across all segments. In fact, 2021 has been the most profitable year since the company was founded in 2013. Similar to other digital subscription and streaming services, NWSA's digital ad revenues surged -- particularly in their Real Estate Services area. The stock faltered despite its strong earnings report and has languished below each of its key moving averages until last week's downtrend reversal on heavy volume.
The spark occurred following news that the company had authorized a $1 billion stock-repurchase program, which amounts to 7.8% of their outstanding shares. Recent analyst upgrades also played a part in the NWSA's move into an uptrend. With the stock's RSI in positive territory and the MACD just turning positive, News Corp. is poised to trade higher.
DAILY CHART OF SCHLUMBERGER LTD. (SLB)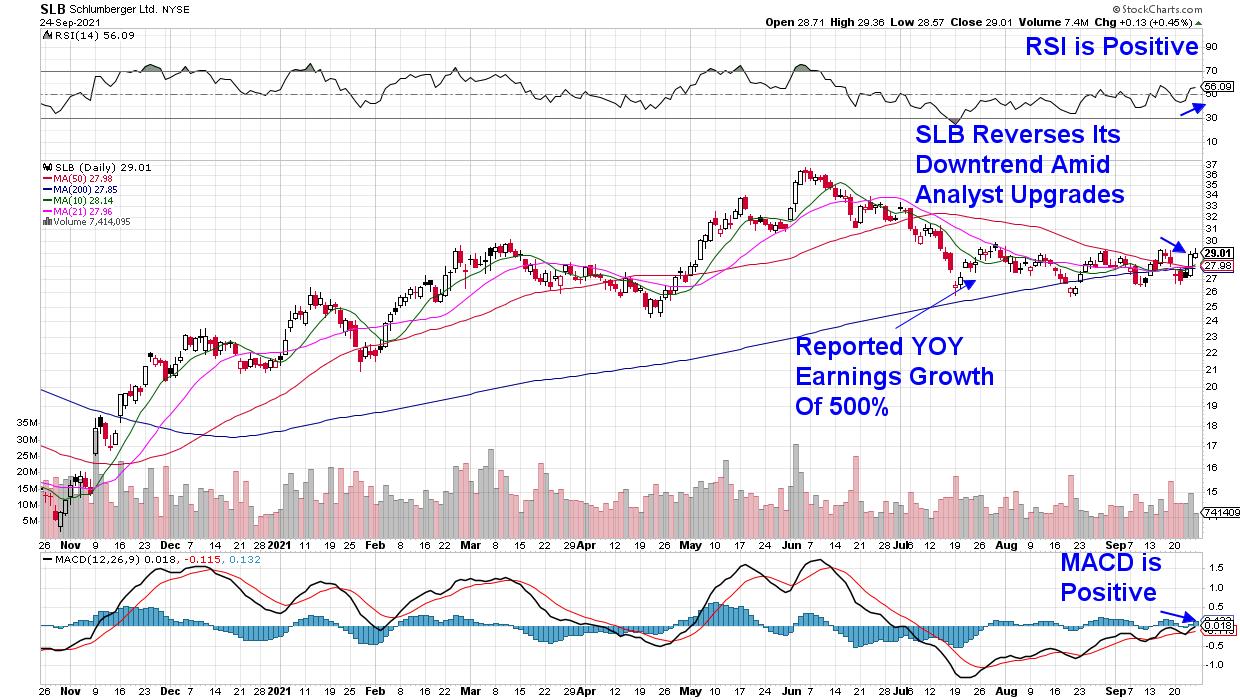 Next up is Oil Services company Schlumberger (SLB), which also reversed a lengthy downtrend last week. The company swung to a profit with their 2nd quarter results as higher oilfield activity and tighter capital spending measures helped them beat estimates.
SLB's move into an uptrend is in line with other Energy stocks after the sector turned bullish last week. Studies have proven that a stock's group affiliation accounts for 39% of that stock's price movement.
While SLB is now poised for further upside, subscribers to my MEM Edge Report have been alerted to Oil Producer stocks recently such as Devon Energy (DVN), which gained 11% last week. These stocks trade more in line with the price of oil, which is now close to a 3-year high in price amid increased oil demand. Use the link above to get immediate access to my other 3 top picks in Energy.
DAILY CHART OF ALASKA AIR GROUP (ALK)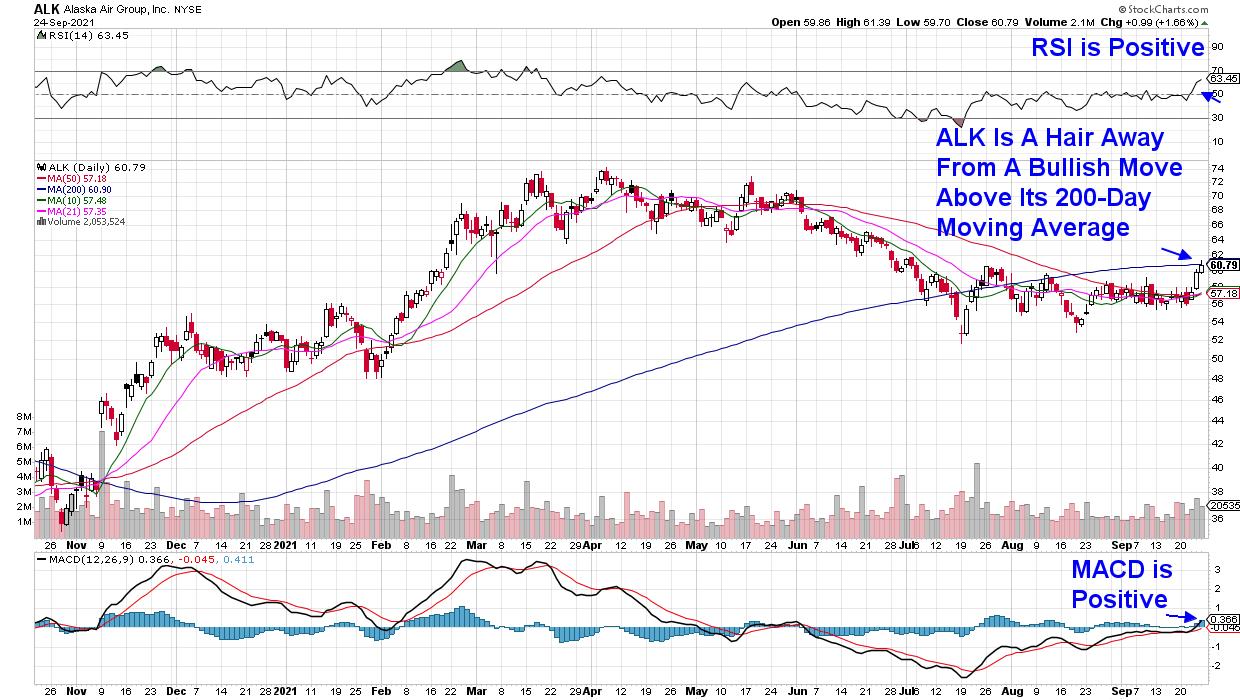 Last up is Alaska Air Group (ALK), which has more work to do but is close to reversing its recent downtrend. Airline stocks in general experienced a late week rally after news that the White House will be easing travel restrictions on visitors vaccinated against COVID-19.
Increased travel within the U.S. is also boosting these stocks. Last week, ALK placed an order for 12 new jets following expanded routes to Central America, as well as regionally in the U.S. A break above its 200-day moving average would provide a bit more conviction that ALK is ready for takeoff.
Over 80% of analysts who cover both Schlumberger (SLB) and News Corp (NWSA) have a buy rating on the stock, while 93% of analysts are bullish on Alaska Airlines. On average, these analysts are calling for a 37% price improvement from here.
While these stocks may go on to outperform the markets, my work uses a proven system that uncovers winning stocks and its centered around higher growing companies that are in sustainable uptrends. These stocks have even higher upside potential. If you'd like to immediately access this list of high quality growth stocks, use this link here for a 4-week trial of my bi-weekly MEM Edge Report for a nominal fee. You'll also receive market and sector insights not seen anywhere else!
Last week, subscribers received 2 special Alert reports in addition, following an early-week selloff that rattled many investors. Use the link here and I'll help you navigate these tricky markets while alerting you to top candidates poised to outperform the markets.
---
On this week's edition of StockCharts TV's The MEM Edge, I review the broader markets and highlight the shift into newer sectors. I also review stocks that had major moves last week which, in turn, impacted other stocks in their group.
---
Warmly,
Mary Ellen McGonagle
President, MEM Investment Research
*This article was based on a report from MarketWatch on September 24th.