Fed Chair Powell signaled new concerns about inflation today after remarking that global supply-chain constraints and shortages that have led to elevated inflation "are likely to last longer than previously expected". He also added that "it is still the most likely case" that it will last well into next year.
Investors are watching closely as well, as September's Consumer Price Index report puts the pace of inflation at 5.4%. That's more than double the Federal Reserve's 2% target.
One area of the market that provides natural protection against inflation are REITs. These Real Estate Investment Trusts have underlying real estate holdings that increase in value during inflation; as does the rent that tenants have to pay. This is because many leases are tied to inflation, and the result is REIT dividend growth that provides a reliable stream of income.
DAILY CHART OF REAL ESTATE SECTOR (XLRE)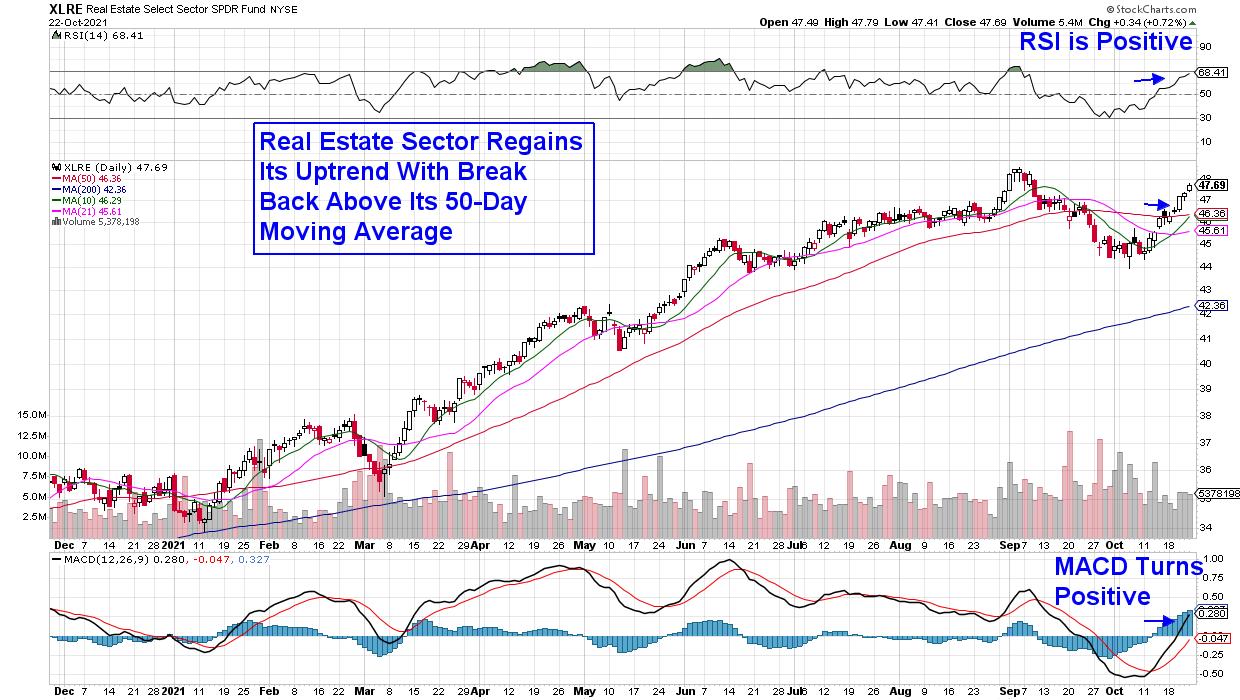 The good news is, REIT stocks are in a confirmed uptrend following this week's break back above their 50-day moving average that in turn, pushed the group's RSI and MACD into positive territory. Below are 3 stocks poised to benefit from this bullish move.
DAILY CHART OF PROLOGIS, INC. (PLD)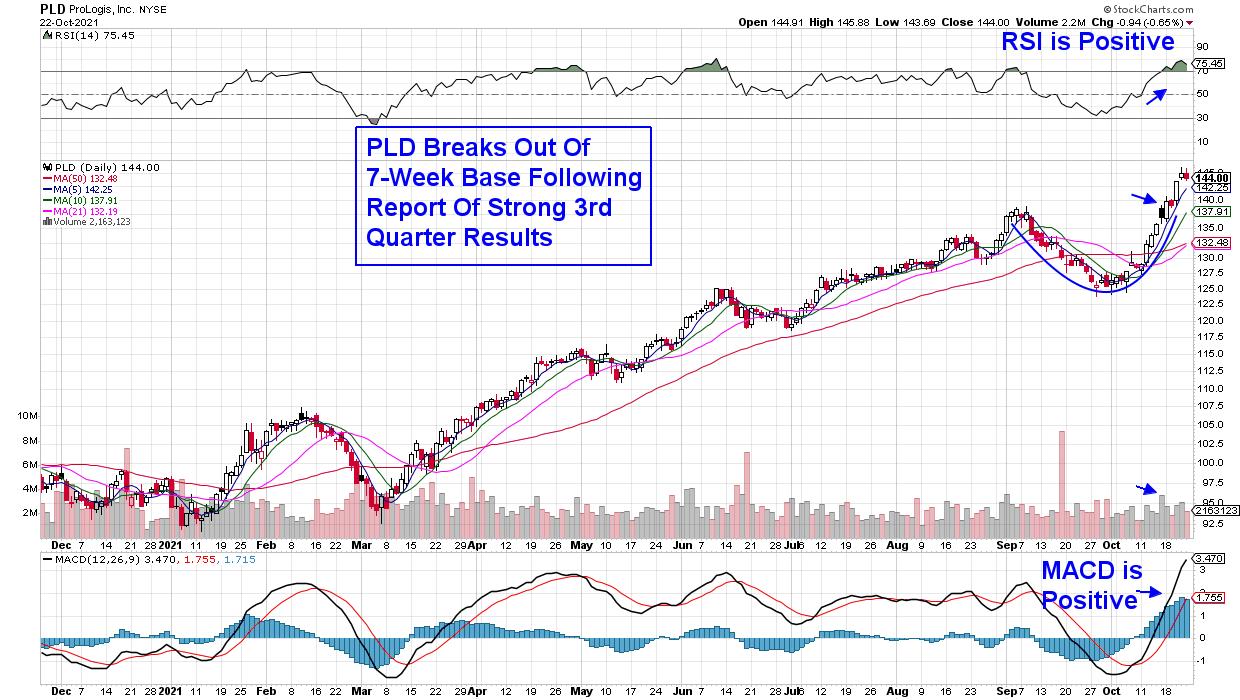 Prologis (PLD) is a prime example of a company that performs well during an inflationary period. They reported third quarter results last week that were above estimates amid record increases in market rents and property valuations. PLD is focused on leasing logistics facilities to major retailers and their vacancy rates are at unprecedented lows.
The stock traded higher positive report and last week's gains pushed the stock out of a 7-week base on above average volume. The move put the RSI into an oversold position however, which points to a possible period of consolidation before resuming its uptrend.
DAILY CHART OF CROWN CASTLE INTL. (CCI)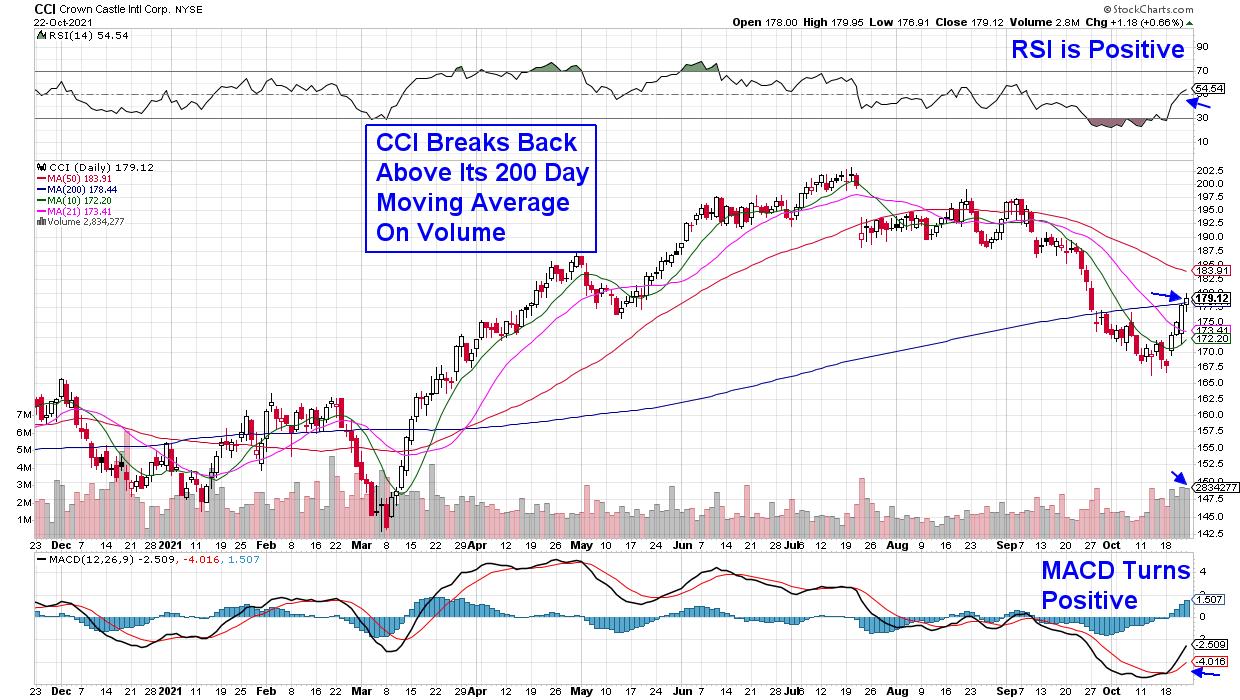 Increased rents helped REIT stock Crown Castle (CCI) as well, as they reported results that were ahead of analysts estimates on Thursday. In addition, CCI increased their dividend by 11% amid a robust leasing environment. The company owns wireless towers that are instrumental in helping telecom companies deploy 5G networks around the world.
Last week's news helped push the stock back above its 200-day moving average in a bid to reverse its recent downtrend. With the RSI in positive territory and the MACD posting a bullish crossover signal, a move back above its 50-day moving average would confirm a new uptrend.
DAILY CHART OF SIMON PROPERTY GROUP, INC. (SPG)
Last up is mall landlord Simon Property Group (SPG), which is still in the throes of recovering from the early stages of the pandemic. The good news is, the company has increased its earnings guidance in both the first and second quarters. The company derives a portion of their rent based on sales of their Retail tenants and if this holiday season is strong, they'll see a big boost to 4th quarter results.
SPG rallied last week after an unexpected rise in Retail Sales for September showed that consumers are continuing to spend despite increased prices. The news pushed the stock out of a 2-month base and into an uptrend. This 4.2% yielder is due to report their 3rd quarter results on November 1st.
Other areas of the market are also in an uptrend as factors such as higher interest rates and strong earnings are pushing stocks higher. This week, 20% of the select stocks on my MEM Edge Report were top gainers in the market this week after rallying over 5%. I'd love to share these and other top performing stocks with you.
If you use this link here, you can trial my bi-weekly MEM Edge Report for 4 weeks at a nominal fee. In addition to being provided select stocks poised to outperform, you'll also receive sector and market insights not found anywhere else. Use the link above for immediate access!
Warmly,
Mary Ellen McGonagle
President, MEM Investment Research