I spend hundreds of hours during each quarterly earnings season researching earnings reports, deciphering which beat revenue and EPS estimates and then annotating every one of those charts. It's what makes up our Strong Earnings ChartList (SECL), a ChartList that we update every 1-2 weeks for our EarningsBeats.com members. Some companies stand out more than others based on the subsequent market reaction and their leadership roles. I like to focus on companies in leading industries that show excellent relative strength and strong AD (accumulation/distribution) lines. It's my "leading stock in leading industry group" theory that dominates our portfolio selection process.
If you're interested in trading and your goal is to beat the S&P 500, it's important to stick with what's working in terms of momentum and relative strength. Personally, I've never been able to time bottoms consistently. That doesn't work for me. Instead, I look to leaders. We have plenty of leaders to choose from, but here are 4 companies that recently reported excellent results and that I believe could be solid performers over the next few months:
Enphase Energy (ENPH)
Industry: Renewable Energy ($DWCREE)
Quarterly results:
Revenues: $351.52 mil (actual) vs. $343.15 mil (estimate)
EPS: $.60 (actual) vs. $.48 (estimate)
Guidance: Raised
Market reaction: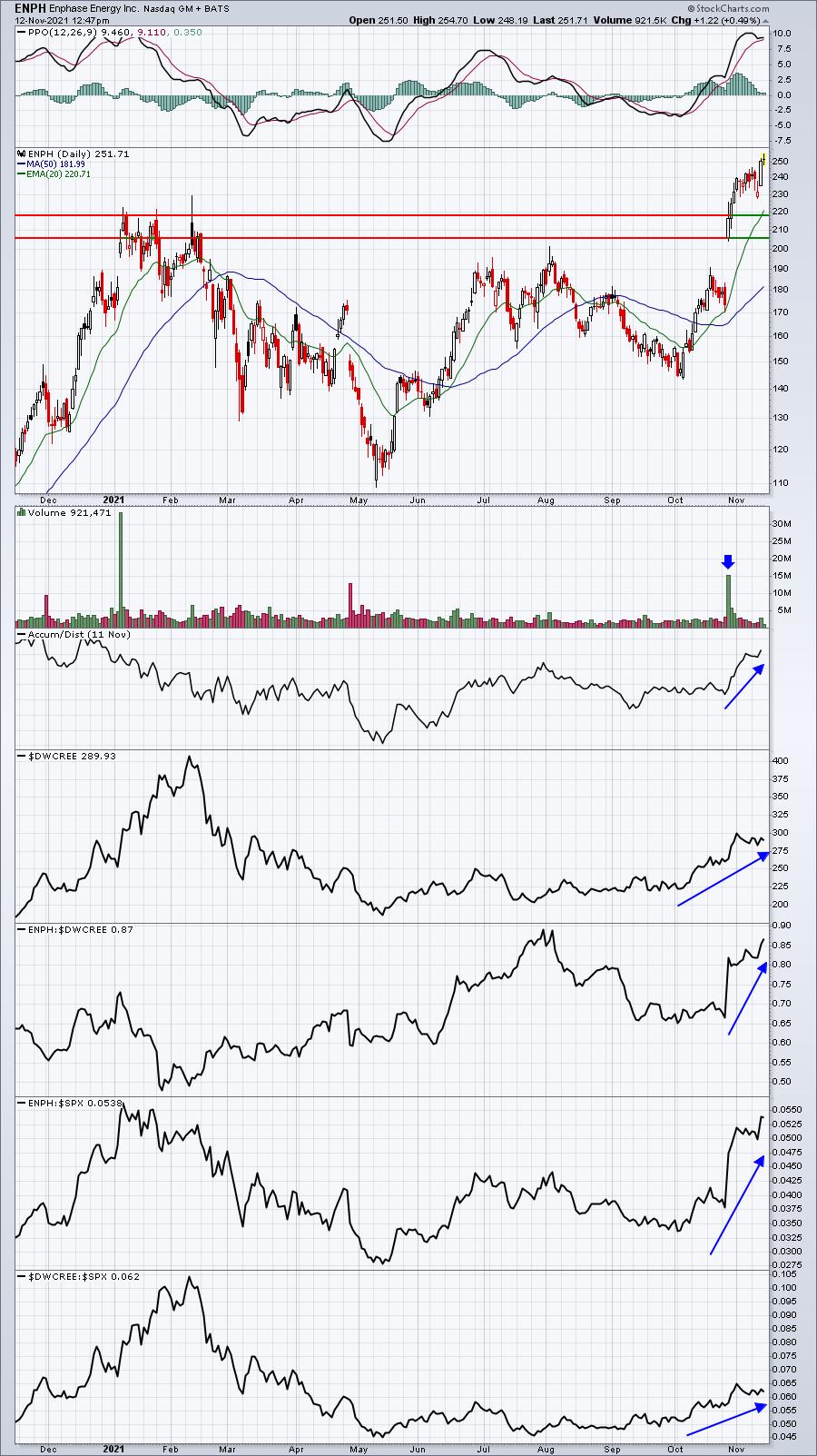 ENPH is overbought, but so is just about every leading stock. If they weren't overbought, they wouldn't be a leader. There's a reason why money pours into certain stocks and not into others. Wall Street makes choices and they do so after considering a lot more information than we'll ever see. The bottom panel of the ENPH chart shows renewable energy stocks ($DWCREE) gaining ground vs. the S&P 500. That tells us that money is rotating INTO the group. Then the rise in the ENPH:$DWCREE ratio tells us we have leading stock in an area of the market getting more than its fair share of money.
Unity Software (U)
Industry: Software ($DJUSSW)
Quarterly results:
Revenues: $286.33 mil (actual) vs. $264.62 mil (estimate)
EPS: ($.06) (actual) vs. ($.07) (estimate)
Guidance: Raised
Market reaction: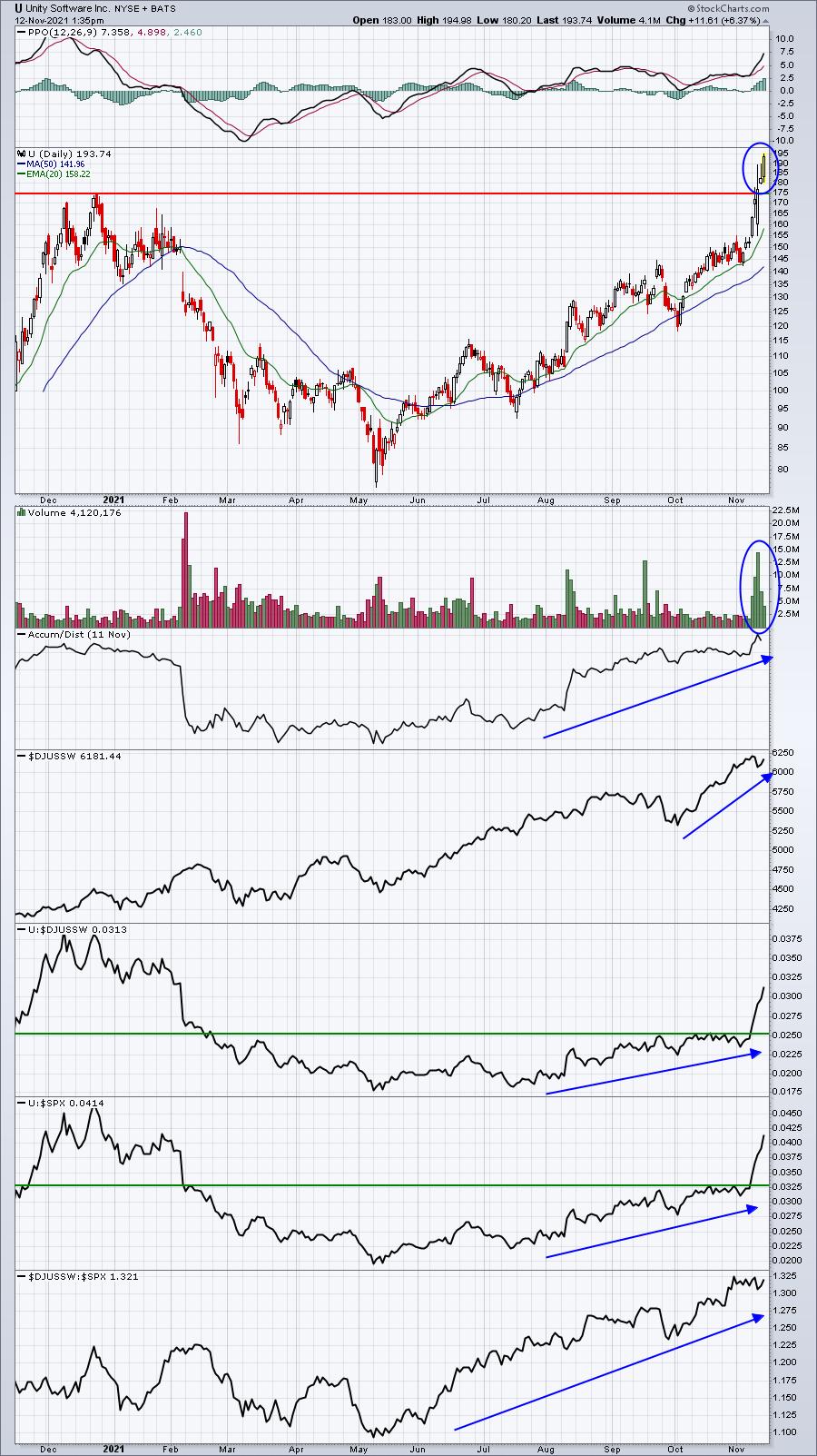 There are a lot of great software names to choose from after several stellar quarterly reports were delivered recently. I really like the move made by U, however, as its relative strength and AD line have exploded to the upside. And check out the volume on this breakout. Great action.
Airbnb (ABNB)
Industry: Travel & Tourism ($DJUSTT)
Quarterly results:
Revenues: $2.24 bil (actual) vs. $2.04 bil (estimate)
EPS: $1.22 (actual) vs. $.75 (estimate)
Guidance: Reiterated
Market reaction: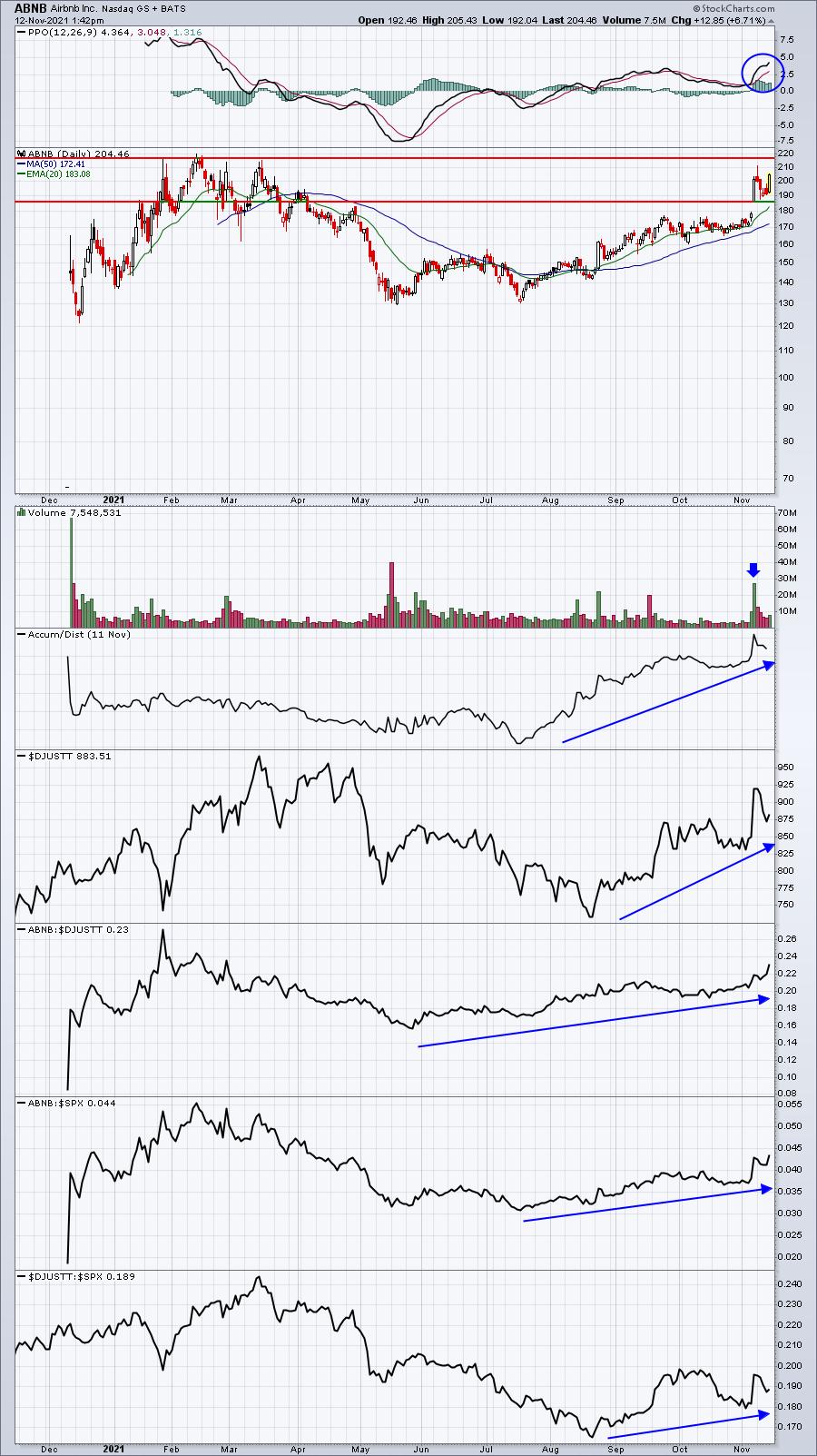 The DJUSTT has just recently begun to show relative strength, and a break above 0.20 would add to this relative bullishness. Meanwhile, ABNB appears headed for an inevitable price resistance test just beneath 220. I believe we'll see a breakout sooner rather than later, given the rapidly-accelerating relative strength and substantial increase in volume that accompanied its last earnings report. The top of the gap should provide excellent support during any period of weakness.
Wolfspeed (WOLF):
Industry: Semiconductors ($DJUSSC)
Quarterly results:
Revenues: $156.60 mil (actual) vs. $149.17 mil (estimate)
EPS: ($.21) (actual) vs. ($.23) (estimate)
Guidance: Raised
Market reaction: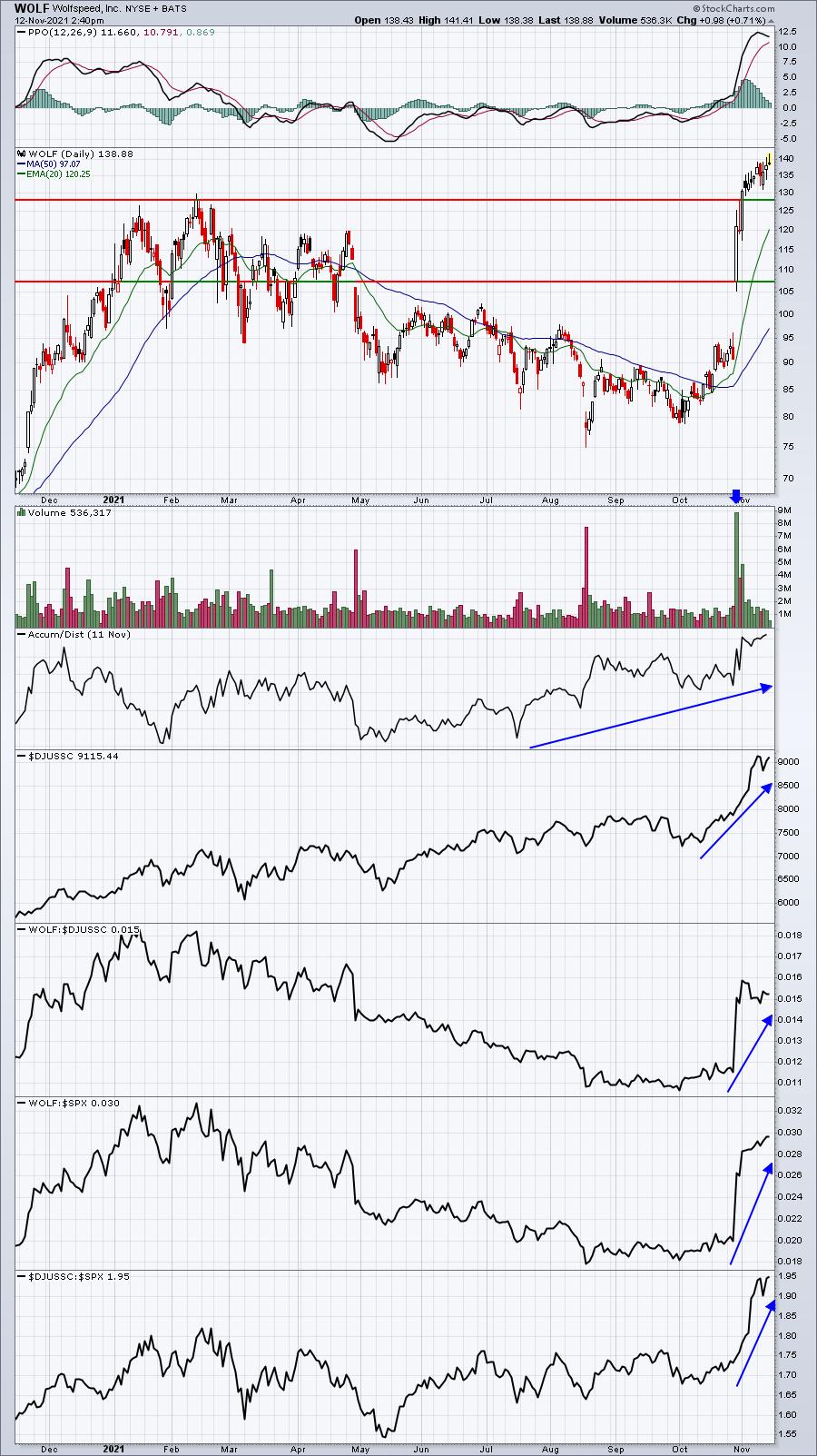 WOLF completely changed its direction on the chart when it crushed revenue and EPS estimates, then raised guidance. The AD line was trending higher while prices kept moving lower in the 3 months leading up to earnings. Now WOLF has become one of the hottest stocks in perhaps the hottest industry group. Both revenues and EPS guidance for next quarter were raised substantially, so I'd look for the recent strength to continue -- with pullbacks along the way, of course.
Sneak Preview Event: Q4 Stock Portfolio "Draft"
On Saturday, November 13, 2021 at 10:00am ET, I'll be hosting our latest Sneak Preview of our Q4 Stock Portfolio "Draft". I always view the building of a portfolio similar to the NFL Draft, with one MAJOR difference: we own ALL of the draft picks. During this event, I'll describe the process I go through in determining which 10 equal-weighted stocks will be included in our 4 portfolios for the next 90 days. Our portfolio results have been stunning since their respective inception dates. Here's where they stood as of Friday's close: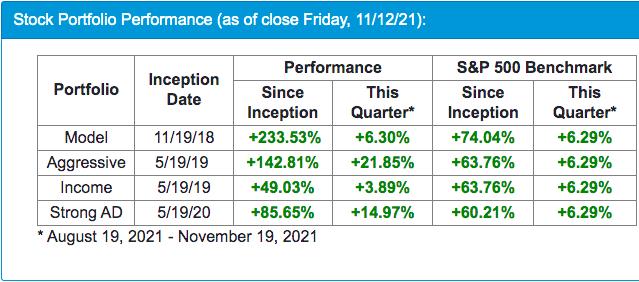 In addition to walking everyone through our process, I'll highlight a few dozen stocks that have reported better-than-expected results recently, discussing possible entry points for those who like to trade. If you'd like to join me at this event, simply click on this room link AFTER 9:30am ET.
The webinar will begin promptly at 10:00am ET and we'll make sure that anyone not currently subscribed to our FREE EB Digest newsletter is added.
I'll also be providing one stock that will be in one of our portfolios in our Monday EB Digest. If you're interested in receiving that stock, simply CLICK HERE to register by entering your name and email address. We'll also send a recording of the Saturday webinar to everyone in our EB Digest community.
Happy trading!
Tom