Earlier this month, The Money Show asked me to join other stock market experts and submit my top stock idea for this year. While the markets were in a sunnier position at that time, I'm sharing my response below, as I still believe this stock is headed much higher from here.
Of course, I'll need to see the broader markets turn positive before putting money into my top pick, as recent selling pressures have me cautious on the near-term prospects of most stocks. As you can see on the weekly chart below, the S&P 500 is now trading below its key 40-week or 200-day moving average. In addition, the RSI and Stochastics are in negative territory.
WEEKLY CHART Of S&P 500 INDEX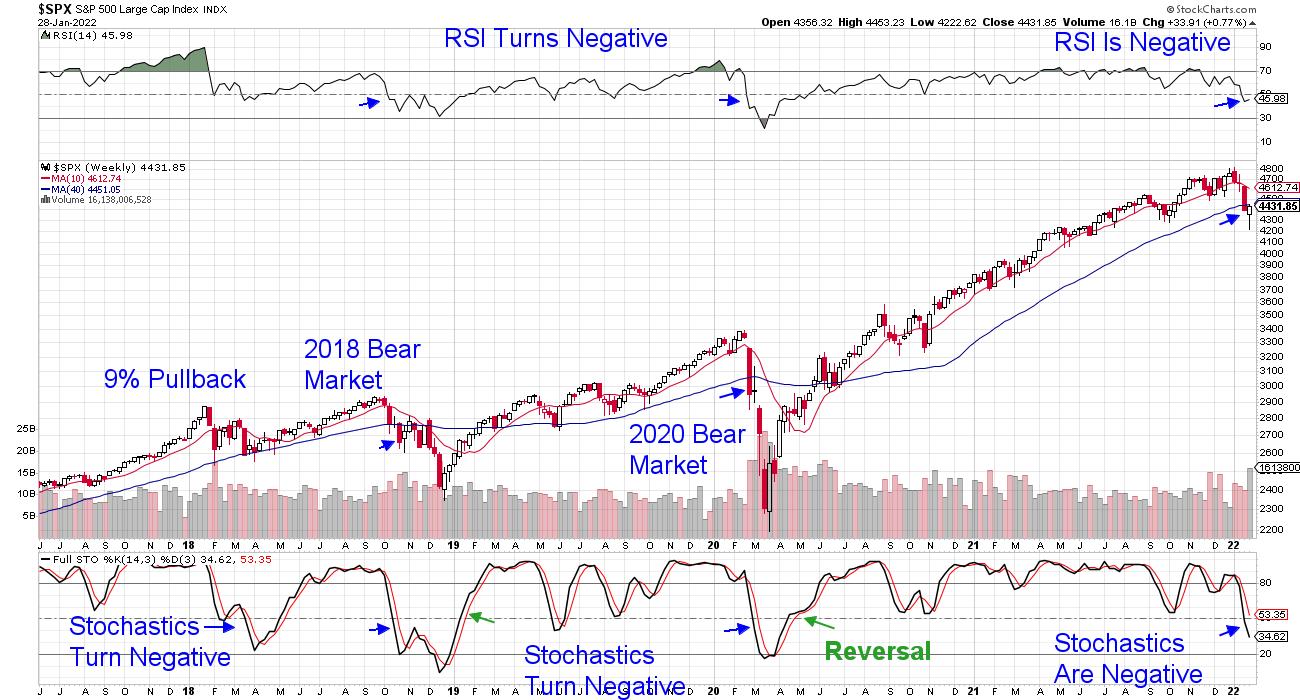 These same negative characteristics were in place at the start of the two most recent bear markets and, until I see price action similar to the January 2019 and April 2020 downtrend reversals (green arrows), I'll keep this stock on my Watchlist. My MEM Edge Report uses a proven system that has called every market bottom over the past 25 years, and it uses a daily chart as well as the weekly chart above.
Interestingly, the daily chart of the S&P 500 is exhibiting some potentially positive signals as heavyweight stocks such as Microsoft (MSFT) and Apple (AAPL) are rallying on better than expected 4th quarter earnings results as well as positive comments from management regarding growth into this year.
The current selloff in the markets has been sparked by fears surrounding high inflation, which is currently running at a 40-year high. The main cause of this inflation has been supply chain issues that are pushing the cost of materials much higher. Wage pressures are also adding to the underlying costs of doing business.
During periods of high inflation, companies that increase their dividends the most considerably have historically outperformed the broader markets. Of note, many high-quality companies routinely raise their dividend payouts to help hedge against inflation, which is another bonus.
Many of these companies are part of the Dividend Aristocrat group, which are 65 high-quality companies that have increased their dividend payouts for at least 25 years. One such company is IBM (IBM), which offers a generous 5.3% yield as well as awesome growth prospects. The company's dividend is powered by its capacity to generate free cash flow and, over the past decade, IBM has produced over $10 billion in free cash flow.
Starting in 2022, IBM expects high single-digit growth in free cash flow, continuing through 2024 for a cumulative total of about $35 billion. This growth comes from an estimated increase in revenue of about $3 billion each year through 2024.
DAILY CHART OF IBM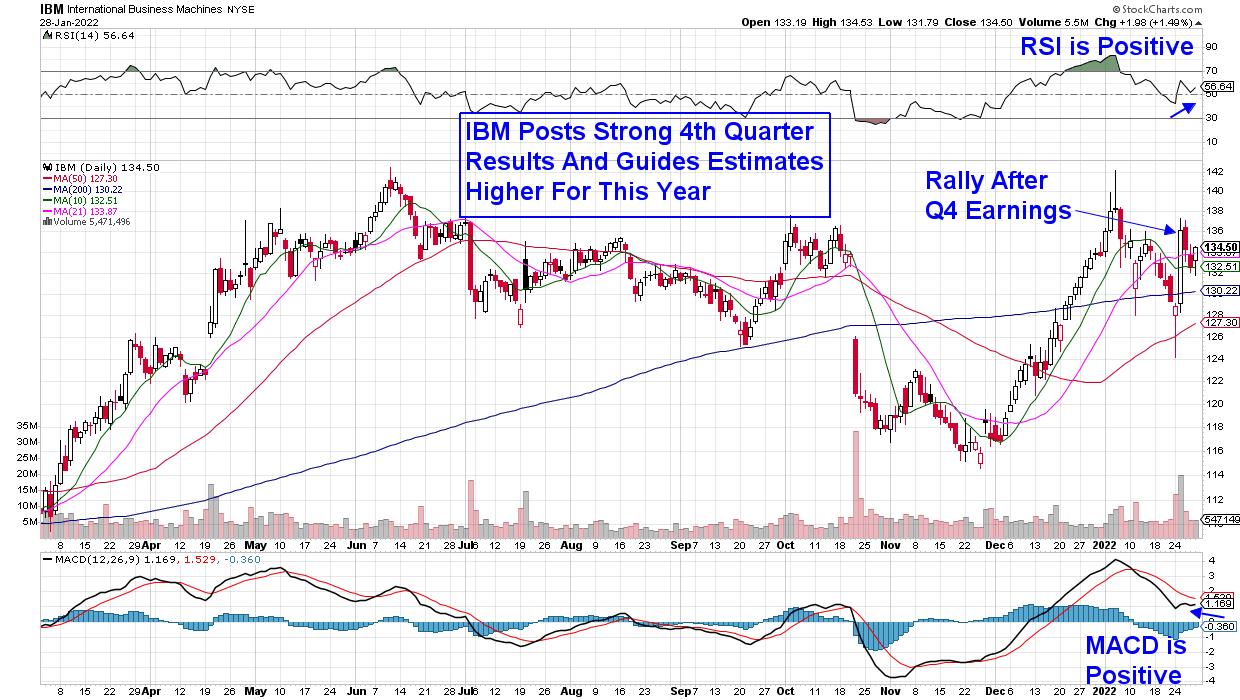 While many people consider the 110-year old company to be old school, IBM has pivoted to a focus on the cloud and artificial intelligence. The move into these growth areas, as well as the company's spinoff of their data management centers into Kyndryl Holdings (KD), has IBM poised to be one of the big turnaround stories for 2022, with their cloud and AI divisions adding $4.4 billion to Q32021's revenue growth. On Tuesday, IBM posted earnings and sales that were above estimates, with management guiding estimates higher for this year due to strong growth prospects. The stock rallied almost 6% on an otherwise difficult day for the markets.
While I'm positive on IBM, given the currently high inflationary period as well as the company's strong growth outlook, once the markets turn bullish, I'll be turning my focus to oversold Software stocks, as well as other Growth stocks.
For those who'd like to be alerted to when the markets turn positive, as well as my top picks in oversold Growth stocks, use this link here for a 4-week trial at a nominal fee. Last year, I proposed over 120 stock picks in various sectors, and my win rate was 75% with the losers having an average decline of 4%. You can use this link here for immediate access to my twice weekly MEM Edge Report.
---
On this week's edition of StockCharts TV's The MEM Edge, I review key earnings reports and how they're driving price action. I also share a view of promising moves in Tech and one area you should stay away from.
I also appeared on the January 2022 edition of StockCharts TV's The Pitch, alongside Joe Rabil and Jay Woods.
---
Warmly,
Mary Ellen McGonagle, MEM Investment Research