This article contains some of the charts from this weeks Thursday webinar. You can watch the Archive here. The Commodities Countdown 20160114.
First of all, the NYSE Summation Index ($NYSI) is currently at a level where we would expect a bounce, other than the Lehman moment. Notice the NYSE Composite, $NYA, is well below the 2007 highs already. A lot of the charts are extended enough to expect a short term bounce.
---
Below is the NASDAQ Summation Index ($NASI). This is very close to the low levels commonly seen for a reversal.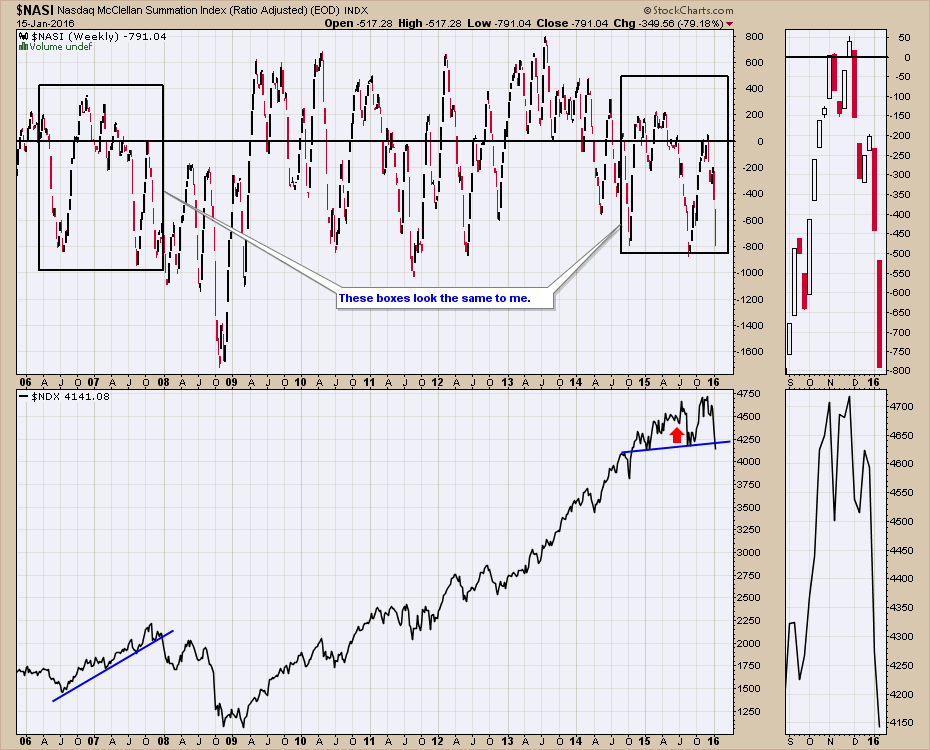 The Bullish Percent Indexes are all sporting some of the lowest levels on the charts other than Lehman. This makes me lean towards being bullish if only for a few weeks. You can see the Bullish Percent Index in blue is very low. Based on the Percentage of Stocks above the 200 DMA, there have only been two opportunities this low other than the Lehman moment.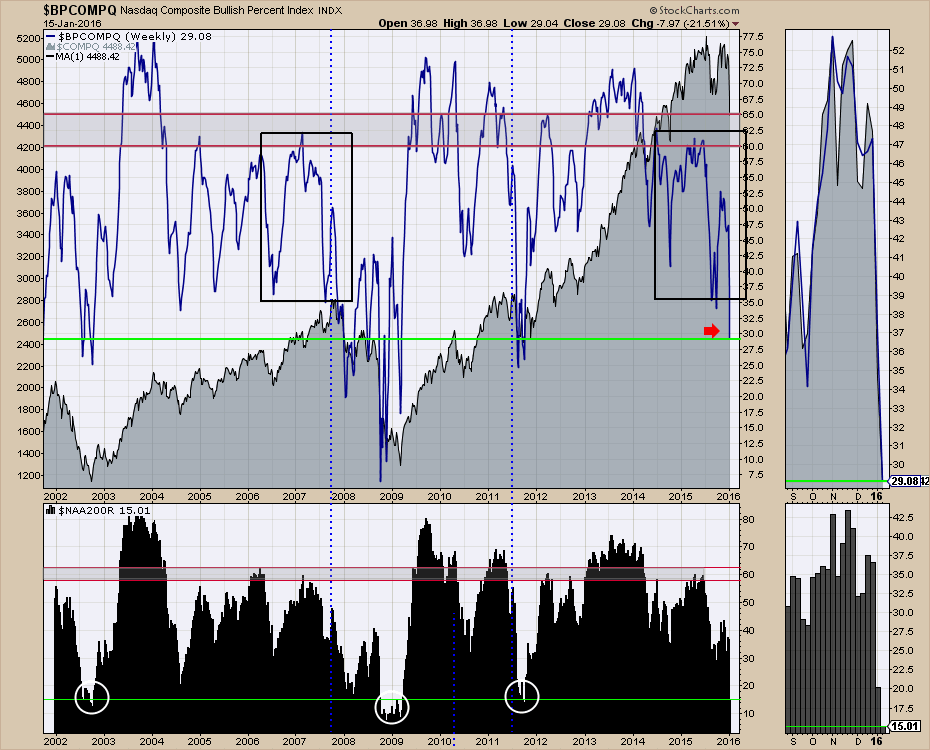 Here is the NYSE Bullish Percent. We are at a very low level. In terms of the percentage of stocks above the 200 DMA, when the market initially plummets, this is the level it stopped at in 2002 and 2011. In 2008, it stopped higher than this level on the first impulse down before Bear Stearns. However, the market finally broke lower when Lehman folded.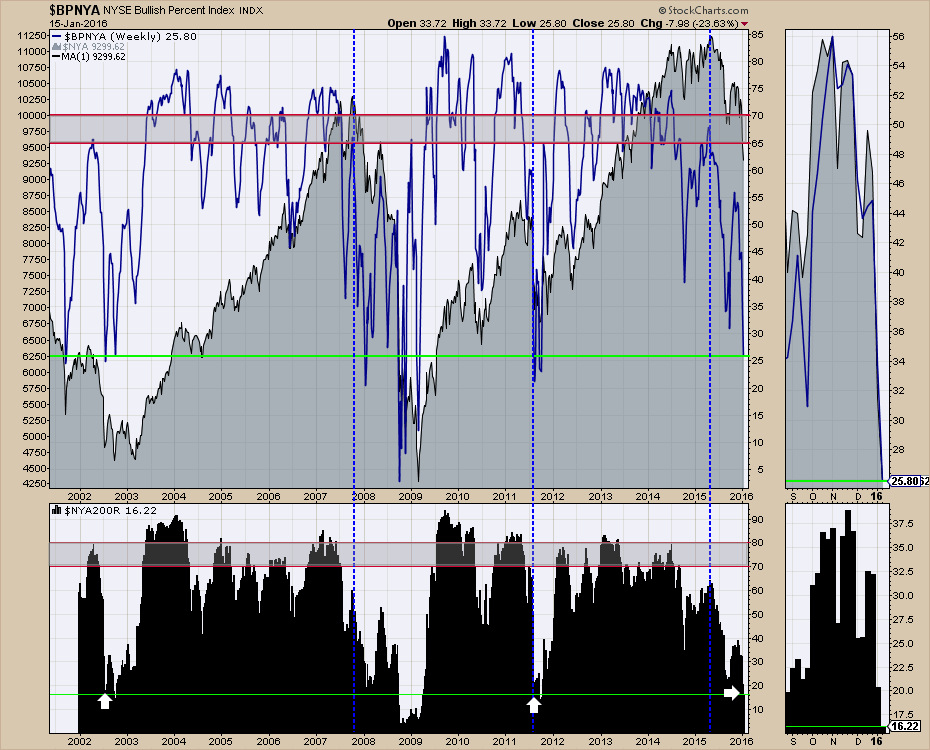 Here is the Bullish Percent for the $SPX. $BPSPX. We are at extreme levels as you can see over the last 12 years.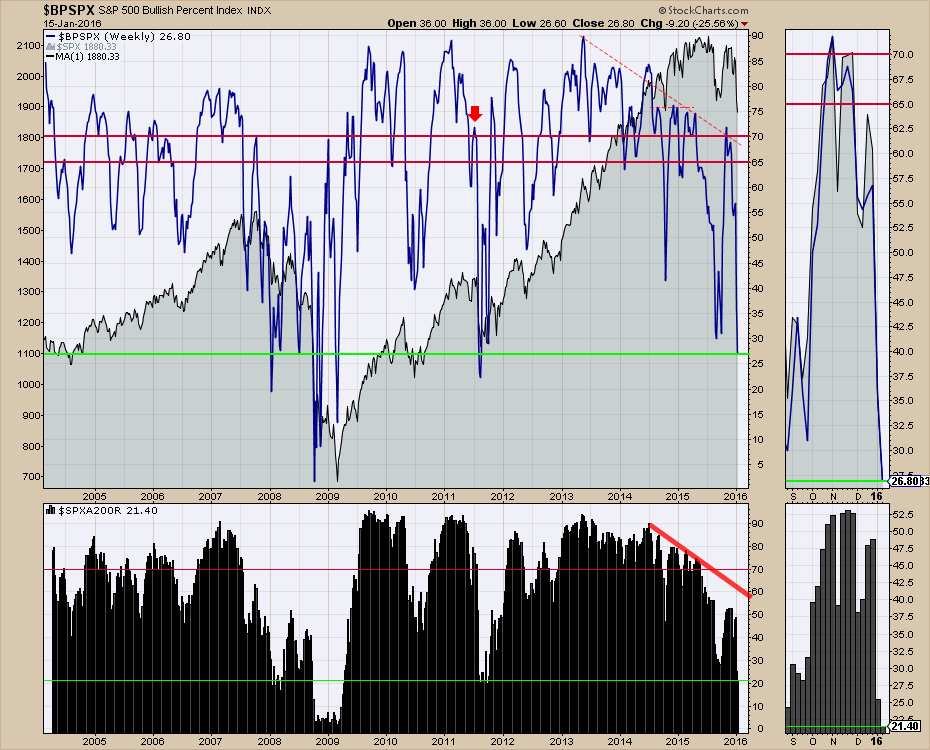 Many of the market reversals over the past year, have occurred on Options Expiration Day, which was Friday, January 15th. Just study how many market reversals have happened on the OE. In many cases, the trend changed from down to up, up to down, or stopped the existing trend and went sideways. Another reason to expect a turnaround if only briefly.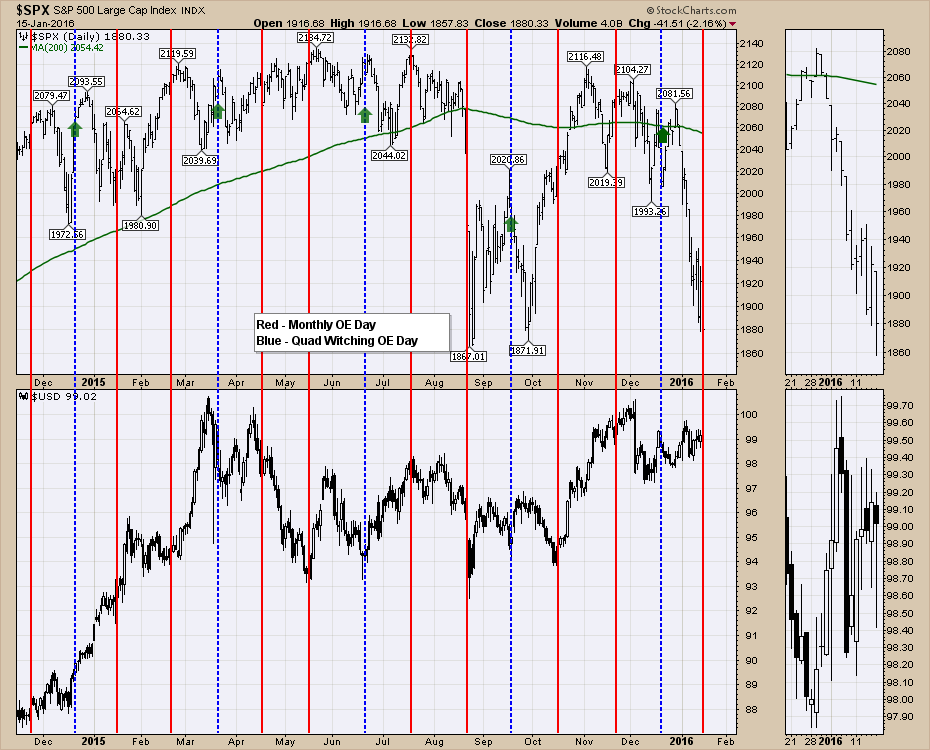 Junk Bonds are plummeting which is really causing the market some consternation. As crude oil prices drop, the number of oil companies that will potentially go into bankruptcy rapidly accelerates.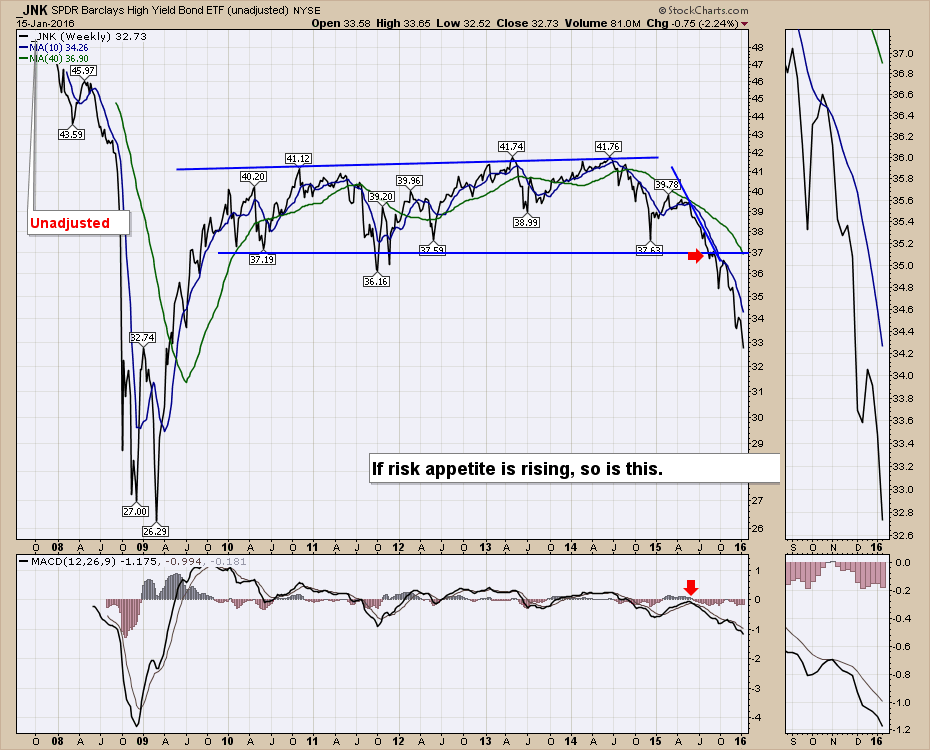 The chart of oil is one of severe pain as the $33 level never held.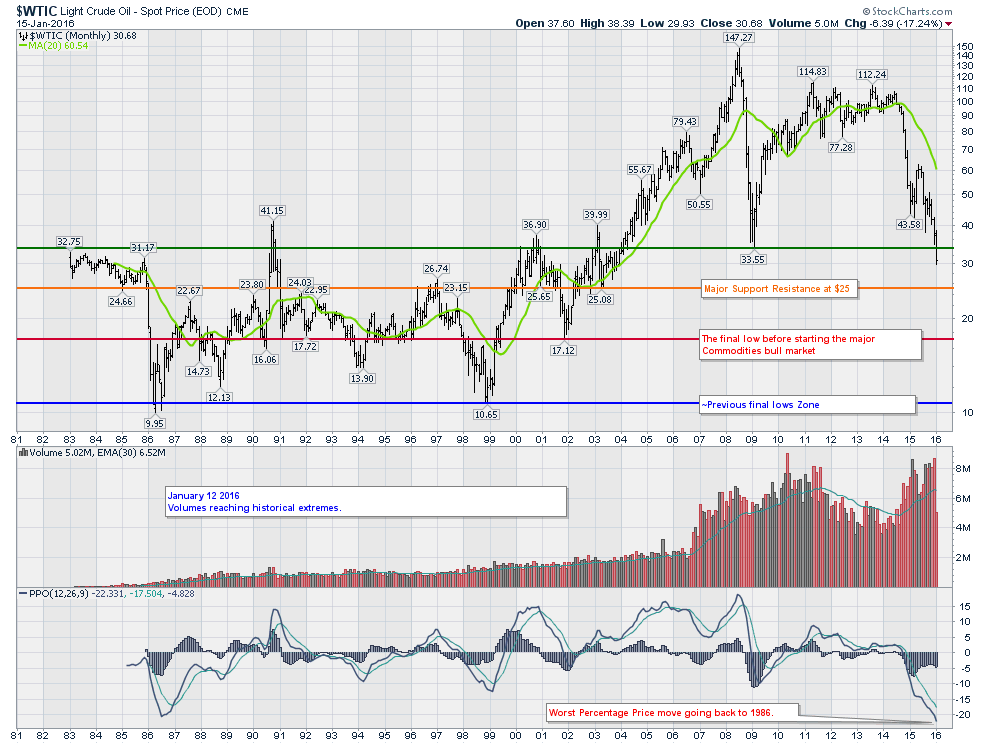 While the optimists continually paint a rosy picture of the savings for everyone with lower gasoline prices, the reduction in spending by one of the highest capital spending industries is showing up across the globe. Almost every sector has plummeted over the last year.
Lastly, I continue to worry about the Japanese Yen. $XJY broke out. You can match the Yen moves to bearish moves in many of the world indexes.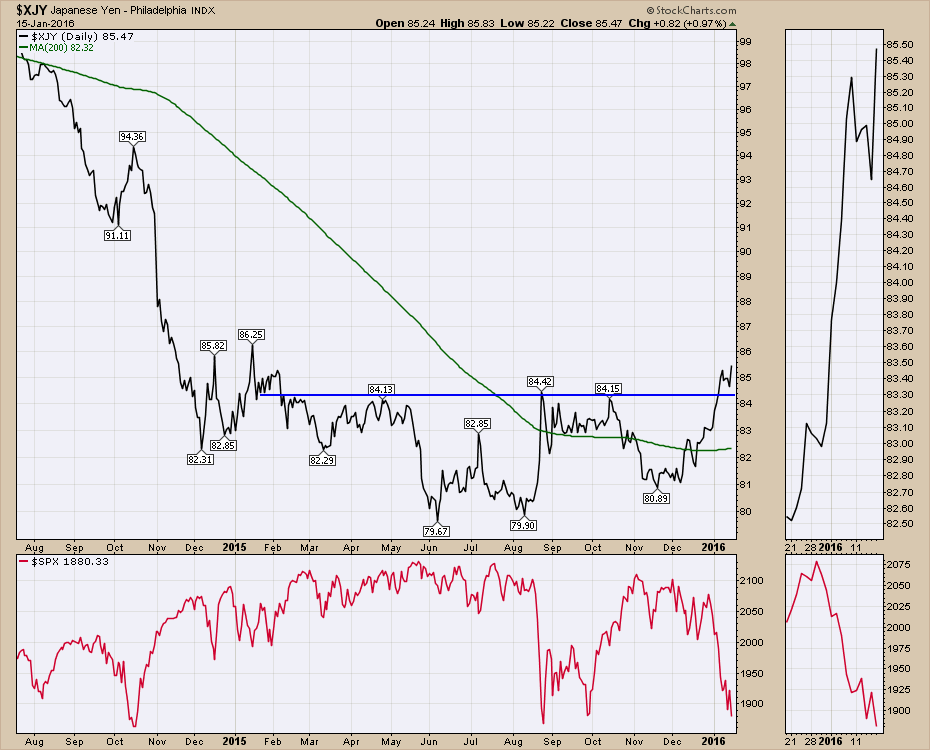 Here is a link to the webinar. Commodities Countdown Live 20160114. Next week looks to be wild as well. You can follow me on twitter @Schnellinvestor. Press the Yes button in Green below an article to have them emailed to your inbox when a new article is posted.
Good trading,
Greg Schnell, CMT