If you haven't been following the breakouts week after week in commodities, it's time to check in and see what is going on. We continue to see new breakouts every week. We continue to see more commodities moving above the 200 DMA. Recently the breakdown in gold and silver was identified and this week we discussed what is next on the horizon for Gold and Silver. I didn't have today's surge labelled (!) but this Gold chart suggests the move higher might have started. That is slightly different than my comments on the webinar but we are watching for a trend break to get back into the trade.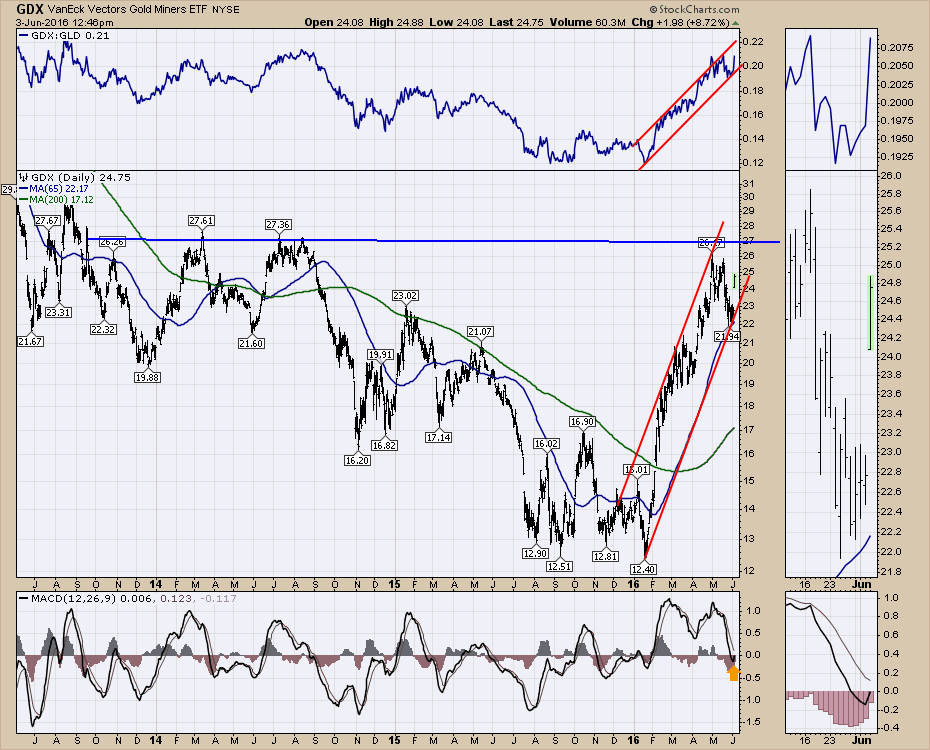 ---
The rally in oil, the rally in natural gas, and the breakouts in some agricultural commodities, are generating good results. We did a drill down on what is working in the oil and gas segment. For the last two weeks, we have discussed the ranges for oil and if you missed the first run, the webinar this week discusses timing for getting into the trade.
"Commodities Countdown LIVE!" with Greg Schnell - 2016-06-02 17:00 from StockCharts.com on Vimeo.
Webinar // Starting with Oil, Natural Gas, Uranium 0:00 // Gold & Silver 19:00 // Agriculture 30:00 // $CRB 34:00 // Oil And Gas Explorers and Services Stocks 37:00 // Uranium Stocks 52:00 // Lithium ETF 59:00//
---
I also commented on Uranium that the URA Uranium ETF was starting to turn up. However, when we looked under the hood at the individual stocks, it was not a compelling picture. Friday's action continues to move up on URA. After a second look at this chart, we do have a potential change on the chart. The SCTR rallied and pulled back. Now it is surging higher again. This is an important change in trend. When it does not surge up again like May 2015, this is more concerning. The current action puts in on watch! The SPURS in purple is breaking the downtrend. Probably the most interesting pattern is in the price movement itself. After lulling us with a consistent downtrend, the chart recently rallied above the 200 DMA in green. However, after pulling back to the 200 DMA, this started to work sideways. The last two days we surged above the 200 DMA. This is starting to look more like a one-year head-and-shoulders basing pattern. The weak backdrop in the overall market after the jobs number is important. The relative strength of today's move suggests this might have more legs as the continuation of the pattern moved higher. When weak market areas rally in the face a broad market weakness, this can be a good indication of a trend change. During Thursday's webinar, I suggested we still have time to wait. With the change in the charts extending into today, I would suggest having a watchlist of Uranium miners that might interest you.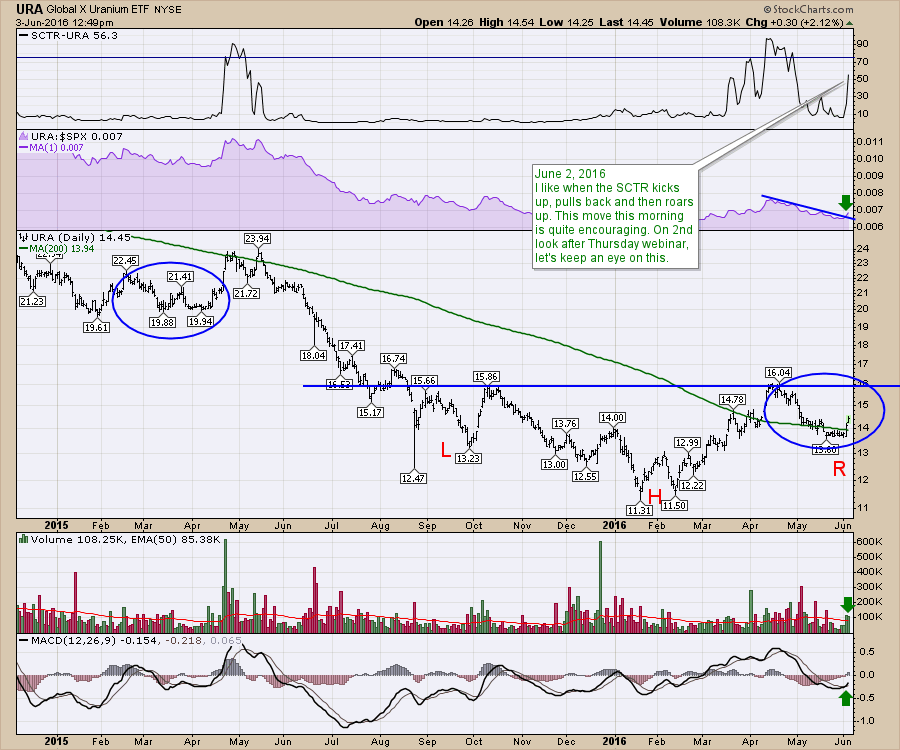 Oil is expected to pause here. Oil stocks usually start to rally in July. This is a good month to look for stocks in the energy sector that interest you. For short-term traders, this might be a month to miss, but there are lots of oil-related stocks trending very, very well. I would encourage you to grab a glass of your favourite beverage and check out the webinar link above for more ideas.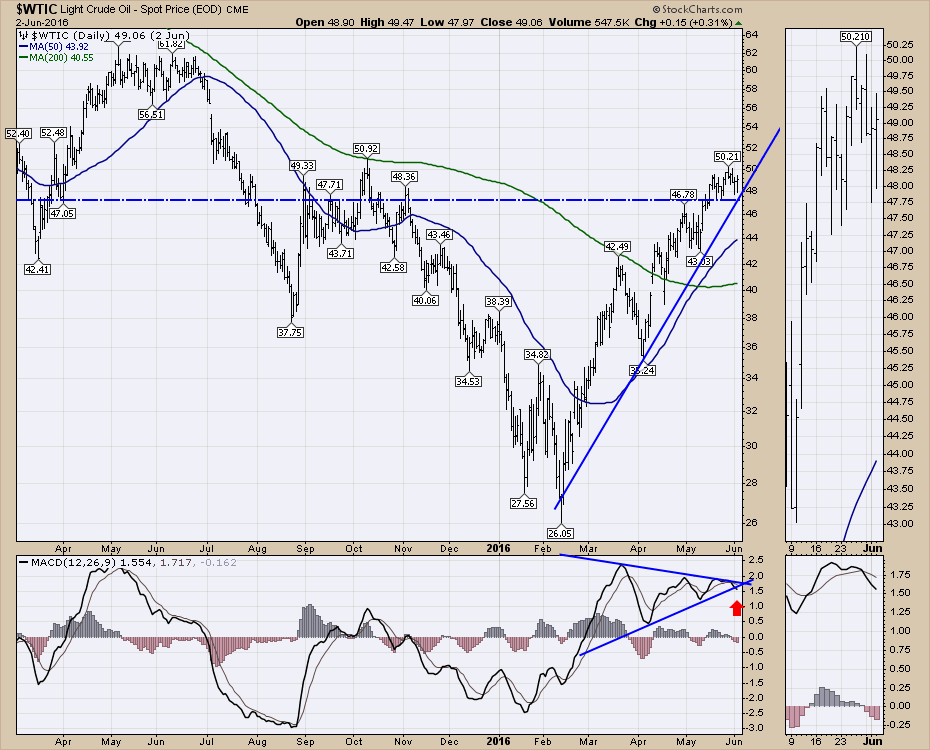 Lastly, here is the most interesting chart in the world. We'll keep watching to see if this gap disappears over the summer. If we can erase the losses of 2015, be prepared for a good Q3 in energy-related trades.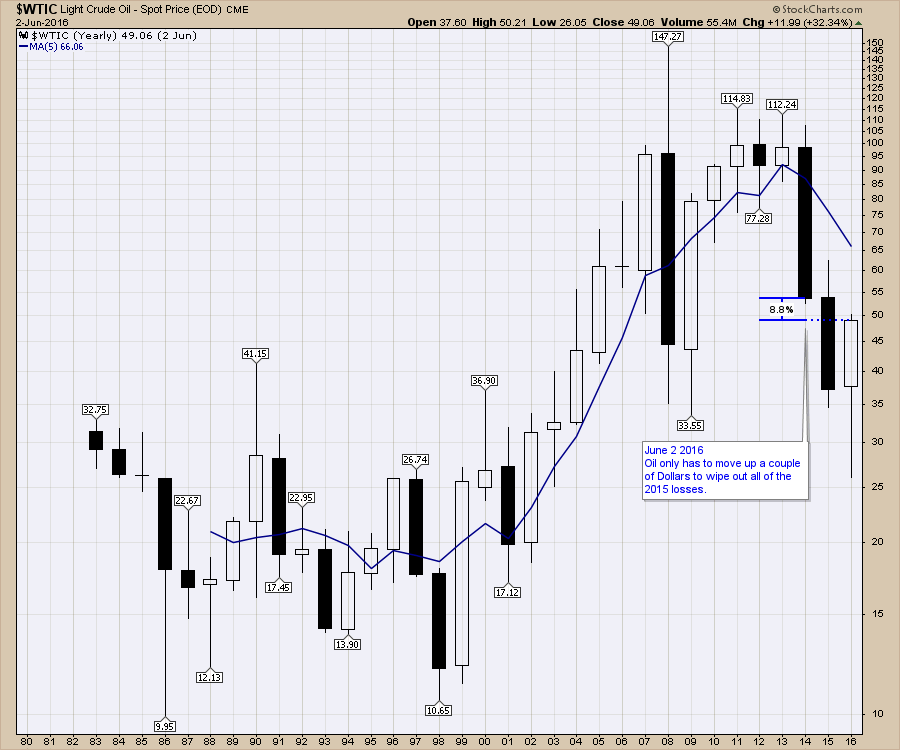 Feel free to forward this article to family and friends. You can also click on the Yes button below any blog to get them delivered to your email. Hey, don't forget to follow me on Twitter @Schnellinvestor for timely, one-off charts.
Good trading,
Greg Schnell, CMT, MFTA