Commodities had an exciting week, trading wildly on the swings from Brexit. Natural Gas, Gold and Silver surged higher. Oil dripped lower and bounced back into the 6-week range. Coffee and sugar continued to perform well.
Natural Gas broke above the base at $7 on the UNG chart a month ago. Now it has moved above the 200 DMA and maintains a nice continuous uptrend.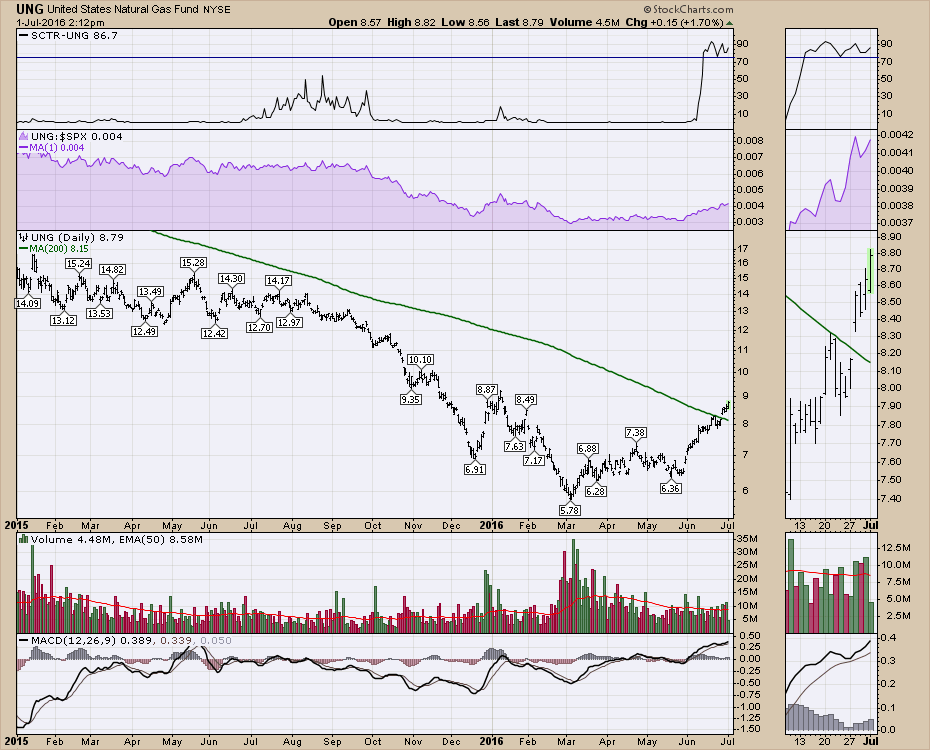 ---
The Commodities Countdown Webinar 2016-06-30 etched the 6-month midpoint of 2016 in the books. The webinar was wide ranging as you can see by the webinar notes below the link.
Commodities Countdown LIVE! with Greg Schnell - 2016-06-30 17:00 from StockCharts.com on Vimeo.
Webinar // European Equity Markets 0:00// $CRB Commodities 8:00 // GSCI Indexes 14:00 // Energy 17:00 // Uranium 20:00 // Copper 21:00 // Steel, Aluminum 24:00 // Gold, Silver 26:00 // Ag 31:00 // Asian Indexes 34:00 // Commodities Countdown Blog review 38:00 // $SPX Cycle 39:00 // Investing in Asia, Energy 48:00 //
---
The Industrial metals are looking more interesting. XME is really starting to look like a strong bull market.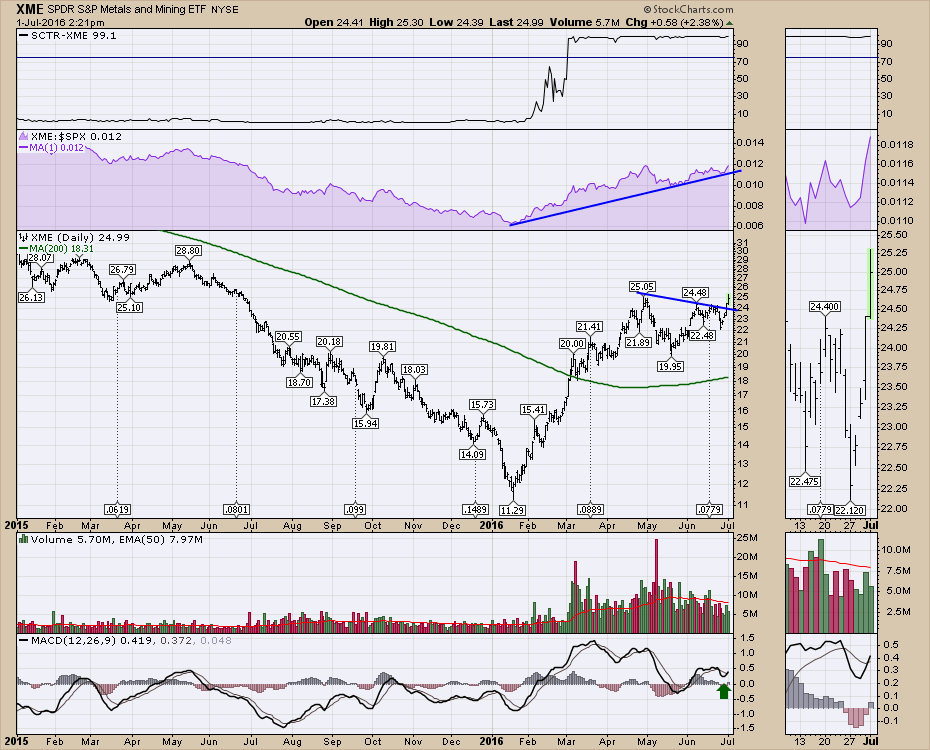 Here is the GSCI (Goldman Sachs Commodity Index) for Industrial Metals. $GYX. This looks bullish.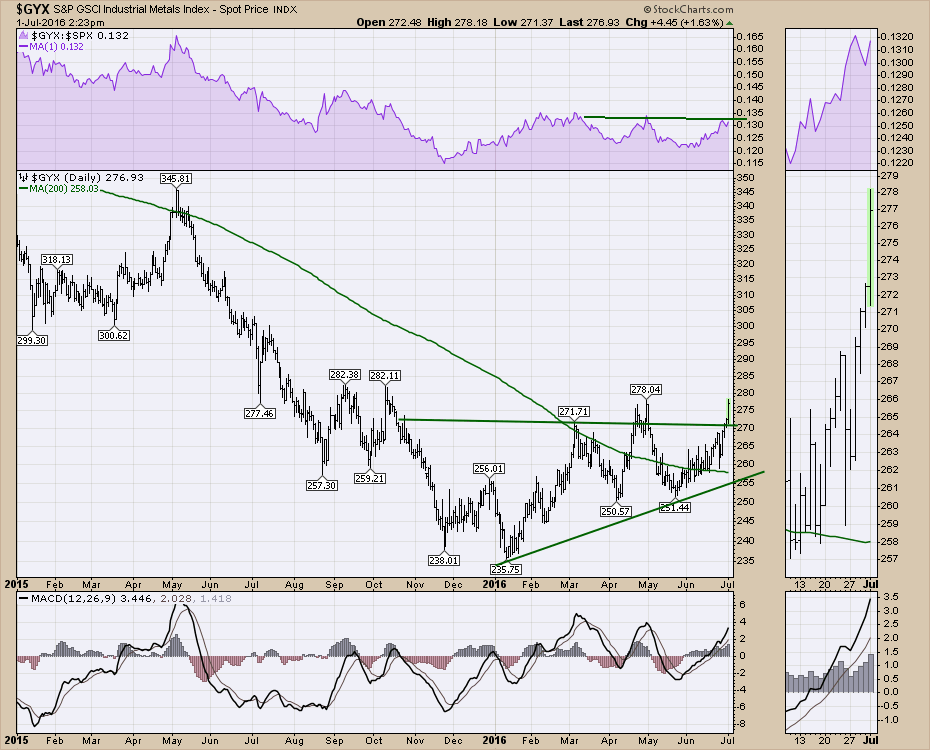 The webinar has lots of information on Copper, Uranium, Steel and Aluminum.
On this long weekend, I would encourage you to take an hour to check out some second half investing ideas.
I continue to be pessimistic on the banks after Brexit, but the commodity markets can run on their own for a long period of time. The webinar discusses investing in some major Emerging markets and looking for methods to find the ticker symbols to be traded. You may find the webinar valuable just for that.
One concerning chart is the 65-week cycle overlaid on the $SPX chart. The cycle lines were last adjusted on the chart in December 2013. The Brexit vote fell right on the cycle line. If you look closely at the chart, I think it is fair that the chart might mark a change in trend more than reversals in trend. I describe it on the webinar and I would encourage you to listen in to understand the context and the implications from that review.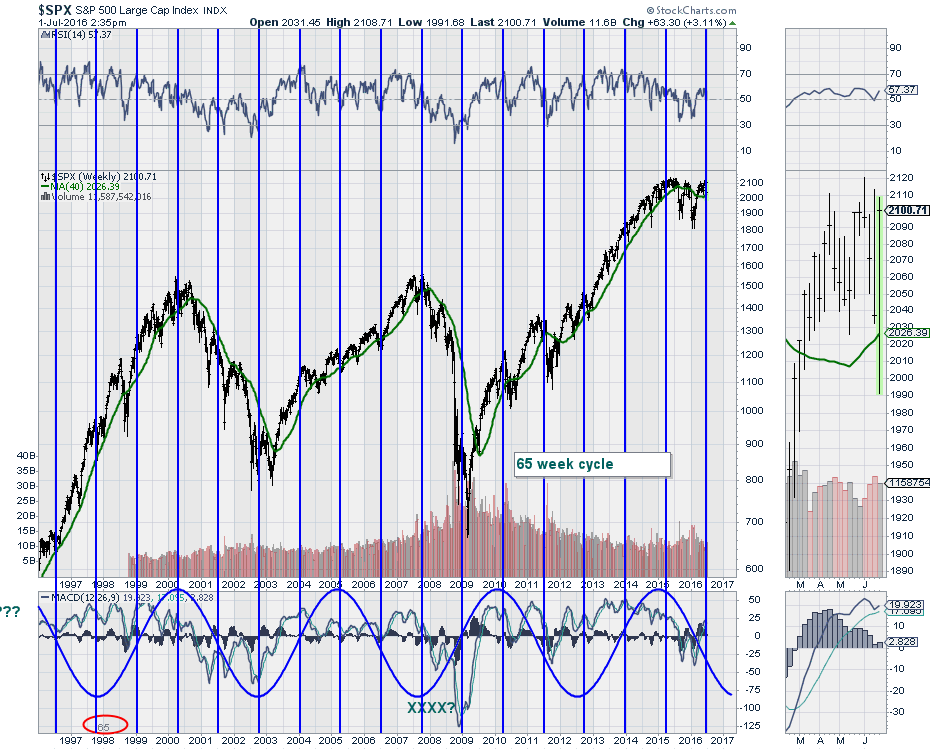 There will be lots of articles posted in the next few weeks regarding Brexit. The first result does not have to be the final trend. I remain cautious on the financial sector and bullish on defensives. The commodity-related trades look great and some of the Asian charts that look impressive to me could be the second half winners. Whether it is the commodities leading us to the Asian markets or the Asian markets causing the commodities to run is unknown. Check in to the webinar to decide if there are some positions there for you.
Have a great long weekend and a superb second half in the market.
Good trading,
Greg Schnell, CMT, MFTA.