My webinar this week spent some time on Commodity-Country-Currencies. The underlying theme for the webinar was the long term chart of the $CRB and the importance of breaking out of a range that I would define as the deflationary range. The red line shows support for 40 years.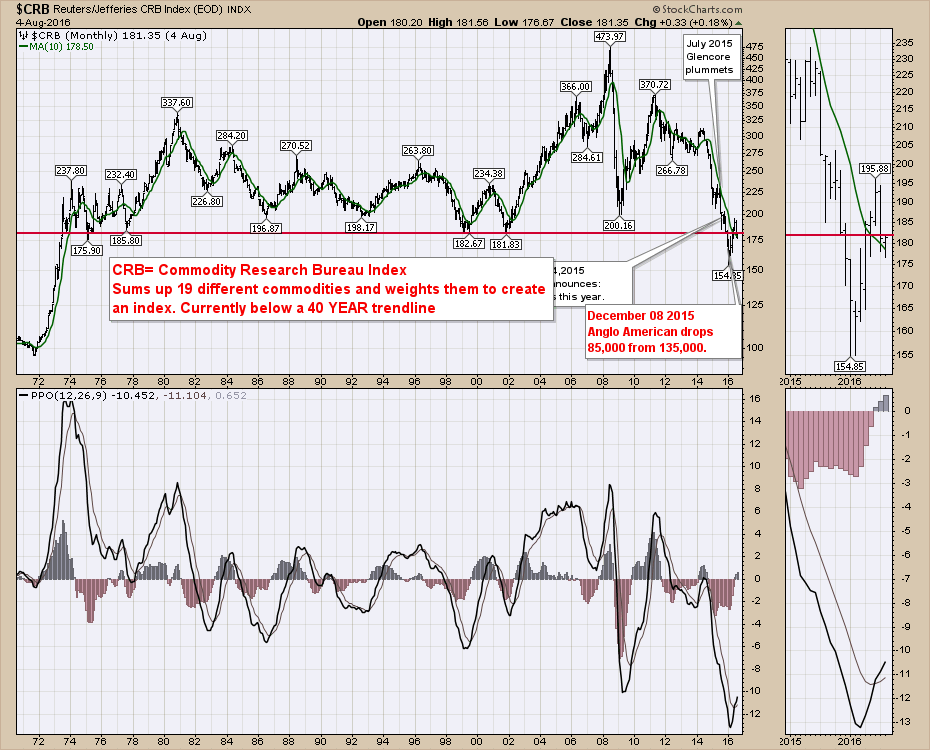 In the depths of the commodity drop into January, the market continued to fall below this historic support level into an area I would define as deflationary. Is this trend changing for the long term? Looking at the Percentage Price Oscillator (PPO) below, this is an extreme percentage drop. Now it has crossed the signal line and is turning back up. But the real important area of the chart, the red line, continues to be a hurdle. In the zoom panel, we can see July closed back below the red line. The month of August will be very important. Closing back below the red line for a second consecutive month would suggest bigger problems in Commodityville as the long-term trend seems broken. On the chart, we can see the 10 Month MA in green is trying to support the index. So far we have 4 consecutive months of closes above the 10 Month MA. While commodities may ebb and flow, the real question is: What do we need to see to be long term bullish on Commodities?
---
I've installed a link to the webinar here for your convenience.
Commodities Countdown LIVE! with Greg Schnell-2016-08-04 from StockCharts.com on Vimeo.
Webinar Skim // Currencies $USD, $XEU, $XAD, $CDW, $XJY 0:00 // Yields 18:00 // $CRB Components 19:40 // GSCI 29:00 // BDI 33:00 // XLE, XOP, CRAK, FRAK, $WTIC, $NATGAS 34:00 // URA, Cameco, SLX 45:00 //Foreign Markets $DAX, $CAC, $FTSE 48:00 // Summary 1:00:00 //
---
One chart that is showing the potential for a major bullish signal for commodities is the Aussie Dollar ($XAD). There are two trend lines shown. A short one in green on the right-hand side from the April highs to the two peaks in July. We broke above this intraday Friday. But the big test is the huge 20-month base that needs a close above 77.5.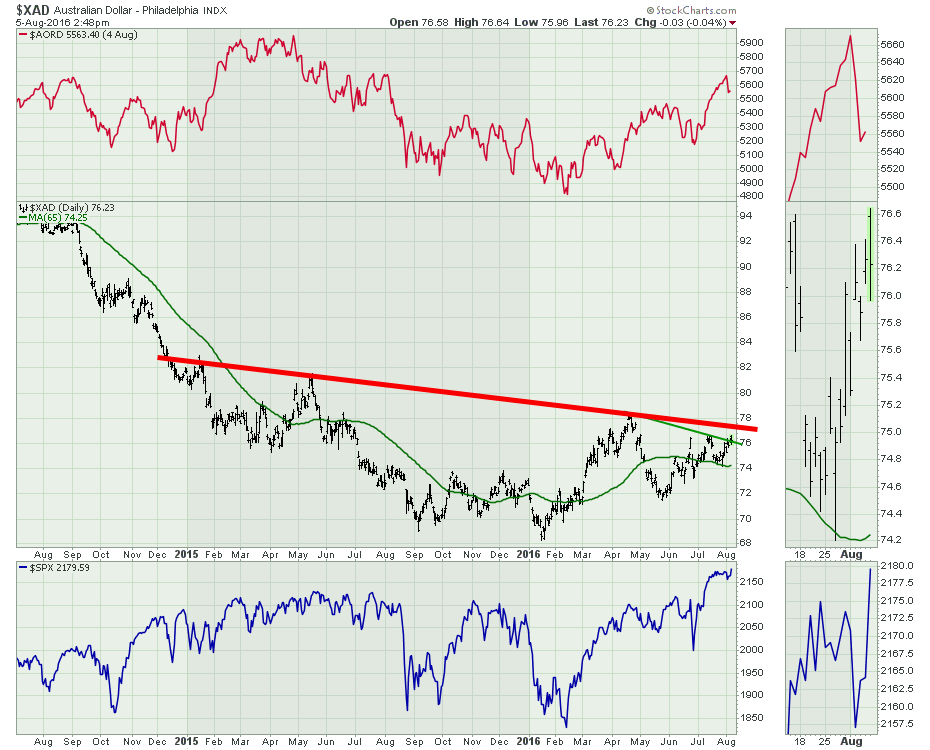 While the Canadian Dollar ($CDW) does not look as well setup, it has a nice short-term trend that seems to be setting up for a major breakout either direction.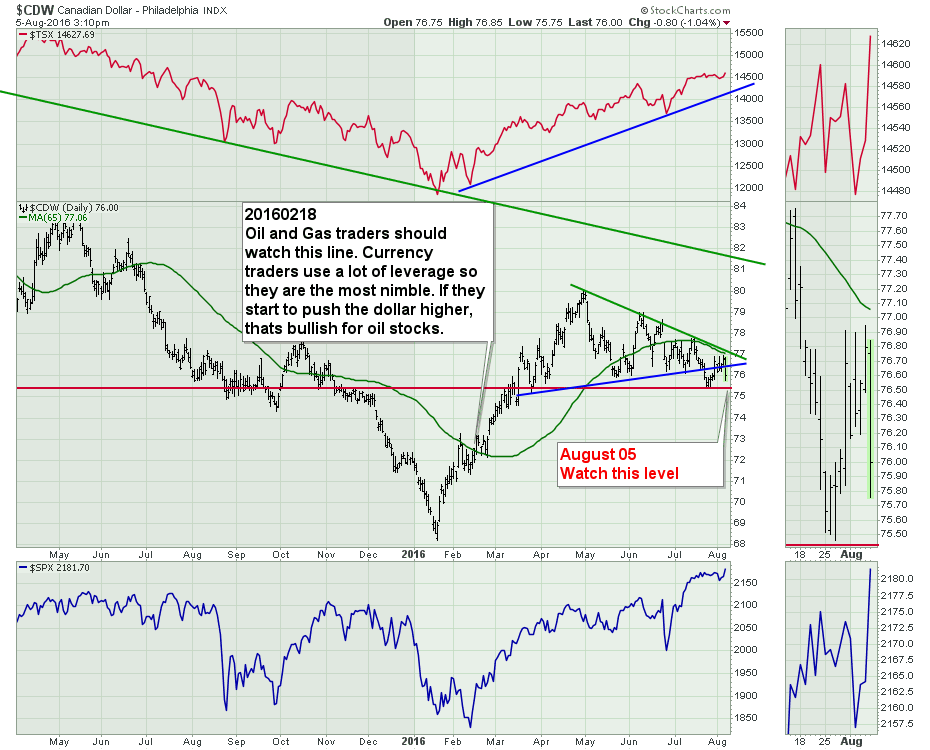 Lastly, the Gasoline ($GASO) and Heating Oil ($HOIL) charts are testing the 40 WMA. If they can hold here, I would expect more of a longer-term trend change.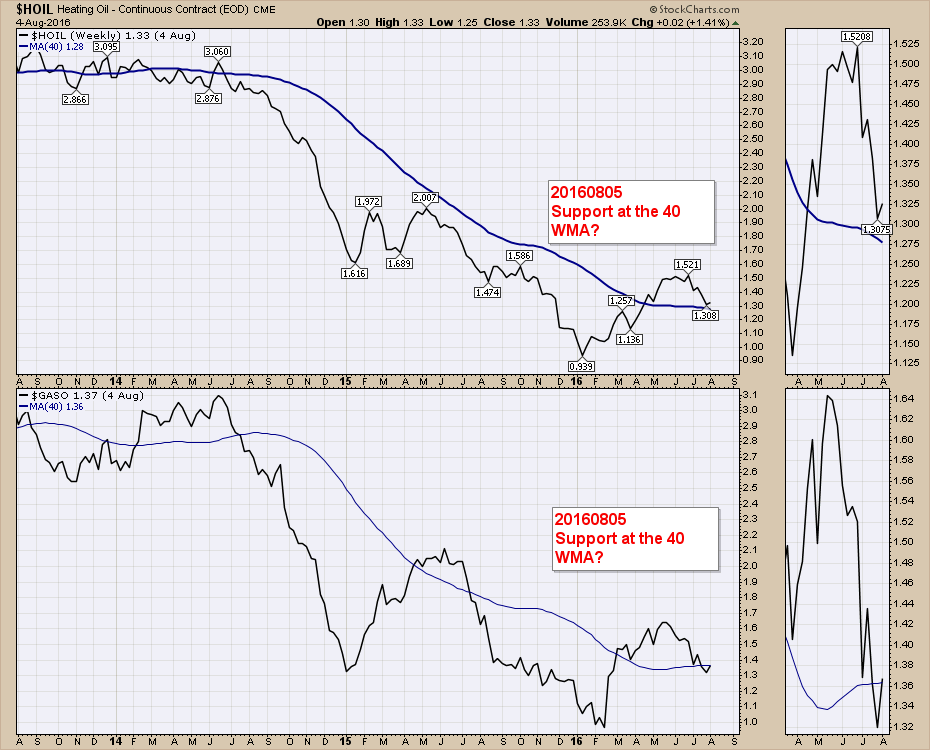 Have a great weekend and enjoy the webinar. It has a bullish message but I spend a few minutes explaining some bearish hypothetical setups. Here is the link. Commodities Countdown 2016-08-04.
Good trading,
Greg Schnell, CMT, MFTA.