Well, the tension in the commodities space couldn't be much higher. Oil has pulled back 10%, Natgas can't get out of its own way. Gold continues to do nothing, Copper exploded higher, rare earth metals broke lower, Silver broke a trend line, Soybean and Corn dropped. What a mixed basket.
A look at the USD is always important and this week, it looks like it is trying to roll over. The MACD is right at zero so this is a very important point for the dollar. A break higher here, suggests a return of the $USD bull market. A break down here pretty much marks the final high on a big negative momentum event with the MACD going below zero.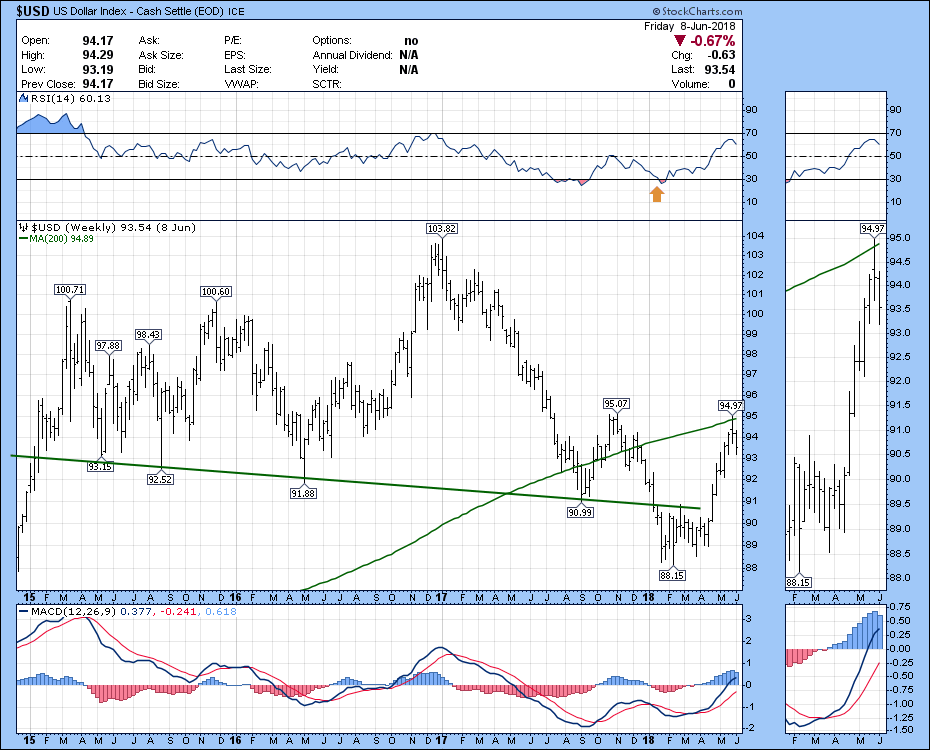 ---
Staring at oil, lots of traders are getting bullish with this 10% pullback. I think we might need more time to base build here. A break above $67 is bullish. Watch to see if the oil stocks participate.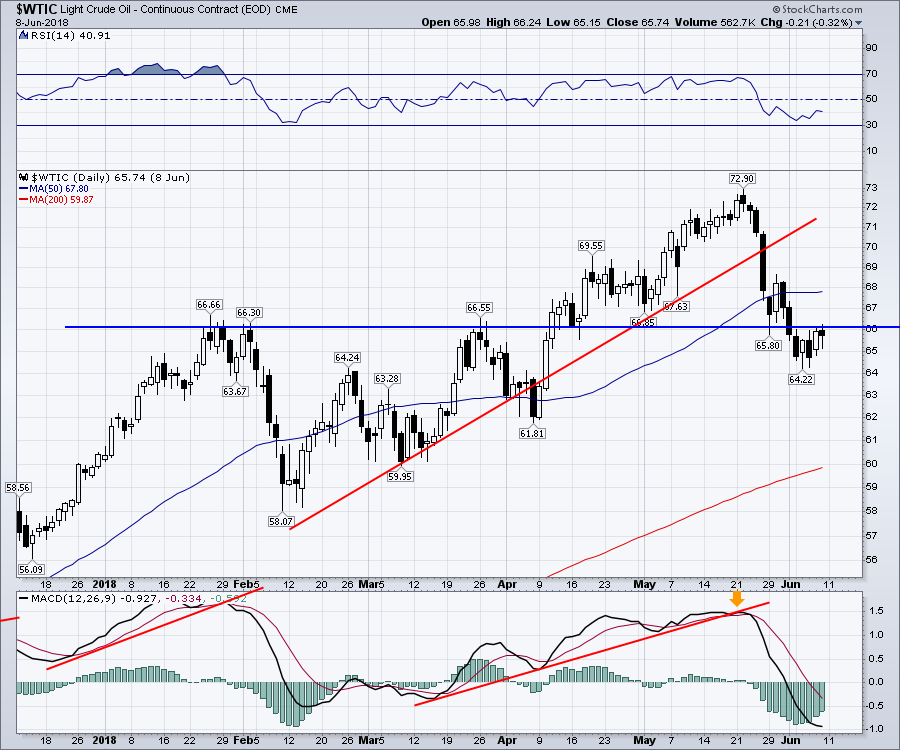 Gold continues to rest on the up trend line. Look how small the move is to new highs. 2-year and 4-year highs are just 6 % higher. If the MACD was to turn up here, that would be a text book move by bouncing off the zero line.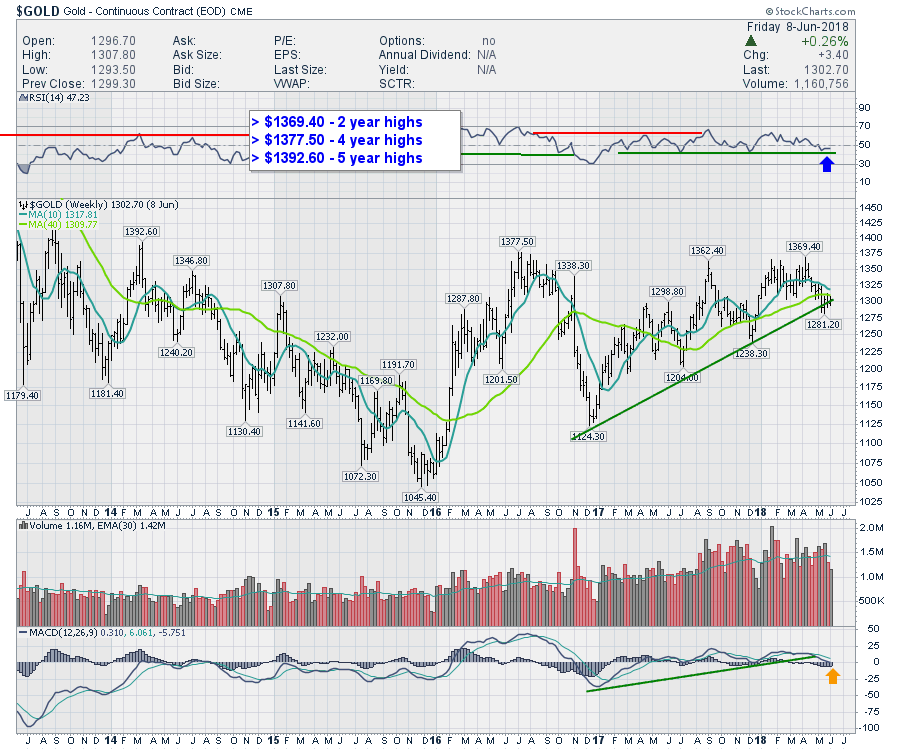 One of the other areas where there is tension in the market is the bond market. This is the 30-year bond yield chart. The MACD and PPO both some small divergences on the most recent highs.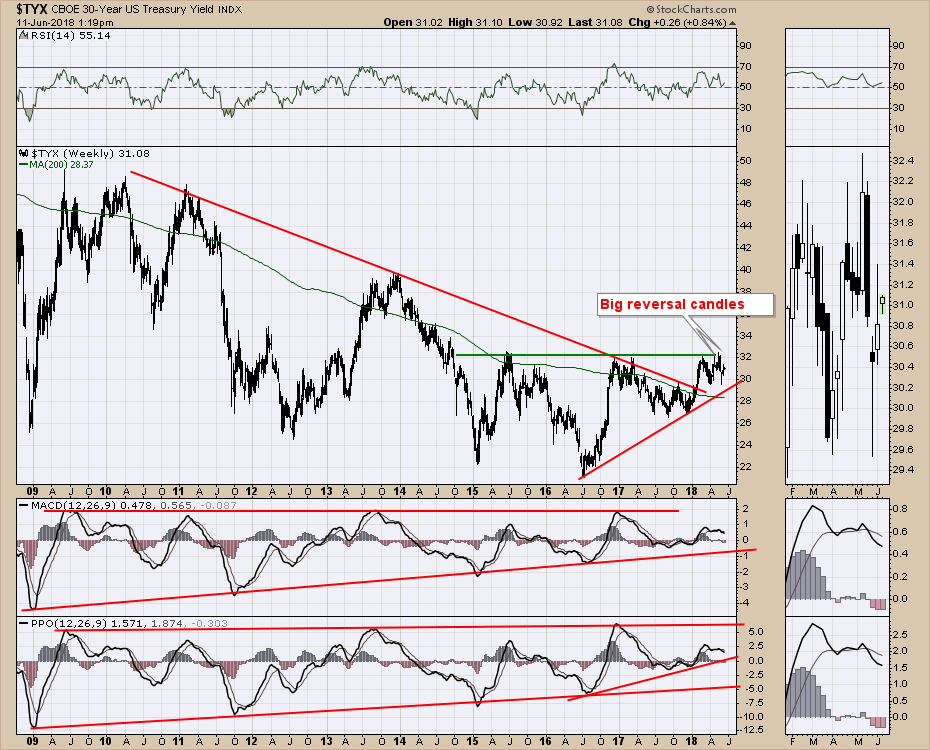 Moving to the MYI, a municipal bond fund, the picture looks the same. The full-stochastic is trying to rise above 20. Usually this fund gives a little leadership on the direction of the 10-year price ($UST10Y). Notice in the spring of 2017, the MYI started guiding higher before the UST 10 year price shown in gold.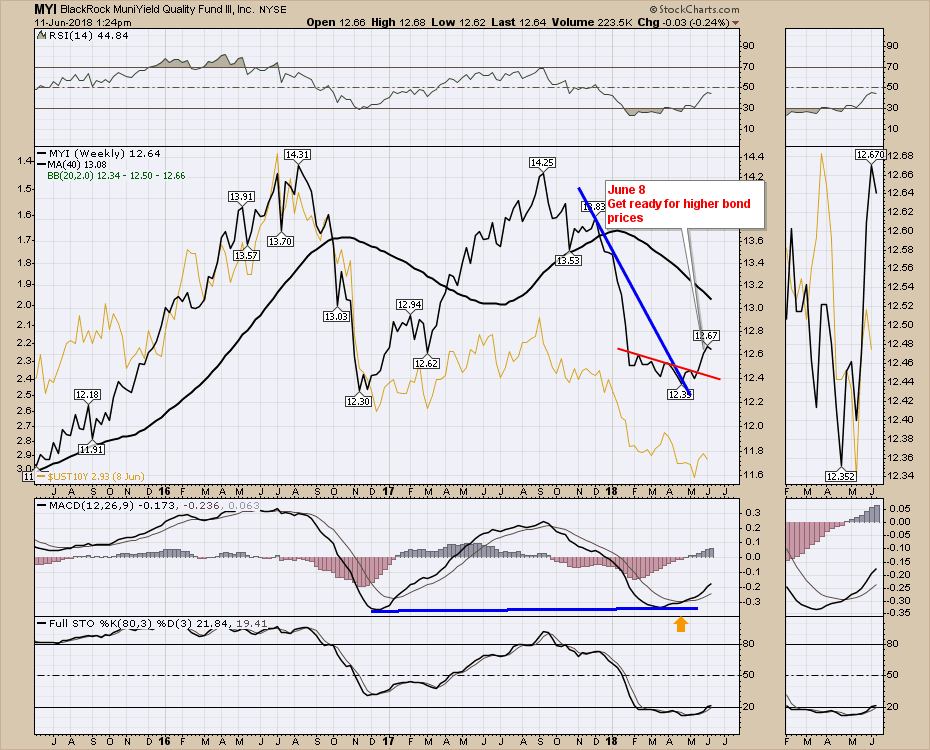 I am watching to see if these bond moves start to happen. With the Fed meeting, the rate hike and Quadruple witching options expiration this week, it suggests paying close attention.
One of the other charts of interest this week, is the weekly $RUT. While it is at new highs, the relative strength to the $SPX is up at a level where it typically tops out. During QE Infinity by the Fed Reserve in 2013, this chart got a little higher in relative performance. Other than that the most outperformance since the financial crisis is right around this level. Notice the shaded area.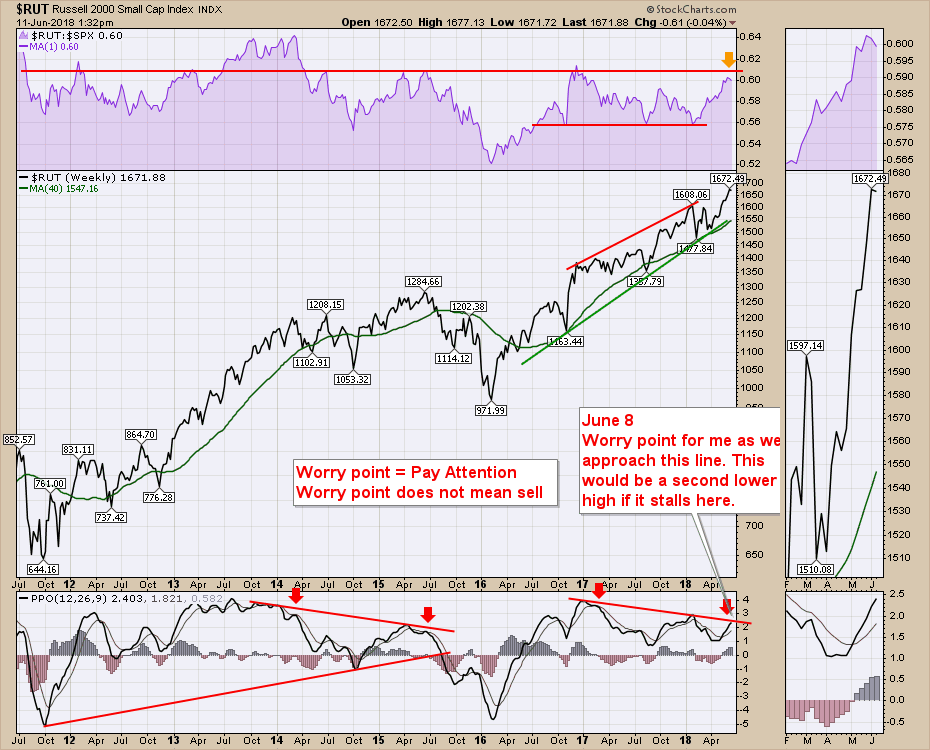 I think you'll find a solid hour of news worthy charts on the Commodities Countdown recording. Here is a link.
---
I host a new TV show on StockCharts.com called The Final Bar. It airs Thursdays at 5 PM ET and is repeated throughout the week on StockCharts TV. You can also catch it on my Vimeo channel or on the StockCharts.com YouTube Channel.
Good trading,
Greg Schnell, CMT, MFTA
Senior Technical Analyst, StockCharts.com
Book: Stock Charts for Dummies
Twitter: Follow @Schnellinvestor