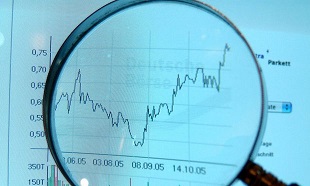 We have covered most of the preliminary issues such as digital measures and compound measures. This article will discuss the concept of Weight of the Evidence. I have been fond of a weight of the evidence approach for over 30 years. The concept of "weight of the evidence" came from Stan Weinstein who published the newsletter, "The Professional Tape Reader," and author of "Secrets for Profiting in Bull and Bear Markets." Back in the early 1980s, most analysis was done manually. We did not have computers, internet, or email. Our data came from subscriptions or newspapers. I was a religious user of the Barron's Market Laboratory pages. I was working with Norm North of N-Squared Computing then, designing technical analysis software (yes, it was DOS-based and ran on 5.25" floppies...and...on an Apple II computer). Norm had started a database of about 130 items from the market lab pages and each Saturday, I would go to the nearby hotel, buy a copy of Barron's, update the database then upload it to CompuServe so our clients could download it – all at the lightning fast speed of 300 baud. I'm somewhat of a packrat. I have many ring binders full of charts and notes; Graphic A is the weight of the evidence approach I used back then. Sorry for the inferior quality, but it is over 35 years old.
---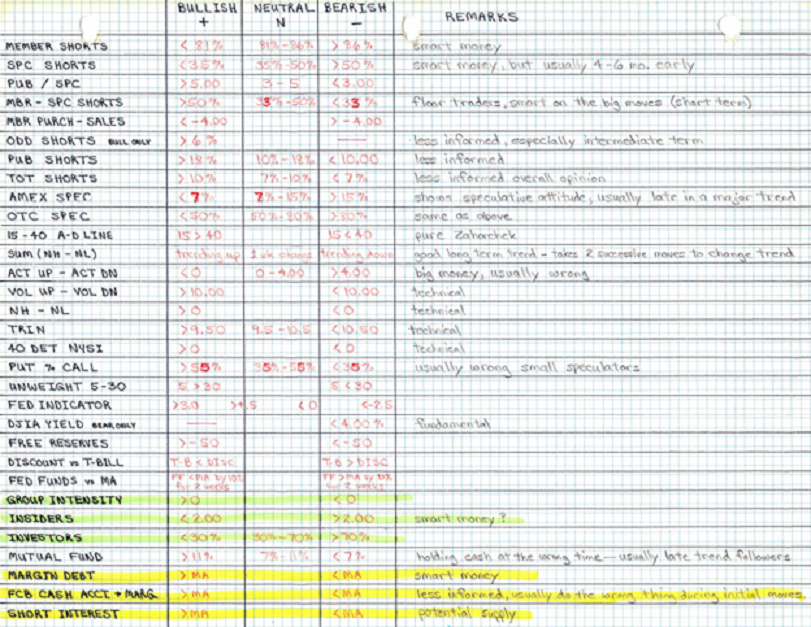 Graphic A
I have totally stopped using the sentiment measures because I think the data collection process is not reliable. If you have ever taken a survey, especially an unsolicited survey, you can probably guess where I'm coming from. However, that does not mean the data isn't worthwhile, just not for me, and certainly not good for trend following. I also no longer use any of the NYSE member/specialist data or odd lot data as most doesn't seem as valid today as then. Now, the technical trend following measures that make up the weight of the evidence consist of price, breadth, and relative strength indicators.
The concept of Weight of the Evidence is to measure an array of technical indicators all designed to help identify trending markets. Since the market is a price, then price-based indicators should dominate the array. The other set of indicators which I have talked about many times on this blog are market breadth indicators, sometimes referred to as market internals. Here are links to four of them:
Why Market Breadth is so Important
Market Breadth and Technical Analysis
The use of breadth in a Weight of the Evidence model brings exceptional value during the long-drawn-out periods of distribution while a market is in its topping phase. Breadth is a leader at market tops. At market bottoms breadth is coincident and doesn't offer much value.
So, what is the thinking behind a Weight of the Evidence approach? We all know that at certain times some indicators work better than others. As a trend follower, I have reduced the type of indicators to mainly price and breadth; I have one relative strength measure, which is also a compound measure. Over the years, the other types (sentiment, insider trading, interest rates, most actives, exchange shorting data, etc.) just didn't see to be consistent enough to use over time. Therefore, pick indicators that you would be comfortable with using all of the time; each one has merit. For price-based you can use the same indicator twice using different smoothing values, so you will get a short to medium measure and a medium to long measure. Personally, I have 9 indicators in my Weight of the Evidence model. Each indicator carries a different weight based upon its individual performance as a trend measure. The values assigned to each indicator are such that when they are all "on," the total is 100. We'll dive deeper into this later.
Dance with the Trend,
Greg Morris