When prices arc upward at ever-increasing speed, they form a parabolic curve, which should cause us to feel ever-increasing caution. With parabolic moves we never know when the final top will arrive because of the frenzy of buying driving the move, but we know that vertical moves cannot be sustained, and ultimately we can expect that the parabolic will collapse, with prices falling as quickly as they advanced. Let's look at a few charts that caught my eye.
The first I saw was Pharmaceutical SPDRs (XPH). Note the parabolic price curve with a corresponding flat OBV (On-Balance Volume) indicator. Volume should be moving up along with price, but it is running sideways instead. The PMO is overbought and seems to be trying to turn down. Finally, note the intraday reversal on the last trading day--possible short-term top.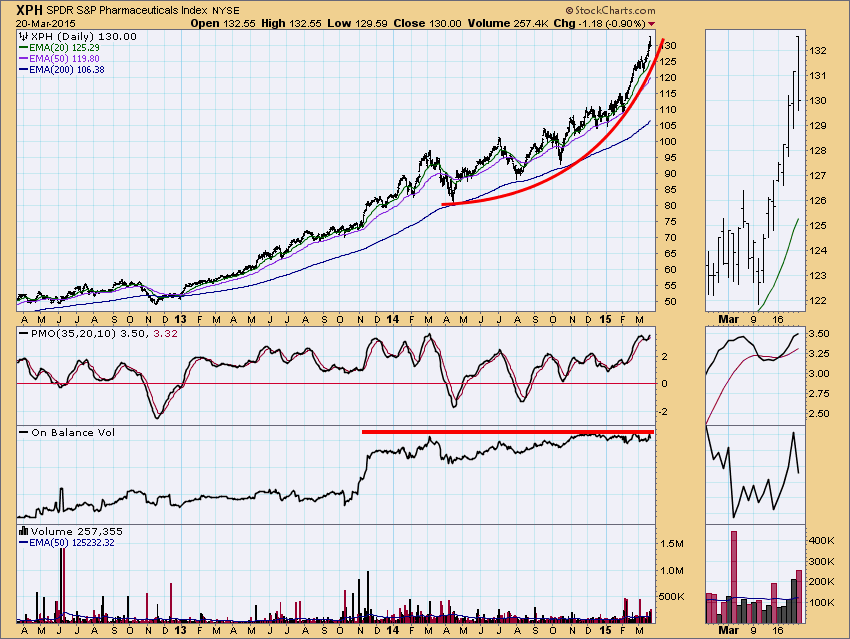 ---
Next is the Biotech iShares (IBB). Again we have similar conditions: Parabolic arc, sluggish OBV, and an overbought PMO. And there's the intraday reversal on Friday--possible short-term top.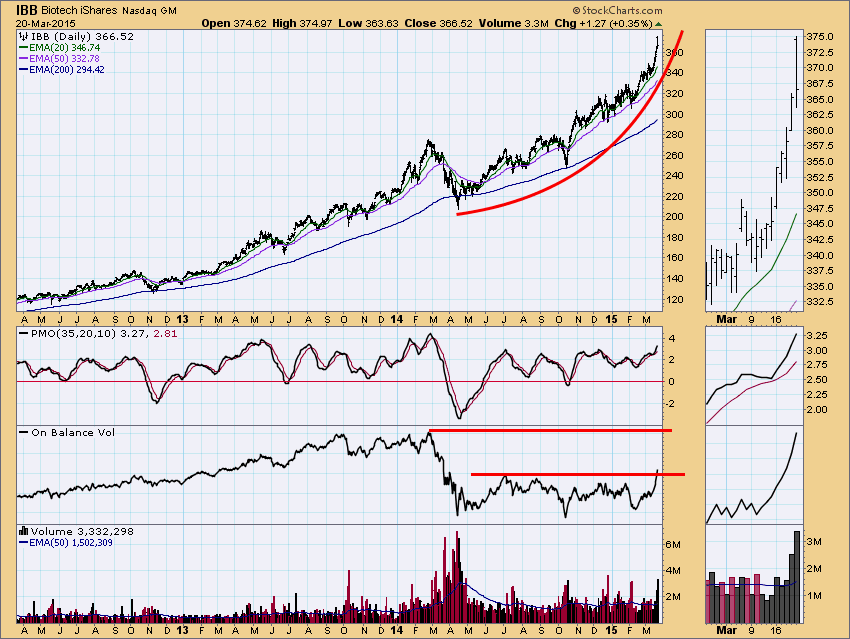 Finally, there is the Healthcare Providers iShares (IHF). Dare I say, ditto?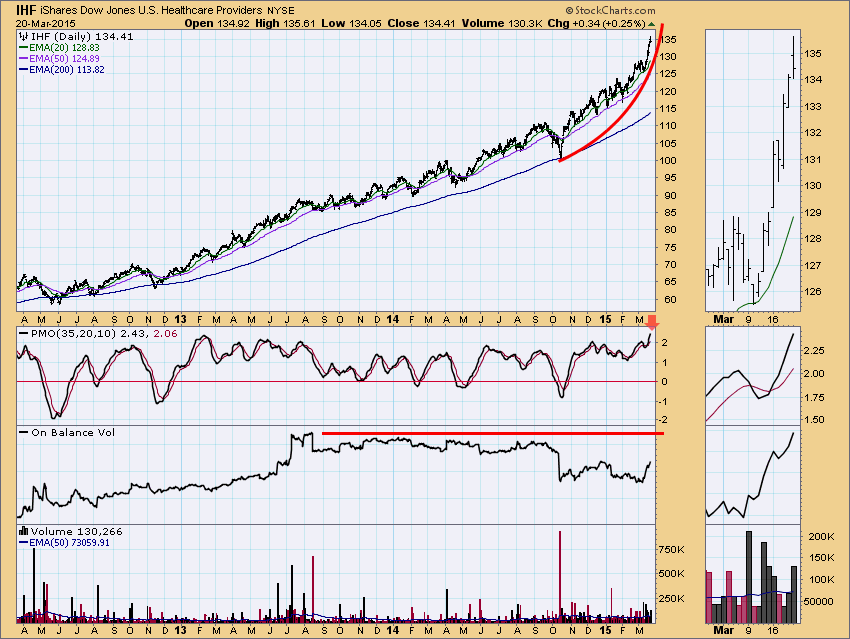 This would be a good place to stop, but we really need to look at the U.S. Dollar using a surrogate, The Dollar Index Bullish Fund (UUP), which is also in a parabolic up move. A reversal, when it comes, will have repercussions throughout the markets. The PMO is overbought, and price is trying to top. On the plus side, OBV confirms the price move.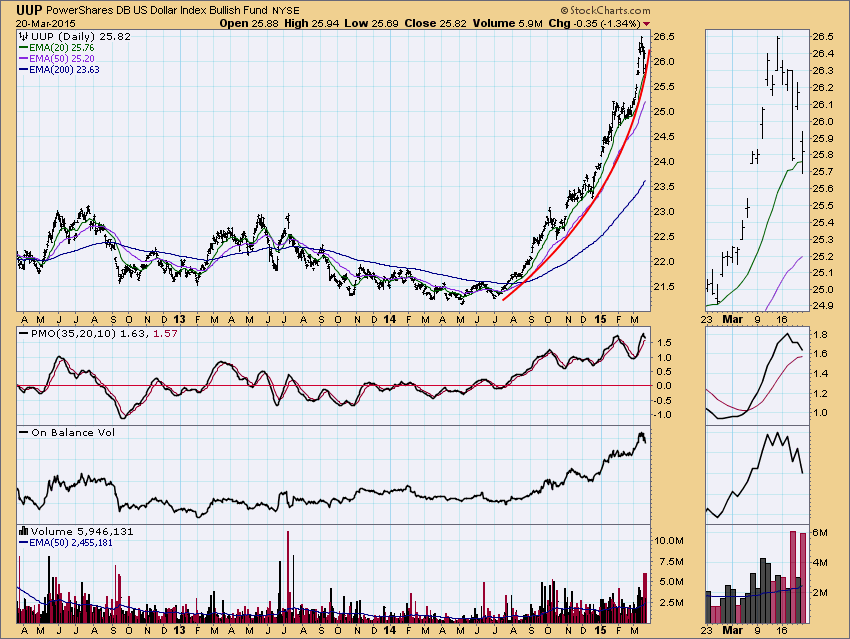 The weekly chart of UUP shows price near historical highs, and the PMO is extremely overbought. Also, note the frequent historic price reversals.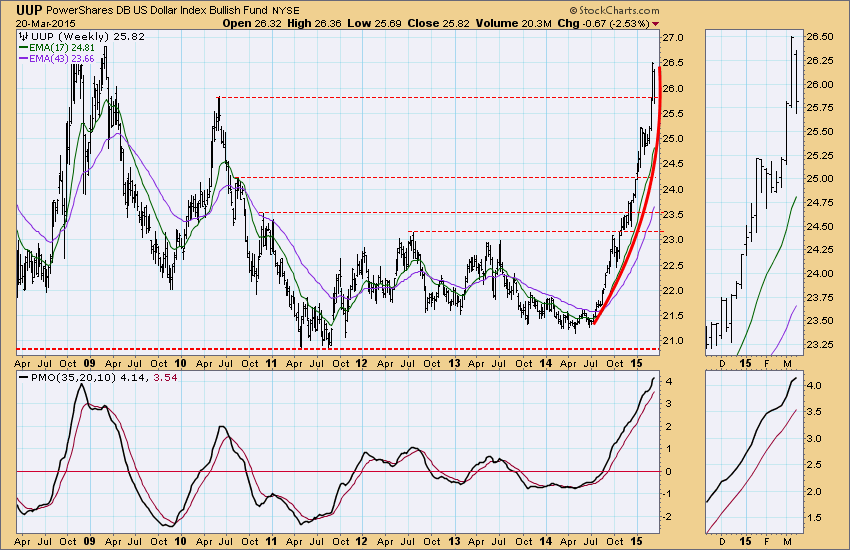 Conclusion: Parabolic up moves are exciting to ride, but there is the almost certain danger that the rocket will run out of fuel, resulting in a rapid collapse of prices. Trying to pick the final top for this kind of move could be hazardous to one's health, but being aware of the potential danger can be useful in managing positions.