Since about mid-March I've gotten quite a few questions from subscribers asking me to look at the $SPX monthly chart because it shows a monthly Price Momentum Oscillator (PMO) negative crossover. We haven't seen a monthly PMO crossover since the positive crossover occurred at the end of 2009, signaling the beginning of a bull market. So does this negative monthly PMO signify the beginning of a new bear market? The answer is "No".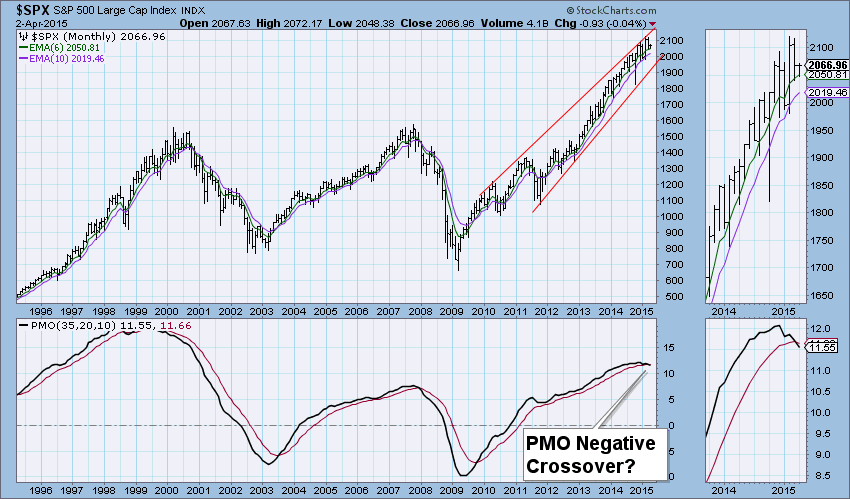 But wait! Looking at the last two negative monthly PMO crossovers, they signaled the beginning of a new bear market. That is true. And, had this been a negative monthly PMO crossover, it would. This is not a true PMO negative crossover. Remember that our weekly charts go "final" on Fridays or the last trading day of the week. Monthly charts do not go final until the last trading day of the month. So the chart above may show a negative monthly PMO crossover, but it isn't final. The chart below is the correct chart. It is dated the last day of trading on March 31st. Surprise! The monthly PMO narrowly avoided a negative crossover. So technically we are still on a monthly PMO BUY signal.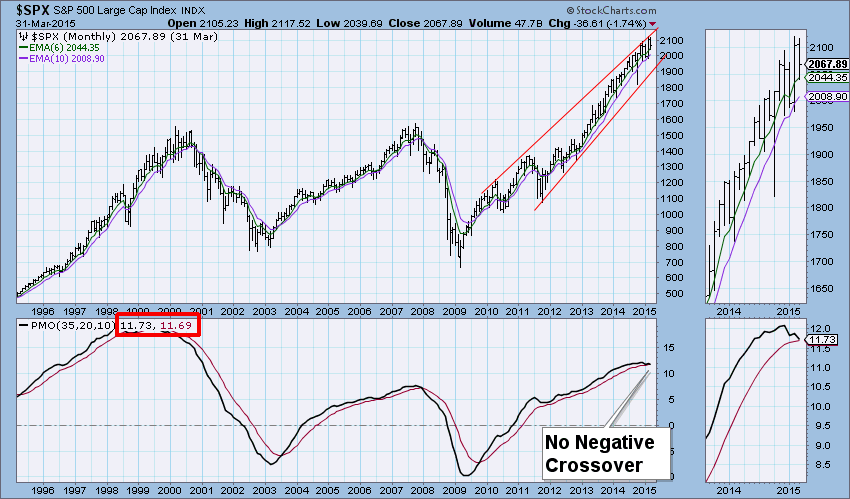 So, be careful when you are looking at new signals generated on weekly and monthly charts.
Happy Charting!
Erin
About the author:
Erin Swenlin
is a co-founder of the DecisionPoint.com website along with her father, Carl Swenlin. She launched the DecisionPoint daily blog in 2009 alongside Carl and now serves as a consulting technical analyst and blog contributor at StockCharts.com. Erin is an active Member of the CMT Association. She holds a Master's degree in Information Resource Management from the Air Force Institute of Technology as well as a Bachelor's degree in Mathematics from the University of Southern California.
Learn More