Yesterday during my webinar, I added a "chart spotlight" at the end of the program. It's a new feature that viewers had asked for since I generally go through a review of the major indexes (small and large), DP indicators and the "Big Four" as I call them, Dollar, Gold, Oil and Bonds, so this addition adds a new chart or two each time. I typically will run a scan to find possible candidates; however, this time it was presented to me through a technical alert. I reviewed the Consumer Staples SPDR (XLP) because I was alerted that it had just triggered a Long-Term Trend Model (LTTM) BUY signal.
---
---
This is an important signal. It is generated when the 50-EMA crosses above the 200-EMA. DecisionPoint analysis tells us that when a stock, ETF, index etc. have a 50-EMA above the 200-EMA, it now has a bull market bias. You'll note in the daily chart below that XLP broke above previous December highs, but not more solid overhead resistance at $52.50. The positive divergence between the OBV and price bottoms resulted in this week's rally. The Price Momentum Oscillator (PMO) just had a positive crossover its signal line presenting a new PMO BUY signal. The SCTR is beginning to rise again as well.
One of the great benefits of DecisionPoint ChartPacks is that you can download the "Straight Shots" pack which offers you the primary DecisionPoint indicators for all the sector SPDRs AND their equal-weight counterparts. Here is the "OBV Suite" of indicators: the Climactic Volume Indicator (CVI) is an ultra-short-term indicator ("ultra" short term is measured in hours to days), the Short-Term Volume Oscillator (STVO) is a short-term indicators, and the Volume Trend Oscillator (VTO) is intermediate-term.
With the CVI, we are looking for spikes or climaxes in the indicator. When these arrive, you can expect either an initiation or exhaustion of the current price move. In the case of XLP, climactic readings occurred Tuesday and Wednesday. At that time, I had to determine if this was an initiation to higher prices or an exhaustion of the rally. Since the rally was only two days old, I am calling it an initiation impulse. Of course today's reaction was a pullback, but sometimes it does take a day or two to shake out. The STVO and VTO are both rising. The STVO is in positive territory but it is showing some deceleration now that it has reached the previous top. The VTO is nearing positive territory. Today's move seems to have dampened the enthusiasm of both the STVO and VTO, but I'm still looking for higher prices after a breakout above $52.50.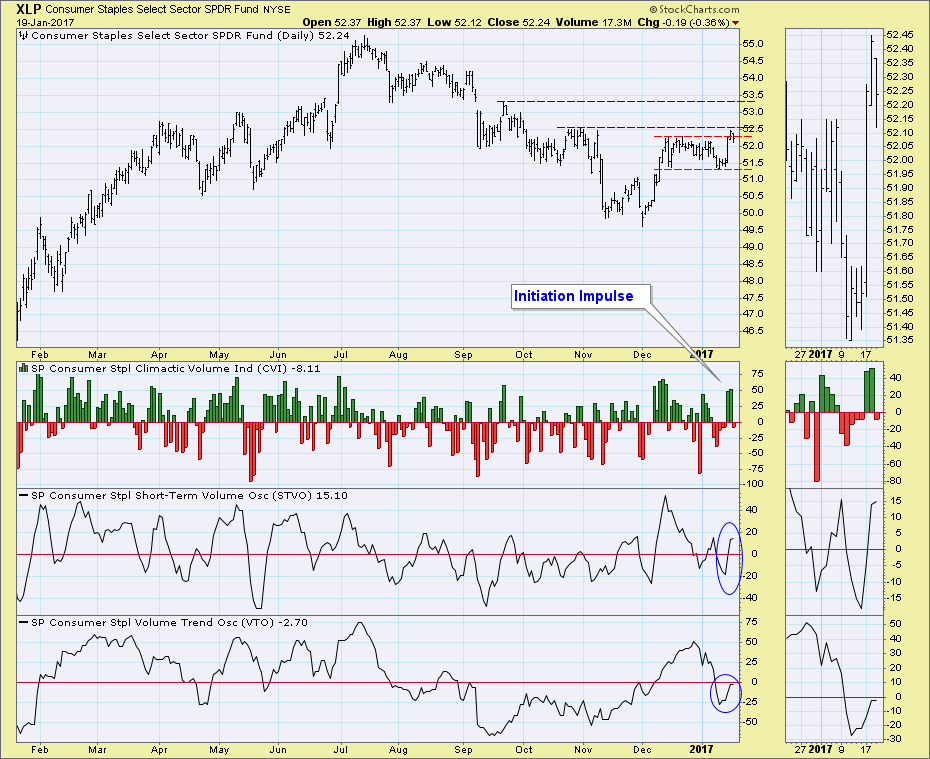 Conclusion: The Consumer Staples sector is making a positive move. Many are bearish on the market in general and XLP moving into a bull market does confirm bearish sentiment via sector rotation guidelines which tell us to expect Consumer Staples to do better as the market turns down.
---
The NEW DecisionPoint LIVE public ChartList has launched! Click on the link and you'll find webinar charts annotated just before the program. Additional "chart spotlights" will be included at the top of the list. Be sure and bookmark it!
---
Come check out the DecisionPoint Report with Erin Heim on Wednesdays and Fridays at 7:00p EST, a fast-paced 30-minute review of the current markets mid-week and week-end. The archives and registration links are on the Homepage under "Webinars".
---
Technical Analysis is a windsock, not a crystal ball.
Happy Charting!
- Erin