Recently Facebook (FB) has gone sideways. Unfortunately, the rest of the market has gone higher. This gap between Facebook and its peers is becoming more and more noticeable.
The SCTR ranking is still very high. The S&P 500 ($SPX) relative strength is dipping in June. As Facebook has a huge market cap, it is valid to expect the stock to rise with the $SPX. This underperformance is very surprising as the markets in general have accelerated lately, but Facebook has not followed the $SPX or the $NDX higher. Looking at the price plot, I have posted the Nasdaq 100 ($NDX) behind Facebook. This would be Facebook's large technology peers for the most part. Facebook has almost been ignored in the uptrend since the markets broke above the consolidation range. The green band across the middle is starting to form a significant resistance level for Facebook here.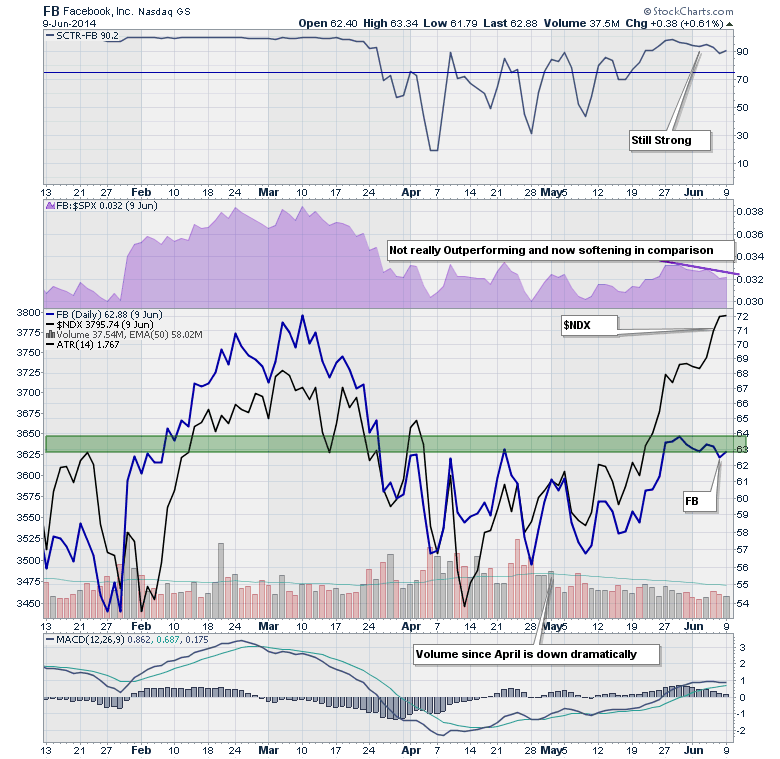 You can also see the volume has been dramatically weaker than April. The 50 Day Exponential Moving Average Volume (50 EMA) is 58 Million shares/day. Facebook only traded 37.5 Million yesterday and throughout May into the first part of June traded well below average every day.
Finally, the MACD is pausing here above the zero line but has not rolled over yet. For Facebook shareholders, it may be an important time to evaluate the current weakness. The SCTR can be a late sell signal for active traders so I would not use that as a trigger.
Good trading,
Greg Schnell, CMT