Netflix (NFLX) has introduced the world to the easiest way to spend a day watching a series of shows one after the other. It is remarkable how a technology can change a behaviour of adults so fast. After repeatedly asking kids to not spend hours in a row watching TV, the parents get absorbed in a series and have trouble stopping at 'just one'. When Netflix was pulling back, everyone wondered if that would be the final high with all the competition in the online streaming space. It still might be, but for the first time in a few months, Netflix broke above it's downward trend line. On double the average volume, NFLX broke above the downward trend line which is a similar slope to the break out in May. It still has to contend with the most recent high at $352.32, but the trend line break on high volume suggests strong support for the move.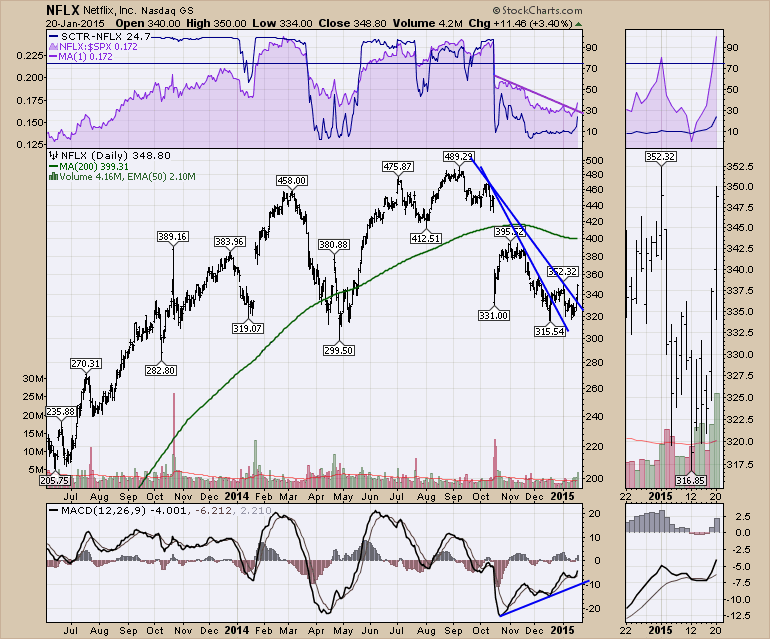 The MACD continues to trend higher. The SCTR turned up nicely. It is still early days, but a lift in momentum usually needs volume, and the buyers showed up for work in a big way today. A lot of analysts expect Netflix to continue rolling out around the world and expect the rest of world start "flixating" in front of the television! Analysts have targets in the $400 range which has plenty of upside from here if you can get comfortable with fundamental analytics.
After Hours Update: The volume was right. I didn't realize it was Netflix earnings date for the article. Big pop after hours.
Good trading,
Greg Schnell, CMT