Suncor is Canada's largest energy company. It is an integrated oil company meaning it has both (Upstream) Exploration & Production as well as (Downstream) gasoline refining and marketing. Suncor markets the fuel through the Petro-Canada brand in Canada. It has a US dollar market cap of $45 Billion.
During Thursday's webinar in the Q&A section, I was asked to comment on Suncor. While it is a tremendous company, it has gone mostly sideways for years after the 2009 merger of PetroCanada. Warren Buffett was doing some buying around this level in 2013. I have shown the chart in $USD trading on the NYSE. But I was really impressed with the timing of the question. What a great setup on Suncor (SU) or (SU.TO) right here.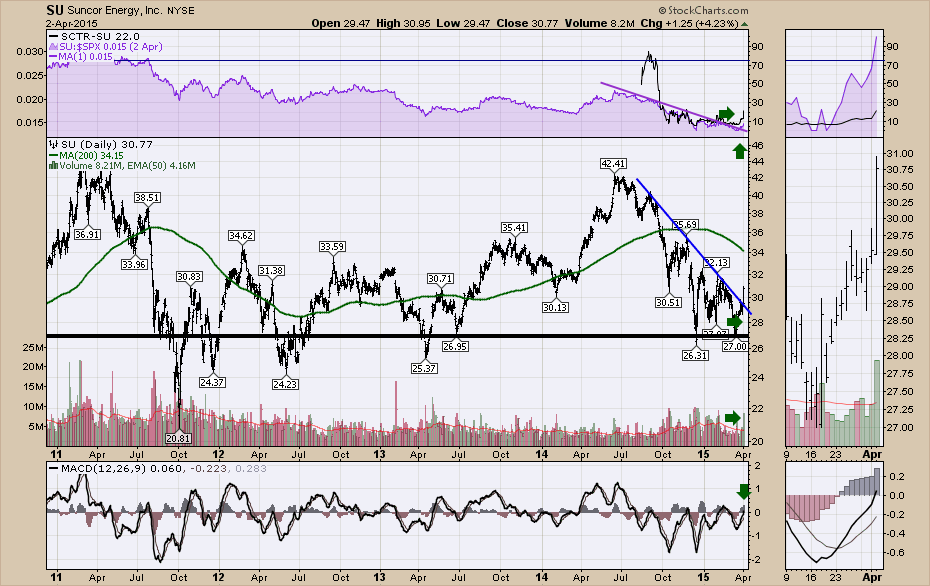 Chart 1
For Canadian traders, you can use the SU.TO ticker symbol. With an SCTR ranking turning up, volume showing up and a break in relative strength, Suncor looks attractive here if you think the bottom in oil is in. If you don't agree with the bottom in oil yet, then stops should be very tight.
Good trading,
Greg Schnell, CMT
About the author:
Greg Schnell
, CMT, MFTA is Chief Technical Analyst at Osprey Strategic specializing in intermarket and commodities analysis. He is also the co-author of
Stock Charts For Dummies
(Wiley, 2018). Based in Calgary, Greg is a board member of the Canadian Society of Technical Analysts (CSTA) and the chairman of the CSTA Calgary chapter. He is an active member of both the CMT Association and the International Federation of Technical Analysts (IFTA).
Learn More