FireEye (FEYE) has been a stormy stock. It launched onto the exchange with an IPO price of $20, but the opening week doubled. After a massive first week, the stock tried to find a level between $33 and $44. The next three months built a consolidation pattern in that range. A breakout in December 2014 saw the stock launch in a vertical breakout that doubled the stock price by the first week of March 2014. This parabolic move was subsequently reversed as they typically are and went all the way down to the lower ranges of $25 just as fast. Whew, tough ride! In February 2015, the stock broke above a $35 resistance level. It consolidated for 3 months and looks like it is trying to move up again above this $45 level. The high this week was a new 52 week high at $47.28. With the SCTR clearly building momentum, the relative strength improving and a new 52 week high, this looks to be heating up in the eye of the storm that is cyber security.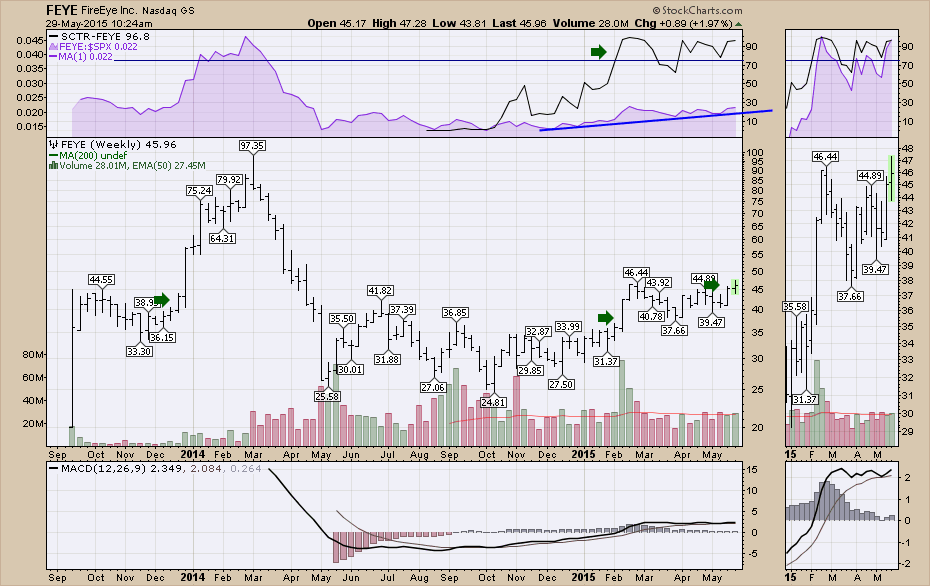 Investors can play these stocks independently or in the ETF called HACK, but I don't think the cyber threats are going away anytime soon. Especially after the tax data leak this week!
Keep your Eye on this sector. It's starting to get Hot again! I guess that's why they called the company FireEye (FEYE). Have a good weekend, and may your data be safe.
Good trading,
Greg Schnell, CMT