Every now and then a new stock comes into the market that appeals to a wider audience that just regular investors. Recently Shake Shack (SHAK) went public as a burger joint with some seriously good management behind it. GoPro was another stock that had wider public appeal than just regular investors. If you are in these stocks when they go ballistic, it can be a fun ride. In the case of the Shake Shack shareholder, this one has milkshake on the ceiling today! One of the best ideas as a share owner is to figure out how to exit as they come back to the regular stock market blender. I like to use relative strength shown in purple to help with the exit. We don't usually use a 60 minute chart, but at the rate of the vertical ascent, it might require a much shorter time frame to help with the exit. Four things are facts: The IPO price was $21, we are at 4.4 X of that. It opened trading at $46, we are 2 X that. It has moved $25 a share in 2 weeks. That is more than $2 a day! The share price is up 45% in two weeks. Lastly, we are approaching $100. That usually makes every one check the price, especially on a new share.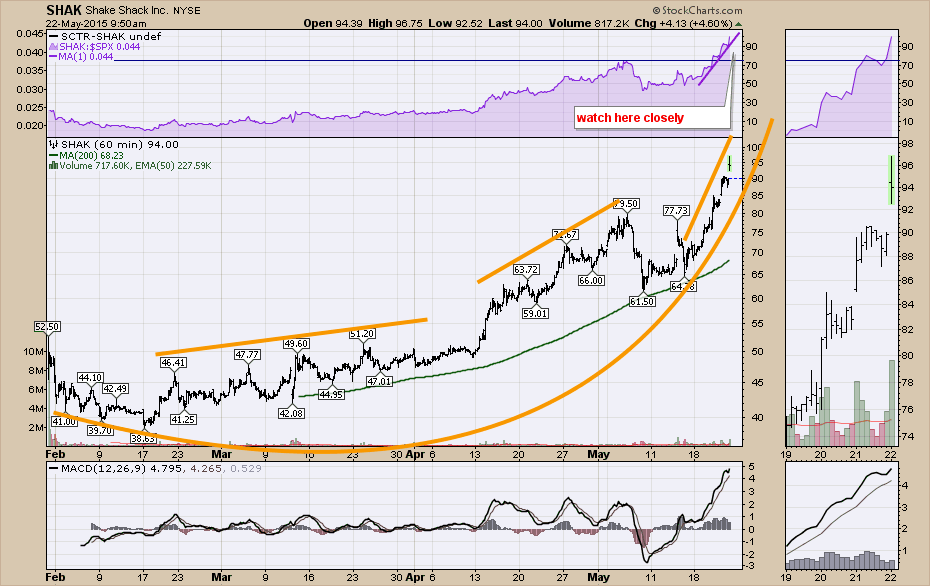 Click on the chart for a live update.
Smart but cheese loving shareholders may wish to take profits very quickly if the stock starts to break through the purple relative strength line or have some other metric to get out. As soon as this stops moving up faster than the market, it is probably on a pour path back to a normal cup. Said another way, when the overall market starts to outperform (SHAK) on the 60 minute chart, you could probably take profits and be close to the ceiling for now. If it continues its ballistic, sweet but shaky ride, you can stay in the trend as long as possible as long as it is outperforming the market. The three straight orange lines show the 3 phases of a parabolic move. That final vertical run marks the end at some point. The big sweeping line shows the parabolic style of the price action which is a sign of investor frenzy.
Attention: Shake Shack owners, your order is almost ready!
For more information on Relative Strength signals, the webinar of May 21, 2015 had a solid 1/2 hour on how I trade with the RS trend line. Good trading and have a good weekend.
Greg Schnell, CMT