Goldman Sachs (GS) continues to look towards Pluto for direction. After dipping 80% in the 2009 financial pullback, Goldman bounced well. On its return to the $180.00 level, Goldman decided to drop 60% again back to $79.95. But the low in 2012 at $86.80 has been the last time buyers got a deep discount on the stock. GS has been a solid performer with a strong upward trajectory. Remarkably, the SCTR ranking has not shown Goldman in a good light. Over the past 7 years, Goldman has not been one of the top quartile stocks very often. The line on the SCTR is at 75%. Goldman is currently near 80% so maybe this time it can get a sustained run at this higher level of outperformance.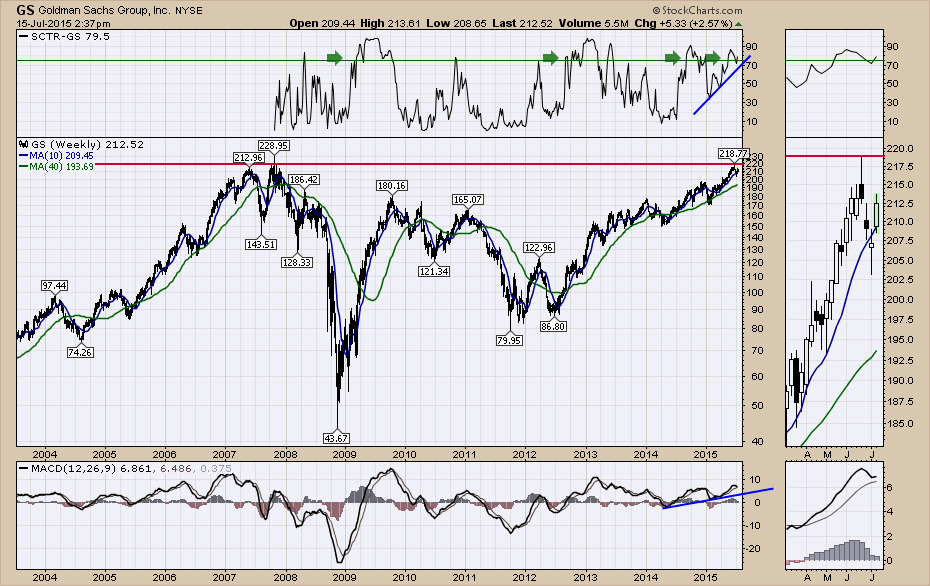 On the price plot, Goldman has been well supported at the 10 week MA in blue. The recent high of $218.77 was just above all of the resistance at the 2007 top. There was one lone week that was well above and surged to $228. Do you think Goldman will start a big run here and take out the all time high? It has already moved up $10 off the lows of last week so that is a pretty strong move.
Looking at the MACD it has been trending nicely. The MACD is currently making a series of higher highs and higher lows which can only be construed as bullish.
Even though the date for the fed rate increase seems to be pushing back, the major banks, brokers and investment houses continue to run. With the big move in BAC today, there seems to be lots of confidence for the rate hike starting to show up in these stocks as investors are pushing them up. Do you think the Fed will raise rates this year? That is a great question. It might just be that the longer it takes for the rate hike to come, the more time these major financial stocks have to keep rising while waiting for the rate hikes. At the current rate of ascent, Goldman's stock price could be doing a selfie with Pluto in the background!
Good trading,
Greg Schnell, CMT