The media stocks had a rough week. Time Warner (TWX) has been on a nice 6 year uptrend. But something happened this week that is very important. The stock broke meaningfully down from the trend line. The SCTR ranking was below 75 as the stock made new all time highs in early July. A high SCTR ranking is not a condition as you make new highs but the SCTR has not been able to become a top SCTR ranking in 2015. The price is down more than 10% in a month with most of that damage occurring this week.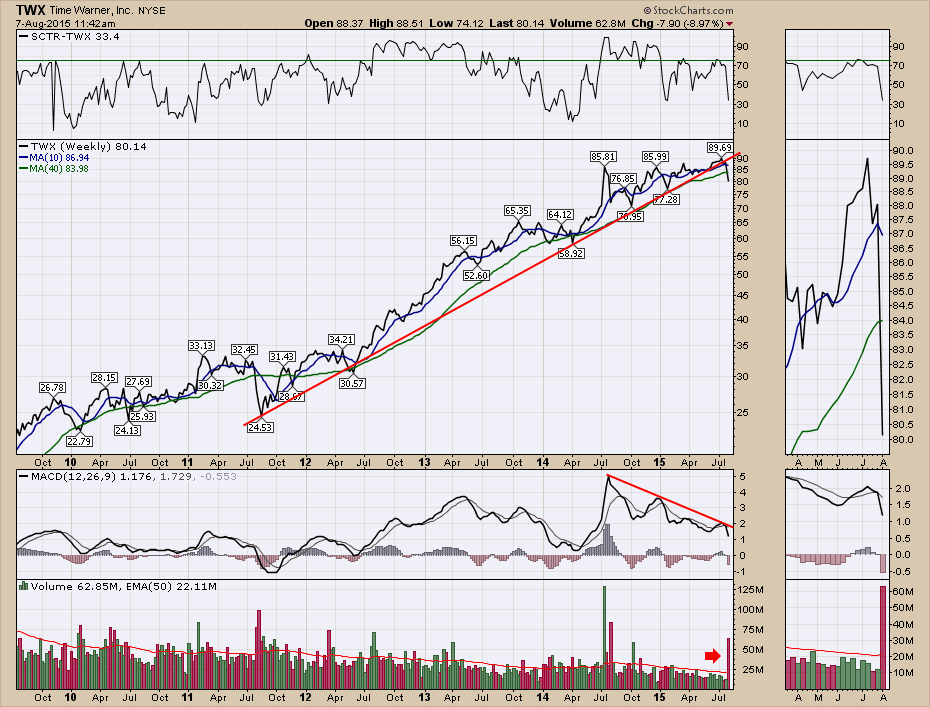 While the stock went onto new highs, the MACD showed a significant decline in momentum. The last time volume soared in July 2014, TWX broke out to new highs around $85 on a sudden surge. After breaking above two previous highs at $85, the stock ran up to $89 and has quickly fallen below the previous support/resistance at $85 and the 5 year uptrend. But Time Warner was not alone. When Bob Iger of Disney said subscriptions were a little light this month, Disney dropped over 10% in a week. Fox also broke down hard this week.
We are into the gigantic US election cycle which generates huge advertising revenue. Hard to believe these stocks could top out here. This could be a good place to look to buy the dip with hard stops underneath, but we might be getting close to the best before date if unbundling comes to be a mass phenomena.
Good trading,
Greg Schnell, CMT