Amerco (UHAL) is the parent company of U-Haul. We have all seen them or used them driving our stuff across North America. The stock has had a very important consolidation that is not unique.
The stock has been on an unbelievable up trend off the 2009 lows. At this point it is up almost 2000 % off the 2009 lows. Earlier this year it went into an extremely flat consolidation where the 'market' held the stock in a very tight range for well over 4 months. This can point to accumulation according to IBD. Institutional investors sit and buy up all the open shares but they don't allow the stock to move up until they have accumulated their position. You can see in the zoom panel on this weekly chart that it broke out roughly July 1st from the consolidation and this week was up $30 at one point and closed up $23 higher on the week! Not bad on a week where the $SPX lost 1.3% and the NASDAQ lost 2.9%.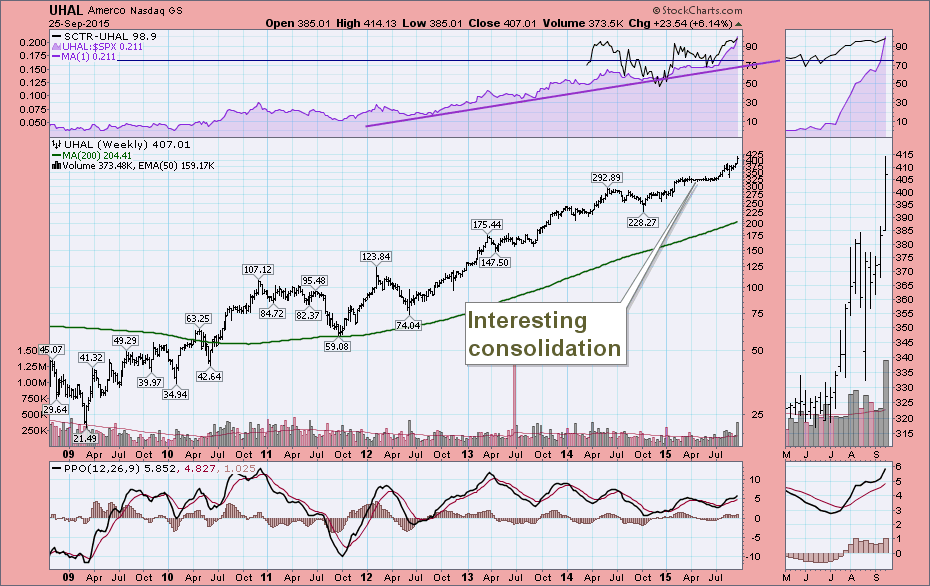 These stocks are so hard to enter when they have soared like this. It might be one to put on your 'waiting for a giant pullback' ChartList radar if we get the opportunity. Perhaps UHAL can get your portfolio 'moving' in the right direction!
Good trading,
Greg Schnell, CMT