West Texas Intermediate Crude ($WTIC) fell back under $28 to retest the lows of January. So far, the trend in price still has a pattern of lower highs and lower lows. While it would be preferable to see this low tested and hold, all of the data regarding supply inventories of crude oil, gasoline, and distillate (Diesel fuel) are trending higher, which is bearish for crude oil. Unfortunately, all the demand data forecasts are not increasing at the same rate as the inventories. At this point, there is no evidence of a reversal in the supply / demand imbalance.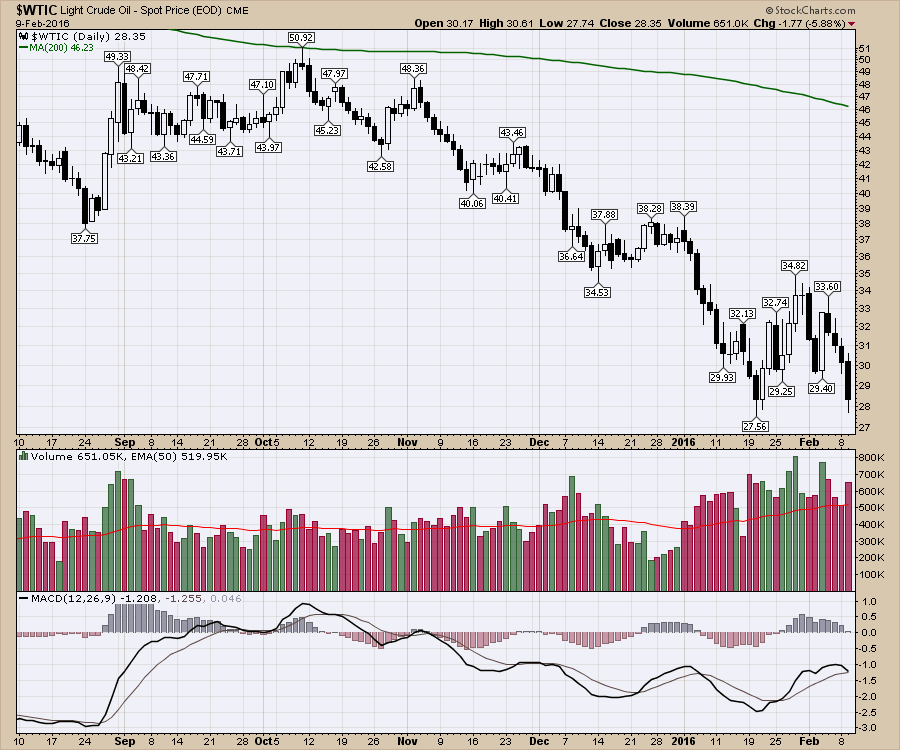 ---
So while we continue to see the industry struggle globally, the pain has migrated with serious financial implications for suppliers and transporters. Now governments around the world, which have lost significant tax revenue, are also becoming aware of the broad economic damage from the low price of oil. Investors in the equity markets are also seeing the slowing global growth affect their portfolios. The volumes, the percentage moves, and the momentum on the crude oil chart above all point to significant stress. While we don't know when the price will finally find a bottom, there is not a lot of profitable production at this level.
This chart was the first in a series of dominoes that broke down in 2014. As we continue to head lower without a countertrend rally in sight, the basing chart pattern we need to see is not on the chart yet. It would appear to be too early to start betting on a floor for the oil and gas energy companies as the rally off the $27.56 level barely lasted a week.
Good trading,
Greg Schnell, CMT