In the world of advertising, few things distract you as much as the billboard. The job of the billboard is to get your attention and change your thinking. Lamar Advertising (LAMR) broke through to new highs back in December, drawing my attention to the stock. I wrote about it back then in a DITC article. When Advertising Dollars Fall From Helicopters. Well, right after that, the overall market plummeted 10% or more, and LAMR was no exception. Now, it is back at the top breaking out on higher volume than the last 2 weeks. As long as the Relative Strength in purple stays above the green line, this looks good. The SCTR has returned above 75. The MACD is climbing with lots of separation and the chart looks good. Another interesting point is the increasing dividend which just jumped by 10%.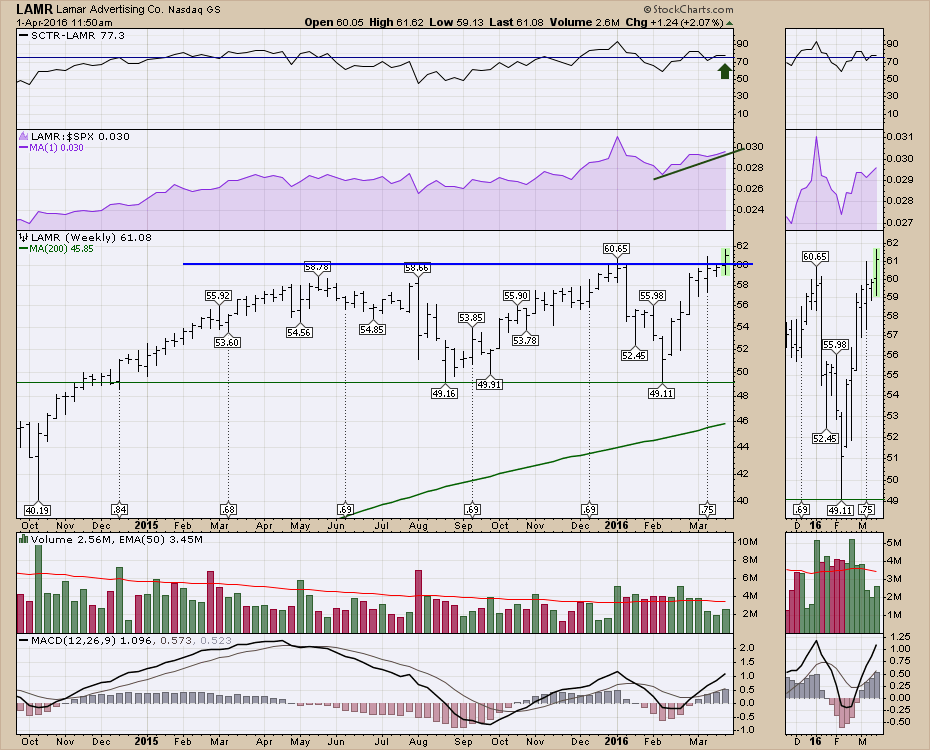 ---
While the $SPX tests its December highs, the broader market is in an awkward place. But we do know an election is coming and every elected official is putting their face on a billboard saying how much they love spending money on you. The backdrop for LAMR is great in an election year, an Olympic year, and a growing economy based on GDP. If LAMR can hold $60, this chart looks great too. Has it got your attention?
Good trading,
Greg Schnell, CMT, MFTA.