Oracle broke above its 200-day moving average back in early March and then pulled back over the last ten weeks. There are signs that this pullback is ending because Aroon Up just surged above Aroon Down. Developed by Tushar Chande, Aroon means "dawn's early light" in Sanskrit and this indicator pair can be used to get a jump on trend changes. There are many ways to use this pair and I relay on two steps for a bullish signal: Aroon Up crosses above Aroon Down AND Aroon Up hits 100. The indicator cross is the most frequent signal and the one most prone to whipsaws. Chartists can reduce whipsaws by looking for confirmation with a move to 100.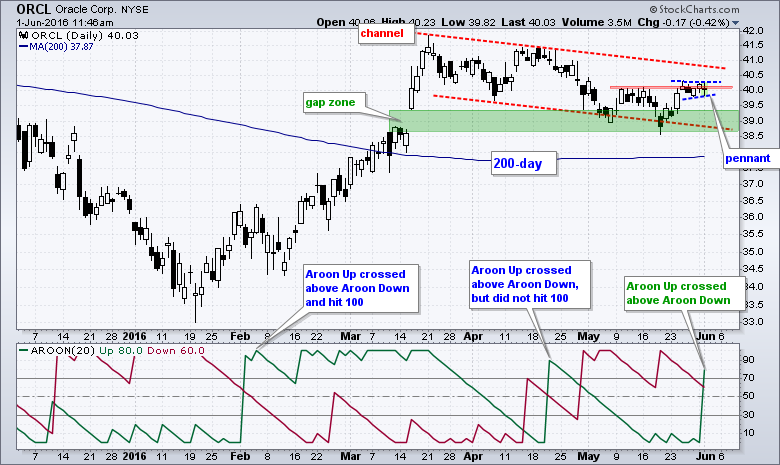 ---
As the Oracle chart shows, Aroon Up just crossed above Aroon Down. This is the first sign of a trend change and I am now looking for confirmation with a move to 100. On the price chart, ORCL fell back to its gap zone with a falling channel the last ten weeks (red trend lines). The stock bounced off the support zone with a move to 40 and then formed a small flag or pennant the last five days (blue trend lines). A break above last week's high would be short-term bullish and could lead to a bigger breakout near 41.
Note that StockCharts users can access Aroon signals on the predefined scans page. The Aroon bullish signal triggers when the Aroon Oscillator moves above +50. This indicator is Aroon Up less Aroon Down. The signal, therefore, triggers when Aroon Up is more than 50 points greater than Aroon Down.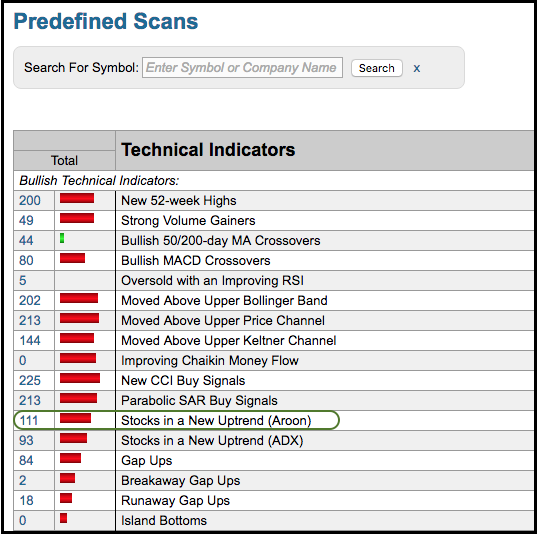 ****************************************
Thanks for tuning in and have a great day!
--Arthur Hill CMT
Plan your Trade and Trade your Plan
****************************************