Sina (SINA) has just seen its SCTR rank break above 70 as its price has broken above multiple tops near 52. Volume on the breakout was very strong, topping 3 million shares for the first time since July 2015. Any period of selling or consolidation should hold support that now resides at the 52 level. The rising 20 day EMA, currently at 50.28, would also provide support if the 52 level is lost. Here's the visual:
---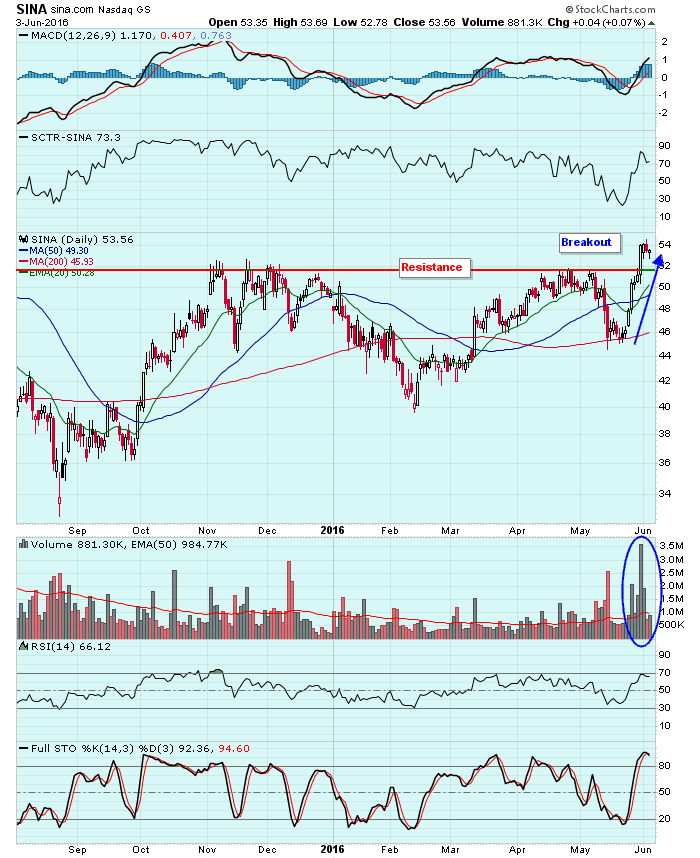 The move in the SCTR back above 70 (nearly 90 at the recent high) tells us that SINA is one of the better performing internet stocks. The blue circle highlights the huge increase in volume to support the recent price breakout. That's a sign of accumulation. A pullback to 52 would represent a solid reward to risk entry for those willing to accept the higher risk of trading internet stocks.
Finally, the Dow Jones U.S. Internet Index ($DJUSNS) is in a very bullish ascending triangle continuation pattern. A breakout in the DJUSNS above 1100 would also add to the increased likelihood of further gains in SINA.
Happy trading!
Tom