Apple (AAPL) has a couple of great things going for it. Earnings were just announced and it has a few months to run before the next earnings. It also is running up into the release of the iPhone 7. The second iteration of the watch might be released as well. The iPad Pro is also getting good reviews. All of that is just fluff. The real reason for me to own Apple here is a trend change in the way Apple is performing through investors. In the world of Technical Analysis, trend change is king. Apple (AAPL) changed trend this week and investors are buying into the story.
First, let me explain two things I like about the SCTR. One, it tells me when a stock is losing strength relative to others. Second, it also points to when the stock might be coming back into favor. In Apple's case, it is changing from "out of favor" to being "in favor". Apple has been below 30 on the SCTR for about three months, which makes it one of the bottom 1/3 of the stocks in the market. But this week, it changed from below to above. If we look left on the chart, we can see when Apple changed trend before. One thing that makes Apple special is the size of position institutions can hold because there are so many shares in the market. They have great liquidity on large volumes of shares. Well today, Apple is performing better than 50% of the large caps for the first time in 9 months. How long will it last? We don't know. But we do see a trend change from terrible to better.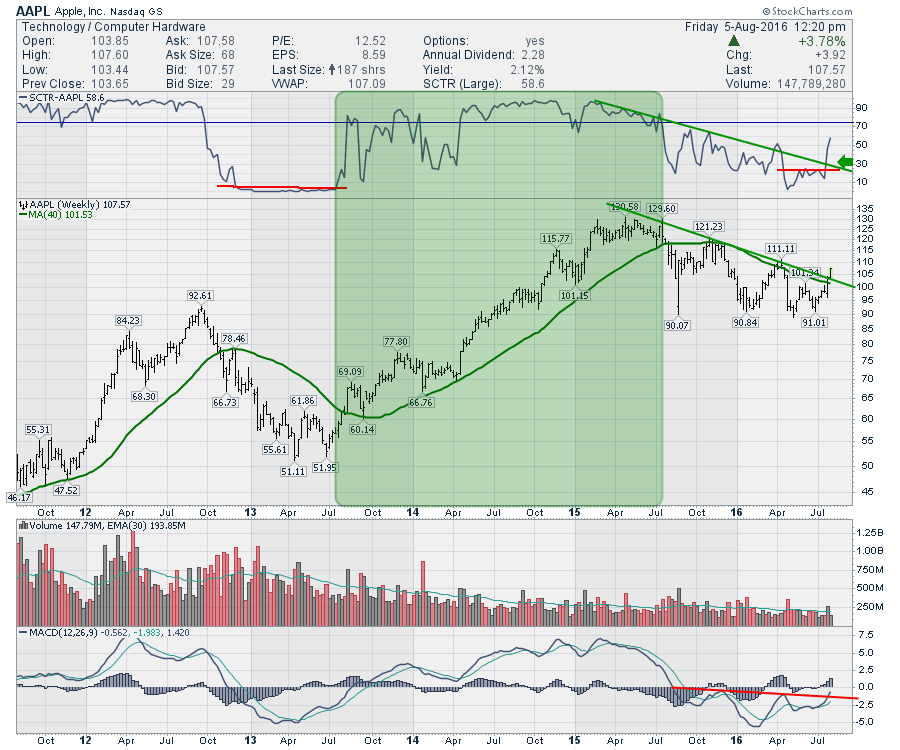 ---
If we look at price, AAPL is moving above the downtrend line that has been in place for almost a year. The volume last week was pretty good and the MACD is breaking out from a base. As a technical trader, this has everything I want in a stock. Liquidity, price action, trend line violation, large cap stock, always in the news, and multiple confirmations of trend breaks on the indicators. The real question is whether it can become a top performing stock with an SCTR above 75. But I specifically like when it is hated and starts to perform better. These can be great performers. Apple is up almost 4% on the week.
Good trading,
Greg Schnell, CMT, MFTA.