The Dow Jones U.S. Clothing Accessories Index ($DJUSCF) has been challenged technically with a long-term downtrend and a short-term uptrend currently in play. It'll be interesting to see which way this index breaks, but if the overall market holds any clue, then the DJUSCF will likely break higher. I included the DJUSCF chart in my Trading Places blog earlier today and you can access it by CLICKING HERE.
---
One component of this index, however, just reported very strong earnings and was rewarded handsomely was Ralph Lauren (RL). A long-term downtrend was broken and, in the process, the weekly MACD is looking to turn positive for the first time since early 2015. Check out the chart: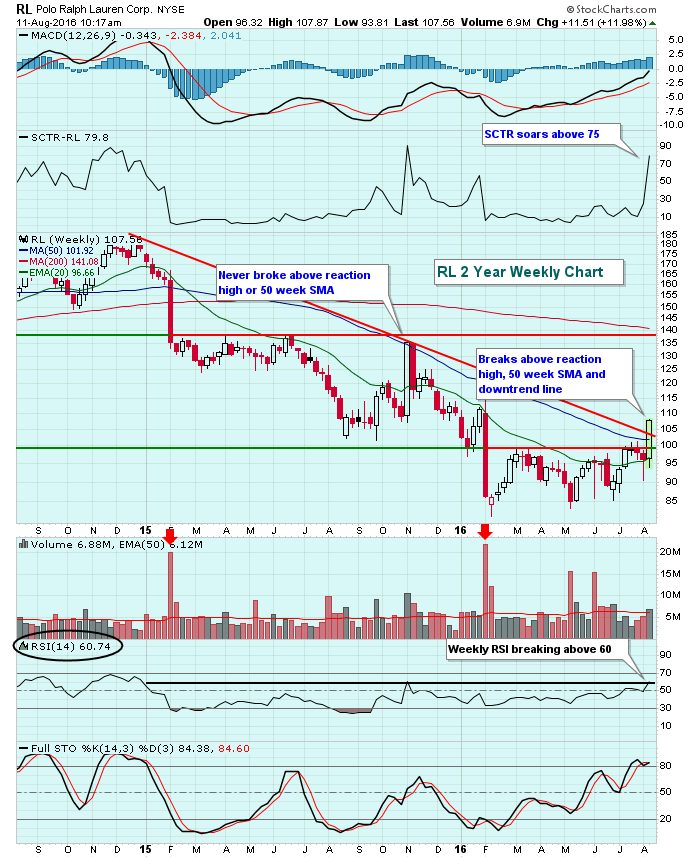 The weekly RSI has spiked above 60 and that reflects the higher likelihood that the downtrend has been broken as well. In early 2015, check out the heavy volume breakdown and then the reaction highs that followed. That last true sure in RL to the upside failed to negotiate those reaction highs. Currently, however, RL's latest surge is clearing several technical hurdles, including the reaction high resistance following the early 2016 selloff on massive volume, its 50 week SMA and downtrend line resistance. It certainly appears as if RL has made a significant technical turn for the positive.
The top of gap support at 102.30, along with the rising 20 day EMA at 96.66 represents the two key levels of support for solid reward to risk entry.
Happy trading!
Tom