I spent a significant portion of my webinar discussing the market situation currently. I presented a number of charts that have me concerned about the market direction. So with that as a backdrop, finding strong defensive stocks could be a good balance of offence and defence.
One of the interesting charts that showed up on my scan was the chart for Kraft Heinz (KHC). THe SCTR has been strong for a while. The $SPX has been pulling back, but this chart has been trading in a tight sideways rnge. This shows up as outperformance on the relative strength panel. This consolidation is normal after the big runup in the chart earlier in the year. Buying it near $87-$88 gives it some room to the upside and a stop below $85 is a relatively tight stop if the market breaks down hard.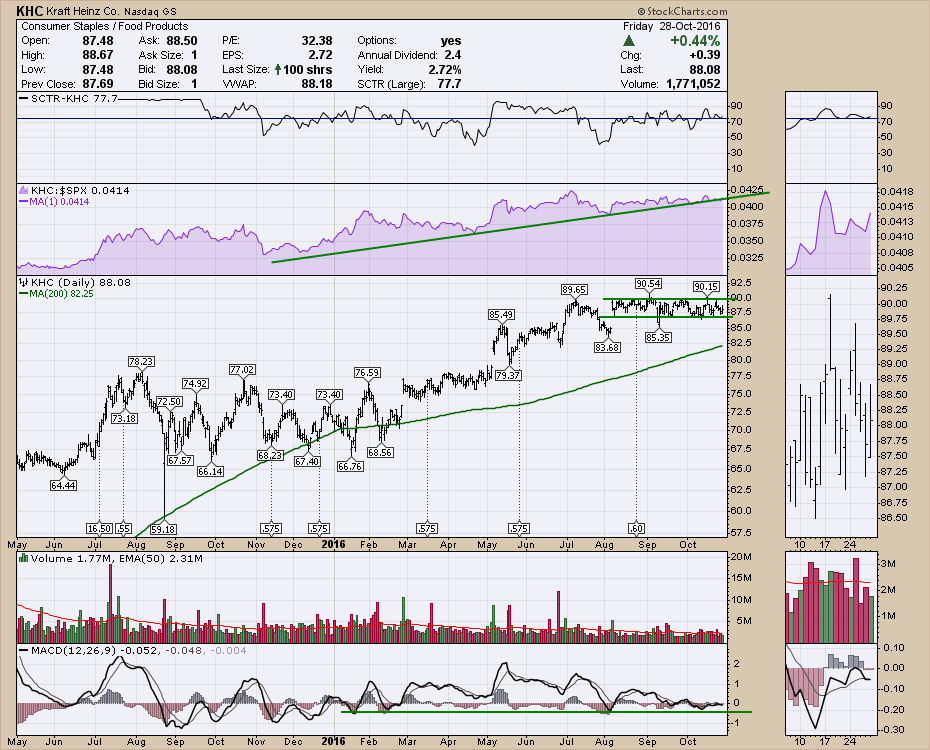 ---
The benefit of a Consumer Staples sector stock currently is that sector usually behaves well in a down market. It might even break out to the upside if the relative strength continues to improve. Either way, this can be an attractive entry at a difficult time. If the stop gets hit, just let it go.
If you would like more information on my current market view, here is the link. Commodities Countdown 2016-10-27. Enjoy your weekend.
Good trading,
Greg Schnell, CMT, MFTA.