Arthur Hill, Julius De Kempenaer and Greg Schnell all attended the Market Technicians Association meeting in NYC last week. With hours of presentations going on in multiple rooms it was very clear that technicians offer lots of variety and unique methods of covering the market.
The RRG charts available on StockCharts.com were in multiple presentations and were also included in one of the biggest online technical presentations in years. There are so many outstanding analysts that attend and share their work, it is exciting to see the variety of diverse market views.
I attended as many presentations as possible. Katie Stockton is on CNBC regularly and she shared her slides of the US market. Katie was full on bullish!
Robin Carpenter of CarpenterAnalytix.com presented some very unique SKEW data that was enlightening. Watching Robin's presentation was a firehose in statistical analysis. He presented three concepts and worked very hard to simplify the concepts, but he could go 7 layers deep on any slice of the concept. Very interesting presentation. Here is one of the charts he provided. Without getting into his one hour presentation, look at how close signals below zero on his CSQ Skew Deviation coincided with market pullbacks and how close to the top the signals were. In this case, he was suggesting to be careful.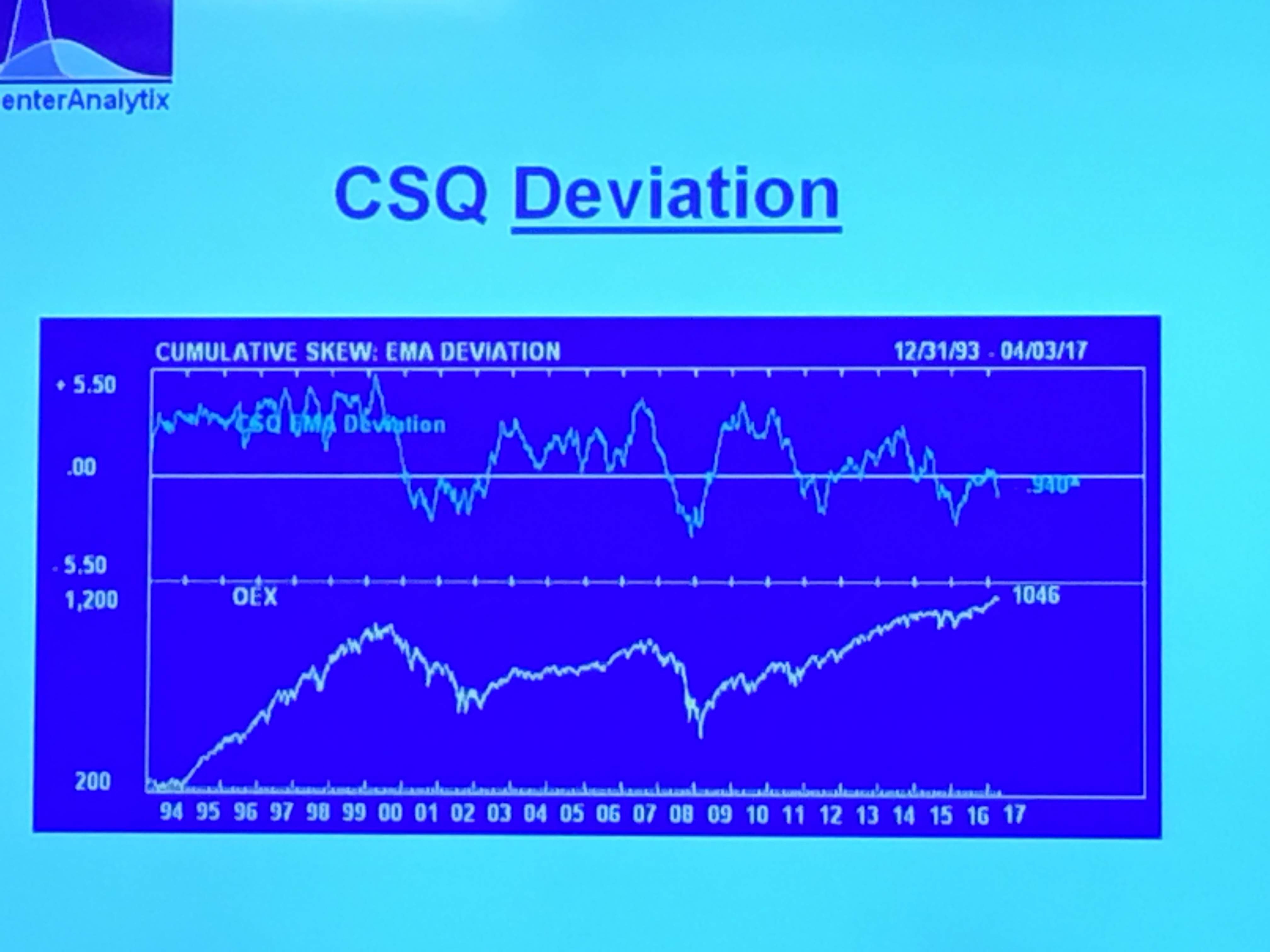 ---
Larry Berman of Canadian Television Fame was very skeptical on the markets ability ($SPX) to make new highs and liked TLT as a trade. Others couldn't get short bonds fast enough so the bond conversations were pretty lively!
Jim Bianco of Bianco Research put up a great chart on bonds, showing a Fed survey of professional interest rate analysis from large banks always suggested Yields would rise since 2003. The chart detail is hard to see, but the concept was that wishing the bonds higher didn't really work. The squiggly lines were interest rate expectations by the surveyed analyst teams. The main dark blue line was the actual interest rate. Oops on getting it wrong for 14 years.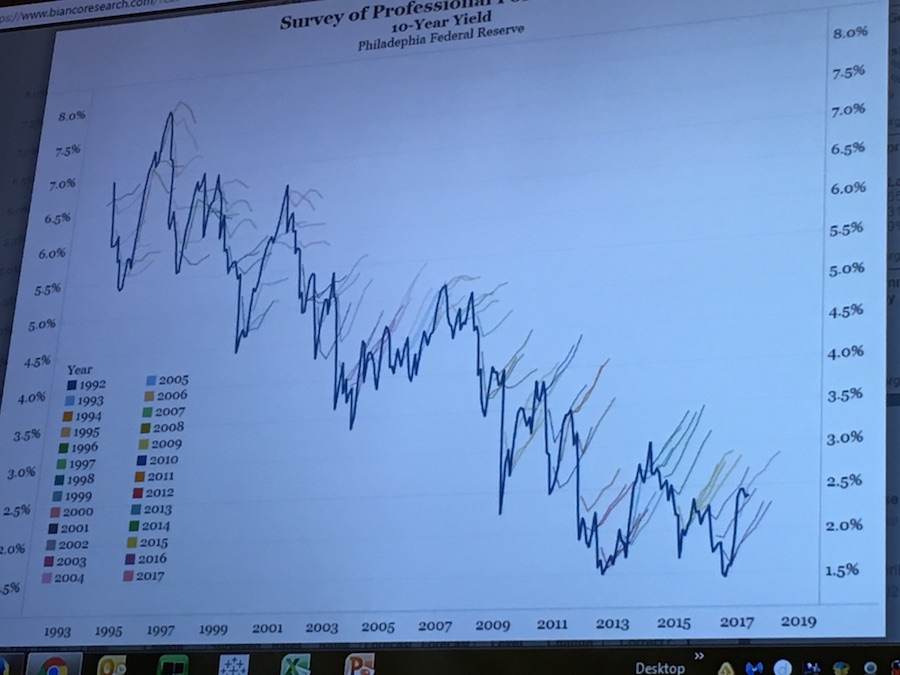 I had dinner with Andrew Thrasher, CMT who was the 2017 Charles Dow Award winner. Great guy, great discussion. His award winning paper was "Forecasting A Volatility Tsunami". I thought I was good at barbequeing until I found out that Andrew competes in grill competitions..ah.. no I won't be competing any time soon.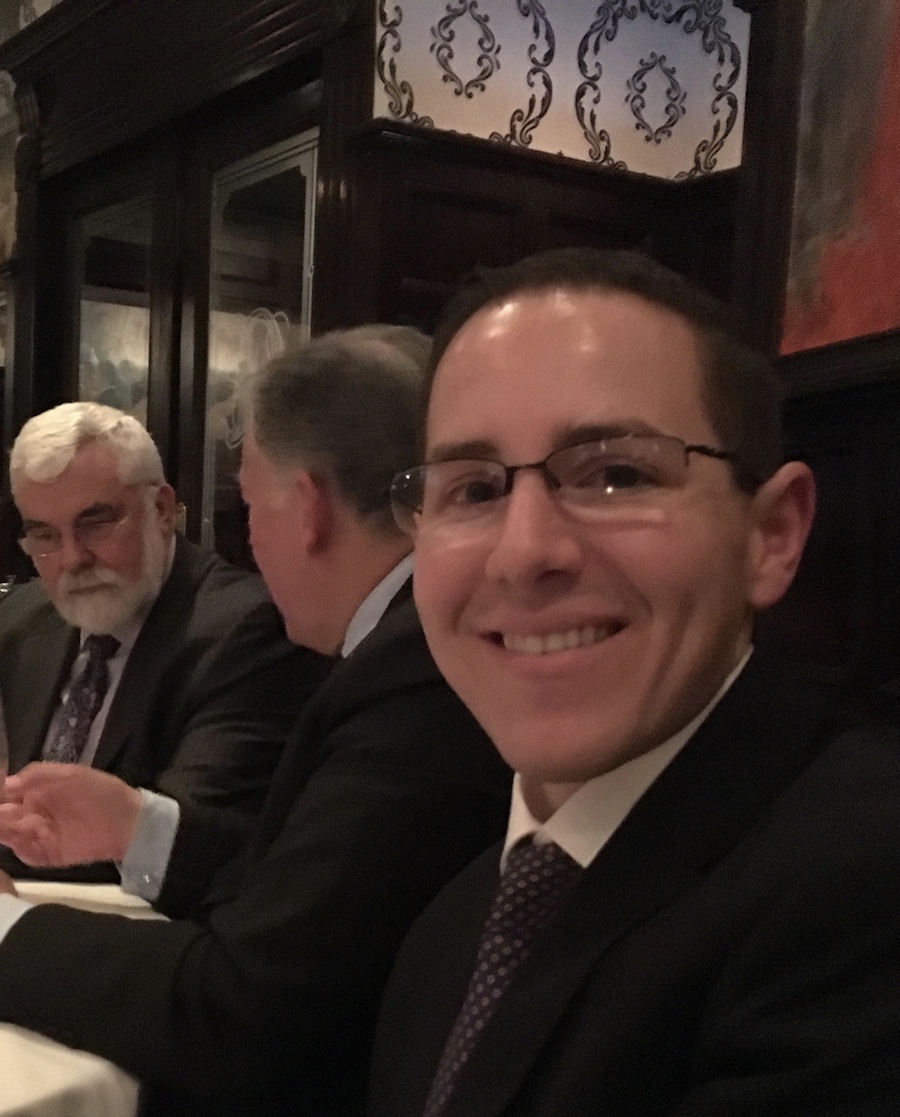 As I mentioned, Julius De Kempenaer's RRG charts are being used in more and more presentations. If you are not using RRG on your StockCharts.com membership, I strongly encourage you to try it from the FreeCharts Tab. Look through some of the groups with the dropdown menu to the right of the Benchmark box. Here is one using the Canadian Sectors. This is cutting edge technology, available to you as a member every day. So many people were using static images of the RRG charts to illustrate the current market setup.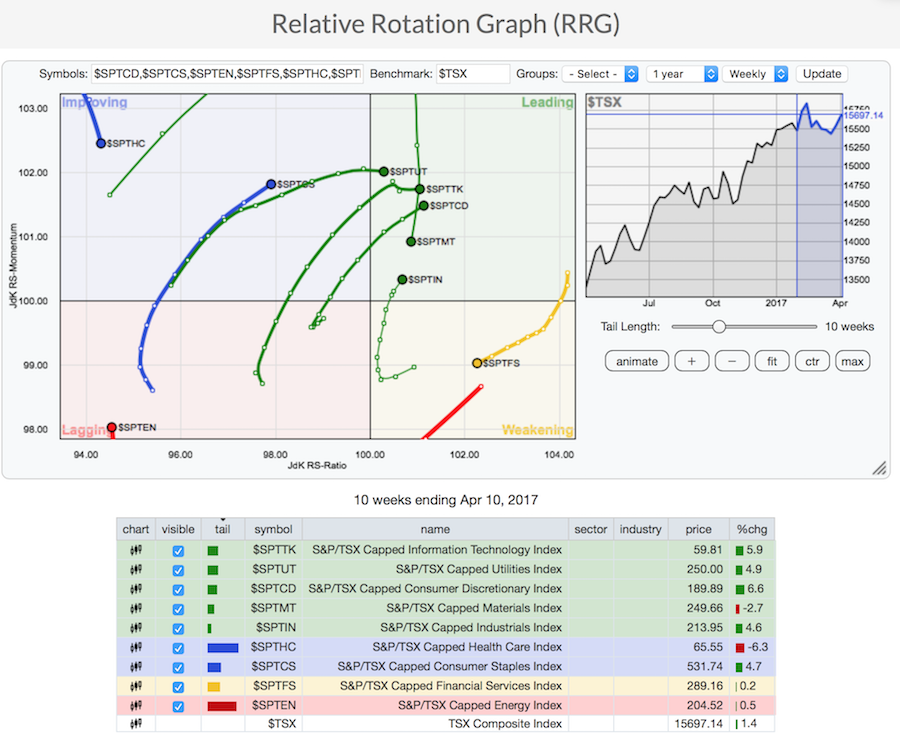 Dr. Aswath Damodaran gave a great lively presentation on analyst pricing of a stock. While both amusing and direct, it outlined the difficulty of trying to find a metric to value a company that does not make a profit. You might recognize some of his book titles.
Robin J. Griffiths was also recognized for his pioneering work in Technical Analysis and gave a Global Outlook presentation. His big investment thrust was the new 'Silk Road'. China is currently building what will be the largest transportation infrastructure project since the American Interstate project. Get long Basic Materials was Robin's message.
George Schade Jr. was the winner of the MTA Service Award. George has done a significant amount of research to bring other technicians names and their work into view as the years pass. George has also submitted multiple research papers and won the 2013 Charles Dow Award.
Dr. Henry (Hank) Pruden delivered the keynote presentation. He was awarded the MTA Annual Award for his contribution to Technical Analysis education. He started the program at Golden Gate University to name a small slice of his efforts. I was invited to speak in September 2016 at the San Francisco MTA at Golden Gate University. Hank came out to listen to my presentation, which was a huge honor for me.
I could go on and on about the great conference the MTA puts on and all of the stellar presentations. It truly is an industry of respected professionals working to help everyone succeed in the business of technical analysis.
Perhaps I'll end my review of the conference with Russell Rhoads from the CBOE. His subject was understanding VIX and how many different $VIX indicators there are to help you with your trade from the CBOE. While I have never been an expert on Vix structures, Russell presenting some compelling ideas that I hope to share over the coming months. I look forward to studying his work. Below is a list of all of the different CBOE VIX symbols StockCharts.com carries to help understand some of the relationship ideas around VIX.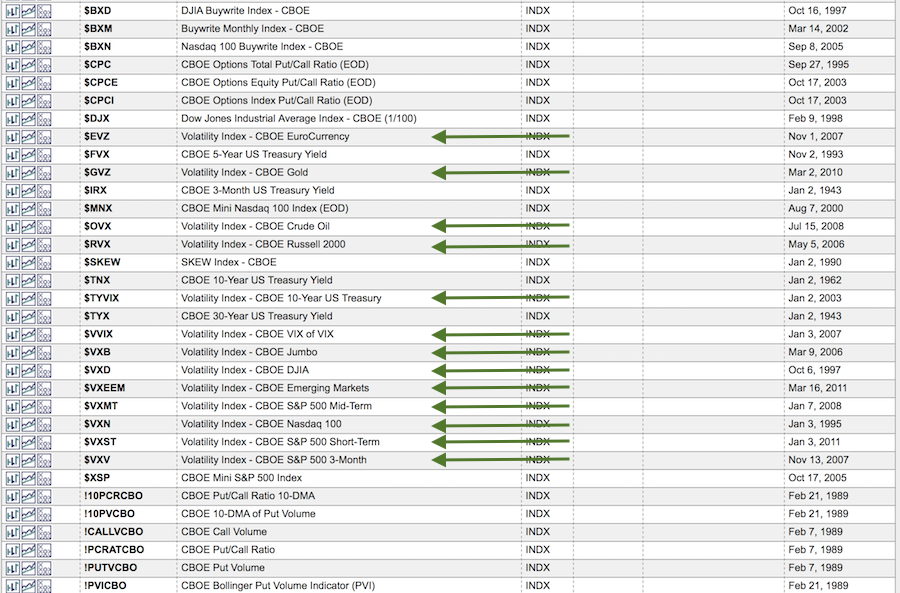 ---
Lastly, I want to point out that the webinar registrations on StockCharts.com now have their own tab! Arthur Hill, Greg Schnell and Martin Pring will all post their recordings on their own blogs. However, the signups for the Market Outlook Webinar and the popularity of the New Market Watchers Live morning show (Monday, Wednesday and Friday) are all on one page.
From the Freecharts page, you can select Webinars from the top tab.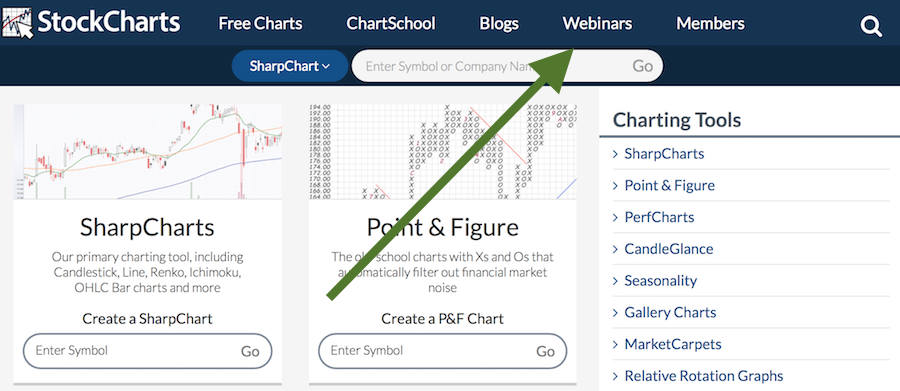 That will bring you to a page that can help you find out when these webinars are on.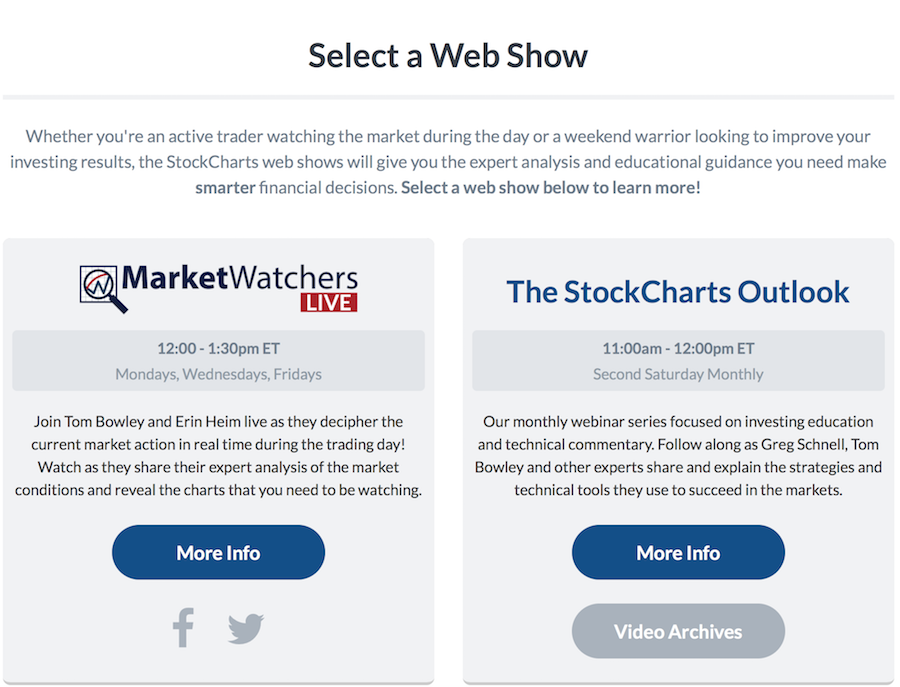 Here is the link to the Market Outlook recording from this weekend. I missed recording an early part of my presentation on the webinar, but there is a lot of good information contained here. Tom Bowley had some great stocks to investigate.
The StockCharts Outlook - 2017-04-09 11:00 from StockCharts.com on Vimeo.
Good trading,
Greg Schnell, CMT, MFTA.