The sector SPDRs are weighted by market-cap and this means the biggest stocks carry the most weight. The Materials SPDR (XLB), for example, is dominated by Dow Chemical (11.86%) and DuPont (12%). These two behemoths are poised to merge and the combined company will clearly dominate XLB going forward. Chartists interested in XLB had best keep an eye on these two stocks for directional clues.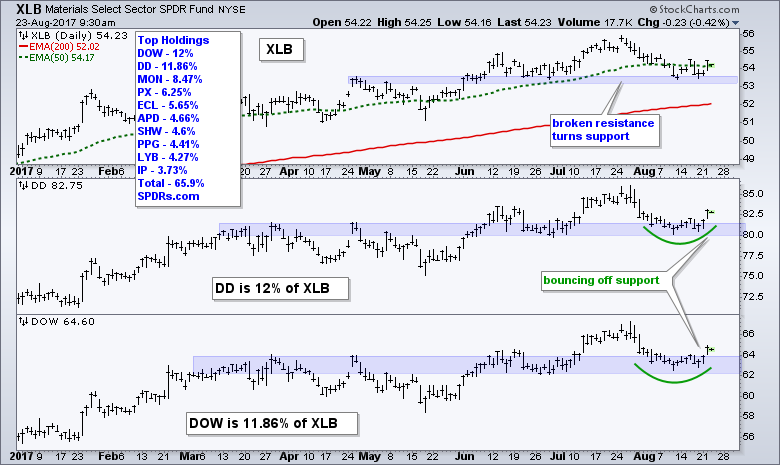 ---
The top window shows XLB with broken resistance turning into support in the 53-53.5 area (blue shading). Unsurprisingly, DD and DOW show similar support zones. XLB bounced on Tuesday with help from Dow and DuPont, both of which turned up over the last three days. These two stocks broke above last week's high and appear to be reversing their short-term pullbacks. Continued strength would bode well for XLB. Elsewhere, note that XOM (22.65%) and Chevron (17.13%) dominate XLE.
Follow me on Twitter @arthurhill - Keep up with my 140 character commentaries.
****************************************
Thanks for tuning in and have a good day!
--Arthur Hill CMT
Plan your Trade and Trade your Plan
*****************************************