Gilead (GILD) was in the Biotech spotlight for many years. The rally in Biotech's that started in 2016 has largely missed Gilead. Recently, the Gilead chart changed character and started to improve. This might just make a nice entry. The SCTR has moved above 50 after being below 25 for an entire year. Something is changing that the stock is now starting to perform similar to its peer group average. The current SCTR is 57%. Gilead is back above the 40 week moving average for the first time since early 2016. The 10 week moving average has now crossed above, suggesting an improving trend.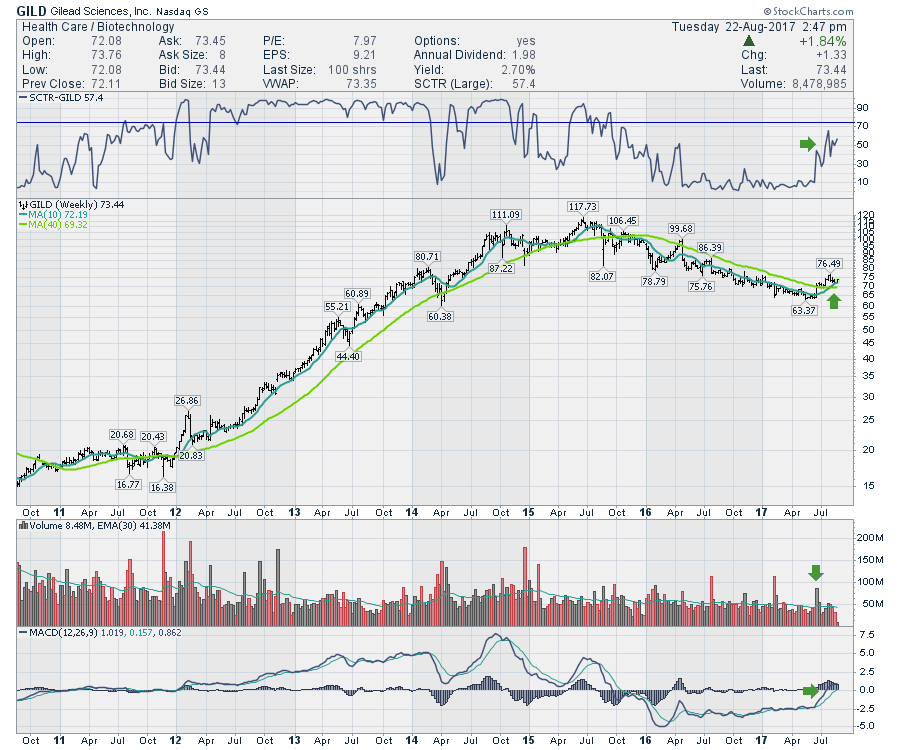 ---
Recently we had a huge positive volume bar which finalized a major low in the stock. The MACD has moved into positive territory for the first time since the stock broke down back in 2015.
---
Tom Bowley and Erin Wood will be hosting Market Watchers Live on Monday, Wednesday and Friday at Noon ET. Live shows and Recordings can be viewed at StockCharts.com/Webinars or follow this link. For those that enjoyed some Commodity related commentary on the Market Watchers Live show, that continues to be available on the Commodities Countdown blog along with Video recordings posted every Thursday on Vimeo. Click inside an article on the Notify me button or on Vimeo, click the Follow button on the right-hand side.
Good trading,
Greg Schnell, CMT, MFTA