I'm a big fan of candlesticks, particularly reversing candlesticks as they many times signal that a short-term downtrend has ended in an overall uptrending stock. One of my favorite trading strategies is to trade strong stocks off gap support. So what happens when both strategies meet? Well, JD.com (JD) has both right now so its trading behavior over the next two weeks will be quite interesting as that's when it reports its next quarterly results. Here's the current technical outlook:
---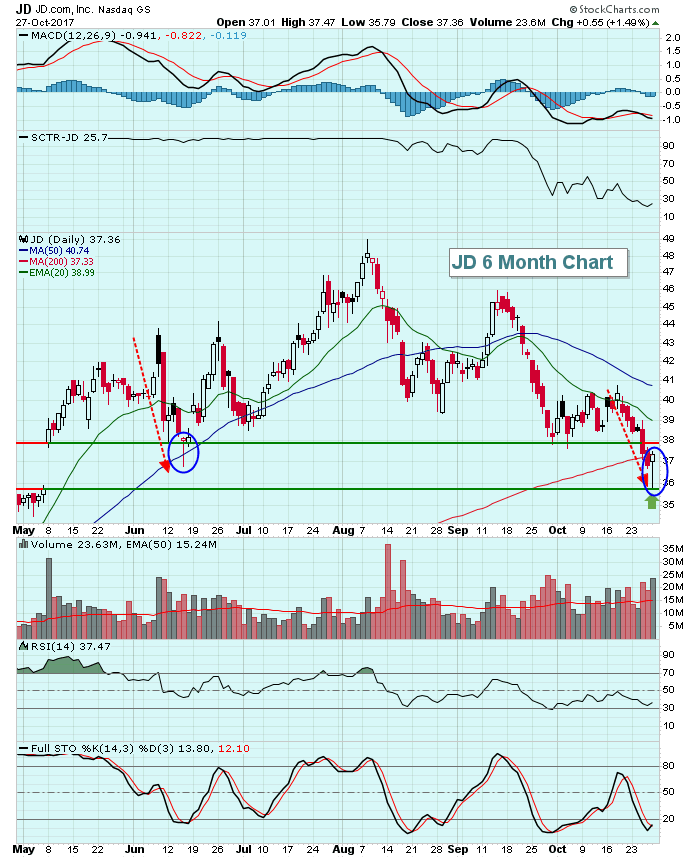 JD is well off its August high. The stock had trended higher prior to its last quarterly earnings report where it beat both top and bottom line Wall Street consensus estimates. It seems to have been a "buy on rumor, sell on news" type of event. Friday's hammer, finally filling the May earnings gap, could be a signal for a pre-earnings run higher. Consider a closing stop beneath 35.50 in the event that JD breaks down, while a quick move higher to the 40.00-40.50 area would represent approximately an 8% advance.
JD's weekly chart shows a much more bullish picture:
That was an impressive one year uptrend, one in which JD rose more than 150%. The fibonacci retracement tool shows that the recent selling has carried JD into a key 38.2%-50.0% retracement zone where many uptrending stocks reverse and resume their prior trend.
There's a lot to like here with JD, but just remember to always keep your stops in play as nothing provides a guarantee.
Happy trading!
Tom