Procter and Gamble (PG) printed an outside reversal this week right near the lower Keltner channel line. While the chart of Proctor and Gamble is trending higher, it's always important to find a nice entry. This week fits the criteria with a couple of indicators drawing our attention.
First of all, this is typically as weak as PG gets compared to its peers on the SCTR indicator. Secondly, the full stochastic dipped below 20 and looks set to rise here. Most of the signals off the full stochastic were profitable. On the price panel, the reversal was right near the lower Keltner channel. A Keltner channel is a great place to look for large-cap SP500 stocks to bounce if they are going to continue the uptrend. If the trade does not work, a stop just below can protect capital.
The volume and the MACD are both worth checking. After two big selling weeks on the zoom panel, PG looks like its finding buyers at prior support ($85). The volume last week showed an low volume low after two high volume weeks. The price closed to flat, indicating the selling momentum was stalling. This week the outside reversal looks firm, closing well above last weeks high.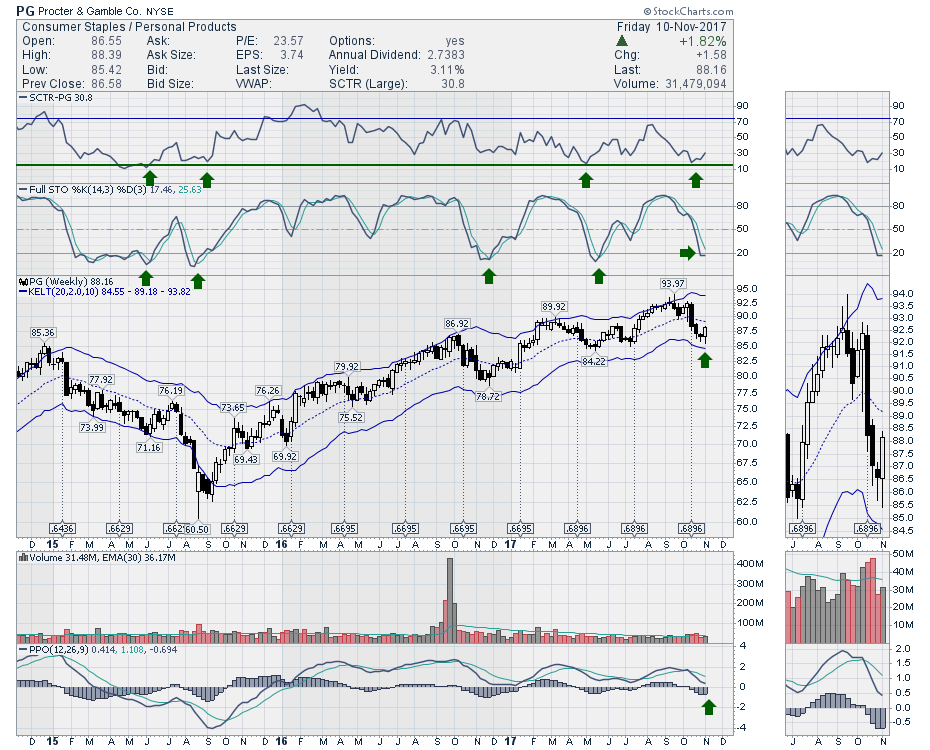 ---
The second component of this trade is there was some significant weakness in the High Yield chart (_JNK) where it pushed below its 40 week moving average. That can be an indicator of trouble on the horizon. By looking in the defensive sectors, perhaps this stock can maintain strength if the indexes experience a little weakness in the upcoming months.
---
Tom Bowley and Greg Schnell did the Monthly StockCharts Market Outlook on Saturday morning . This will take you to the video page. Click on the link at the top right of the black panel.
There are also new Commodities Countdown and Canadian Technician videos available.
---
Most importantly, I would like to honor our heroes. The soldiers that continue to stand up for our freedoms each day and the memories of those who fought before us. Thank you. Lest we forget.
Good trading,
Greg Schnell, CMT, MFTA
Author of Stock Charts for Dummies (Pre-order now, available January 2018) Amazon.com
Author of Stock Charts for Dummies (Pre-order now, available January 2018) Amazon.ca