While it would be great for the stock market to rise every day without any selling whatsoever, that's just not practical. As a trader, I await episodes of selling to set up much better reward to risk trades in stocks that remain in long-term uptrends. Enter PNC Financial (PNC). On October 13th, PNC reported revenues ($4.13 bil vs. $4.11 bil) and EPS ($2.16 vs. $2.13) that beat Wall Street consensus estimates and that's helped PNC lead the banking group higher. But the selling the past few trading sessions has now set PNC up as a potential trade: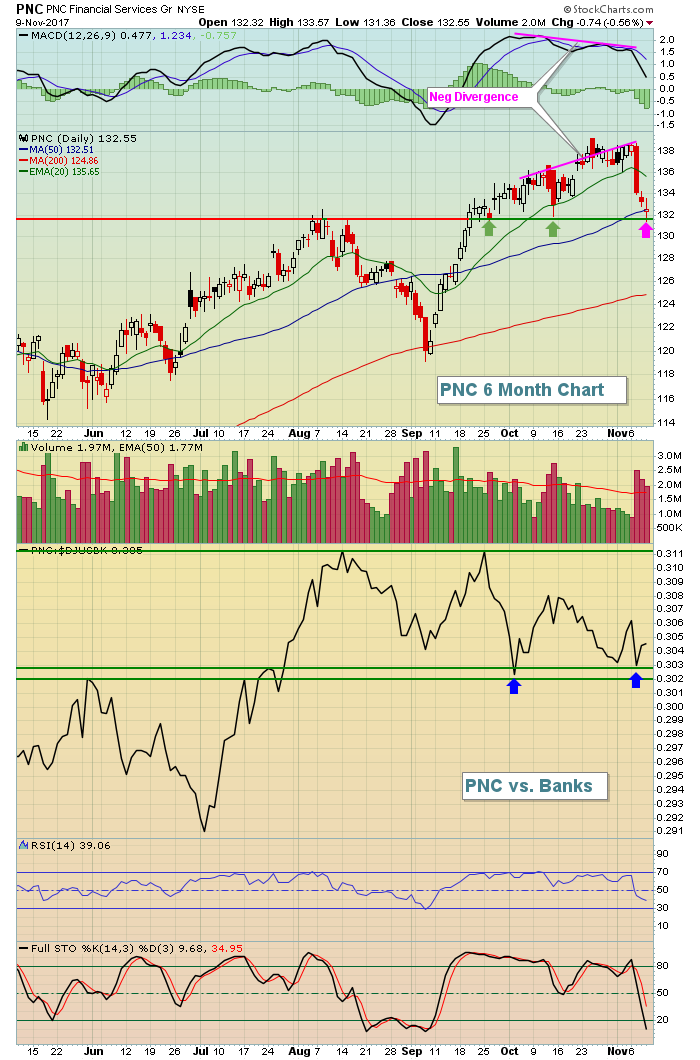 Slowing price momentum was evident on the most recent high closes as the MACD had turned lower. That sets up a potential 50 day SMA test (pink arrow), which it accomplished with today's weakness. This also coincides with recent price support tests at this very level as well (green arrows). PNC is also testing its relative support (blue arrows) at a time when its RSI has dipped just beneath 40. RSI 40 normally provides solid support during uptrends and, with the exception of early September, has been doing so for PNC as well.
All of this leads me to speculate that PNC will move higher from here. A quick upside target would be 138-139, while a closing stop could be considered beneath 131.50 to minimize downside risk.
Happy trading!
Tom