VeriSign (VRSN) is showing signs of a powerful breakout. The SCTR ranking is surging above 75. The Relative strength is making new 2-month highs and not far from its all-time highs. The price is breaking out shortly after the big pullback in the overall market suggesting more strength.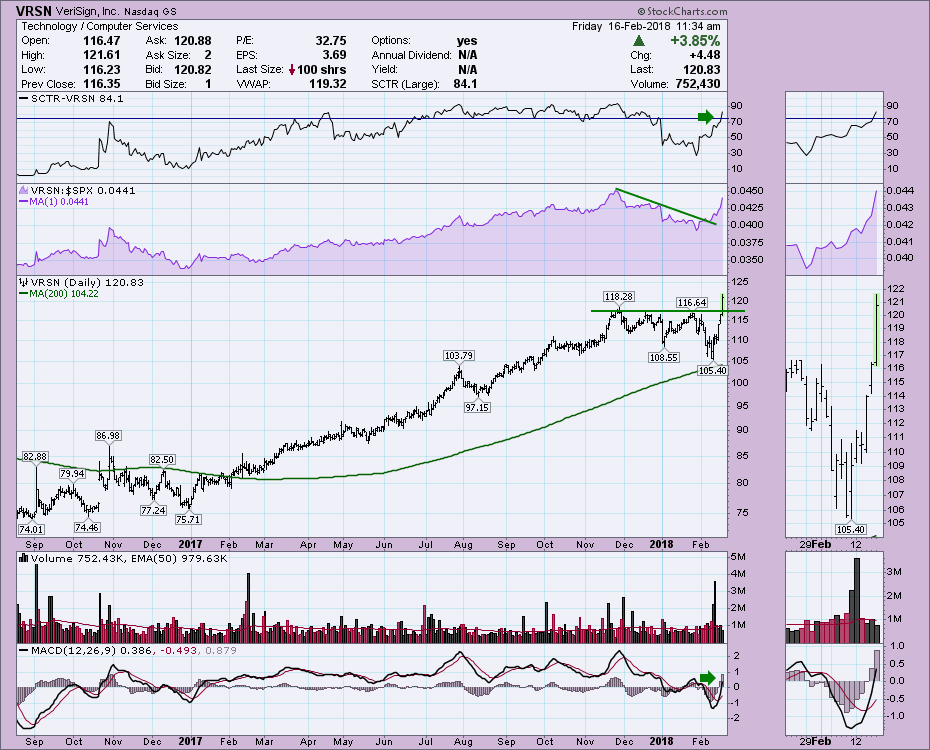 There is lots to like about the chart. If it fails to hold the breakout, I'd let it go.
---
We released a book trailer for the Stock Charts For Dummies book.
It does a great job of telling the story.
TO ORDER CLICK HERE TO GO TO THE BOOK STORE! It is also available wherever books are sold.
---
The reviews are coming in.
"I have been a Stockcharts member for several years. There are many things I did not know, or now know in more depth. Although I am trained in fundamental analysis, I now feel there is no substitute for the information you can discern about money and how it is moving that technical analysis provides. Volume and price pierce many a market veil. Using Greg's excellent book, and the tips and tricks ("I didn't know Stockcharts could do that!") there are lots of new ways to "follow the money."
---
"One particularly useful analysis came out of the well organized ... Section 2 "Viewing the Money Trail Through Different Lenses." "
---
"Written by an experienced technical analyst, this book shows swing, position and longterm traders how to use Stockcharts.com to analyze the market and find stocks with the best potential for significant gains. Not for day traders. Contains lots of excellent information that is worth much more than the price of this book."
Available through the StockCharts.com bookstore or wherever books are sold.
---
I also released a new Commodities Countdown video this week. There is some important information on the currencies as well as commodities.
---
Good trading,
Greg Schnell, CMT, MFTA