Pharmaceutical companies have to do a lot to get their technologies off the ground.There are many major risks along the way and many companies falter. Rocket Pharmaceuticals (RCKT) is a great chart and this week it makes it onto the Don't Ignore The Chart list.
First of all, the Rocket Pharma stock is unaware of all the volatility seen in the stock market in February and March. It has held in a very tight range and closed very close to the 52-week highs.
But the chart setup is even more interesting. After the IPO, the stock traded sideways for 5 months in 2015. It had a ballastic week kicking in the first stage boosters. It zoomed up to $77 atmospheres and decoupled the boosters from the rocket. It drifted back to the original IPO price and found support there for a year. Then it jettisoned any and all thrusters, falling back to earth. In July 2017, it made its low. RCKT built a launch platform there and climbed back into launch mode. The liftoff in September 2017 had 5 weeks of huge volume. The stock orbited the chart sideways building a base around $10. Recently it pushed on to $20 and has been orbiting sideways for February and March. The Rocket Pharma stock closed out March on the highest weekly close in 15 months.
Without knowing the details of the stock story, we can pretty much imagine what has gone on in the news. The chart has recapped this high risk, high reward picture nicely.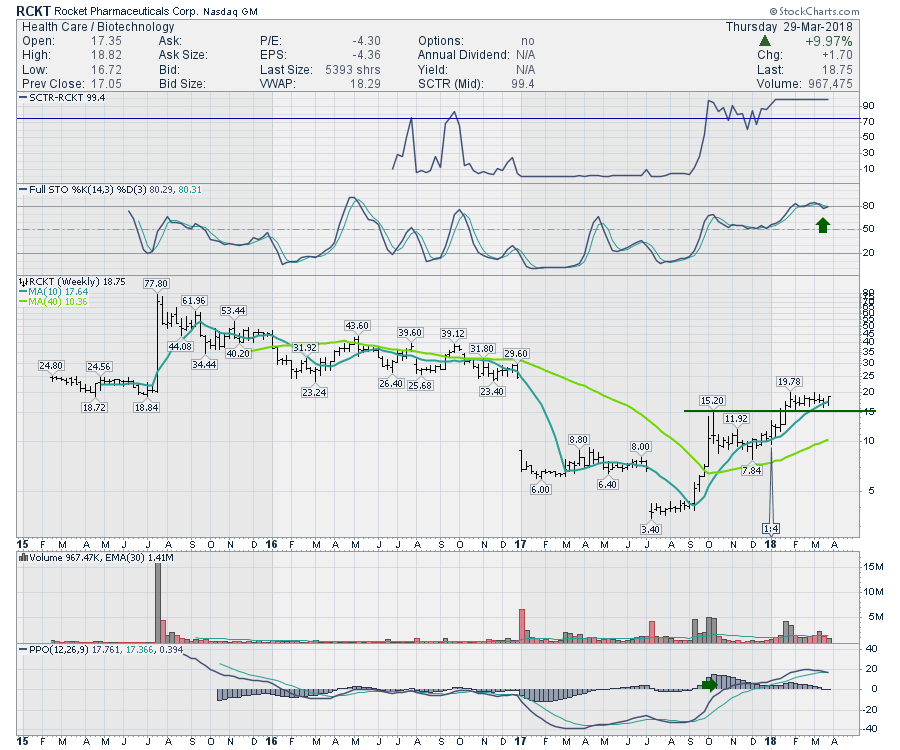 I think the critical part of the recent chart price action is how quiet the volume went in late October, November and December 2017. There were weeks when the volume just got quieter. No sellers on deck. With all the wild gyrations of the Dow and the Nasdaq last week, this chart moved up 10% to close the quarter and sits ready to lift off above the current atmosphere. While the volume was quiet, it was a short week.
RCKT is a mid-cap stock but hugely volatile. Most of the bars in the last 8 weeks are at least 10% swings. I would size any position on the small side and allow the price to continue to wander in the range. The downside looks as unlimited as the upside so I think new 2 month lows would send me packing. But the early promise that the stock held in the IPO seems to be building and they might be using the first stage boosters again as the moons go by. Keep watching this mission control chart.
Good trading,
Greg Schnell, CMT, MFTA.