Facebook surged to new three month highs with the potential to retest the all time high later this week. Obviously one of the best buy points was when they announced that Mr. Zuckerberg would testify in Congress. That marked the bottom of the stock. Now what to do with the stock?
After the 4 months consolidation, Facebook is trying to break $200 over the next few days or weeks.
The stock is moving back above 75 on the SCTR ranking so that is very positive in my work. A top performing stock is bullish, not over bought. We can also see the stock is making new highs in relative strength. Both of those are so bullish.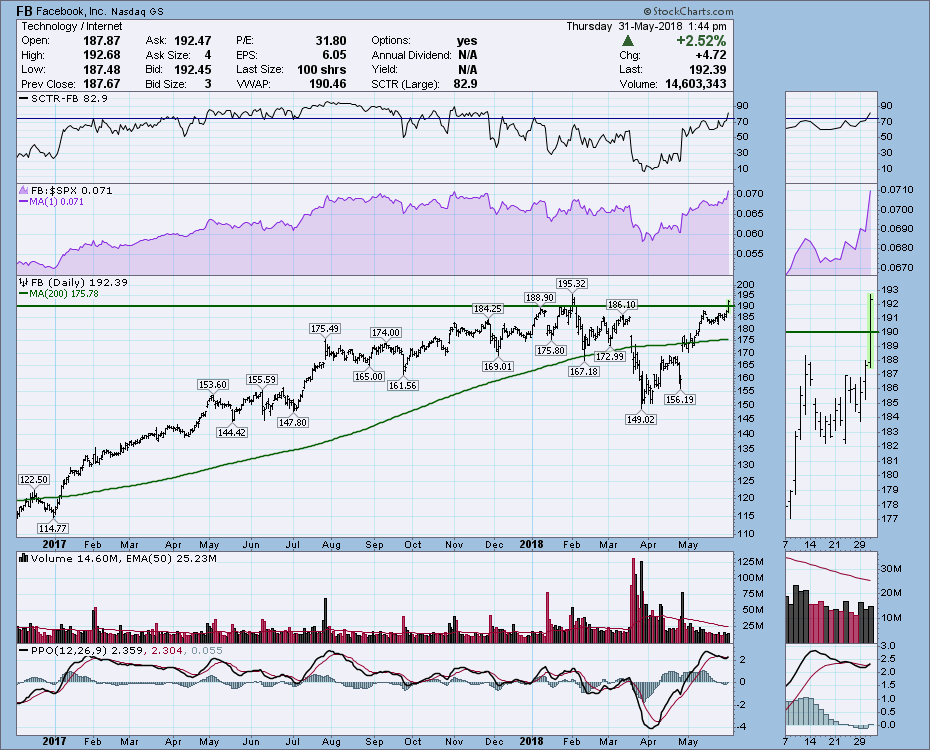 ---
The volume has normalized and the MACD is coming off a major surge. However, Facebook's MACD usually lives above the zero line which suggests this is a great stock that is returning to form.

Anytime a stock is testing a prior high, it can add volatility. Watch for a little bit of back and forth here on the stock price, but my expectation would be for a move higher. Maybe the congestion the last two weeks was the back and forth. A wide stop below $180 should help keep you in the stock.
---
I host a new TV show on StockCharts.com called The Final Bar. It airs Thursdays at 5 PM ET and is repeated throughout the week on StockCharts TV. You can also catch it on my Vimeo channel or on the StockCharts.com YouTube Channel.
Good trading,
Greg Schnell, CMT, MFTA
Senior Technical Analyst, StockCharts.com
Book: Stock Charts for Dummies
Twitter: Follow @Schnellinvestor