Francesca's Holdings (FRAN) is in the ultra competitive apparel retailer industry. This chart has been a real difficult stock since it IPO'd 5 years ago. I like the nice base that it built in 2018 and has now started to break towards 52 week highs. With the SCTR moving to the 75 level I am started to be interested if it can make new 10-month highs.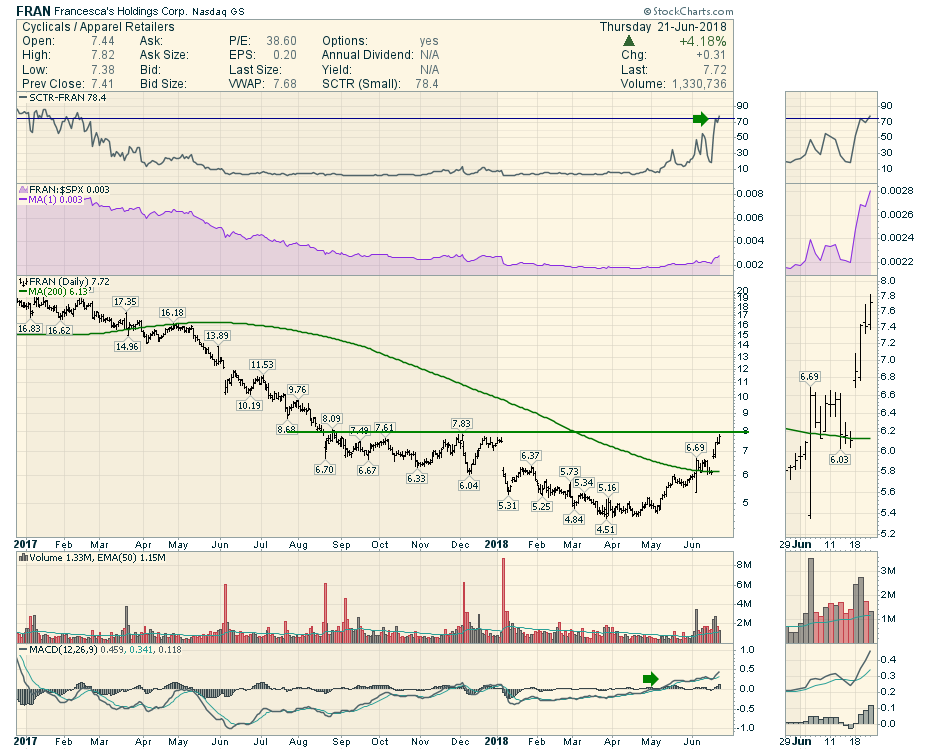 ---
With the positive employment trends and the strong apparel retail industry, this looks set to participate in the industry moves. There is some nice volume starting to hit the stock in the bottom right hand corner of the chart and you can see the MACD starting to break out above zero for a long time. The fact the stock has been climbing throughout the last week while the $SPX is being sold off is a good clue of some internal strength. I like it on a move above $8. I would keep a stop just below the breakout at a level like $7.75.
The $SPX is looking a little weak here, so you may need to see the indexes bounce from these low levels before adding.
---
Here is this weeks Commodity Countdown Video. Some of the conversation is on the indexes and a large portion stares down the calamity in Commodities. I did share some important calendar dates for the US Dollar. I comment on Gold and Silver in the video.
---
I host a new TV show on StockCharts.com called The Final Bar. It airs Thursdays at 5 PM ET and is repeated throughout the week on StockCharts TV. You can also catch it on my Vimeo channel or on the StockCharts.com YouTube Channel.
The Final Bar covered the deterioration in some of the foreign markets. I never expect the US to be the first market to fail. When the rest of the world starts showing some weakness, it can be important to use this advance notice. I think its a pretty important video. There will be a new Final Bar posted tomorrow morning on my Vimeo Channel.
For Canadian investors, here is a copy of the most recent Canadian Technician video.
Good trading,
Greg Schnell, CMT, MFTA
Senior Technical Analyst, StockCharts.com
Book: Stock Charts for Dummies
Twitter: Follow @Schnellinvestor