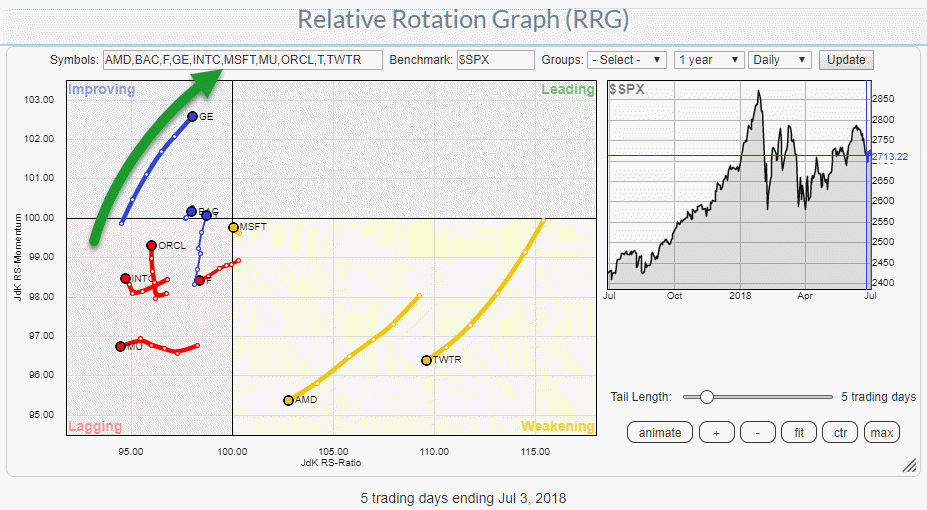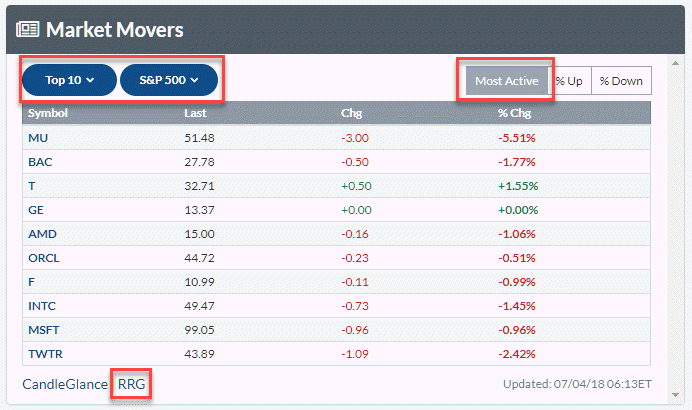 A good start of the day, at least for me is to go to the StockCharts.com dashboard and look at the Top 10, most active, market movers, in the S&P 500 index. The table gives a quick idea of what has happened the previous day.
From there I open up the (daily) RRG for this universe to see if any of these tickers are showing meaningful rotational patterns.
---
This RRG shows the stocks that showed up this morning and the one that caught my attention is GE. Well inside the improving quadrant at roughly a 30-degree heading and close to crossing over into the improving quadrant.
More than enough reason to "Not ignore this rotation" and check out the chart(s).
General Electric Co. - GE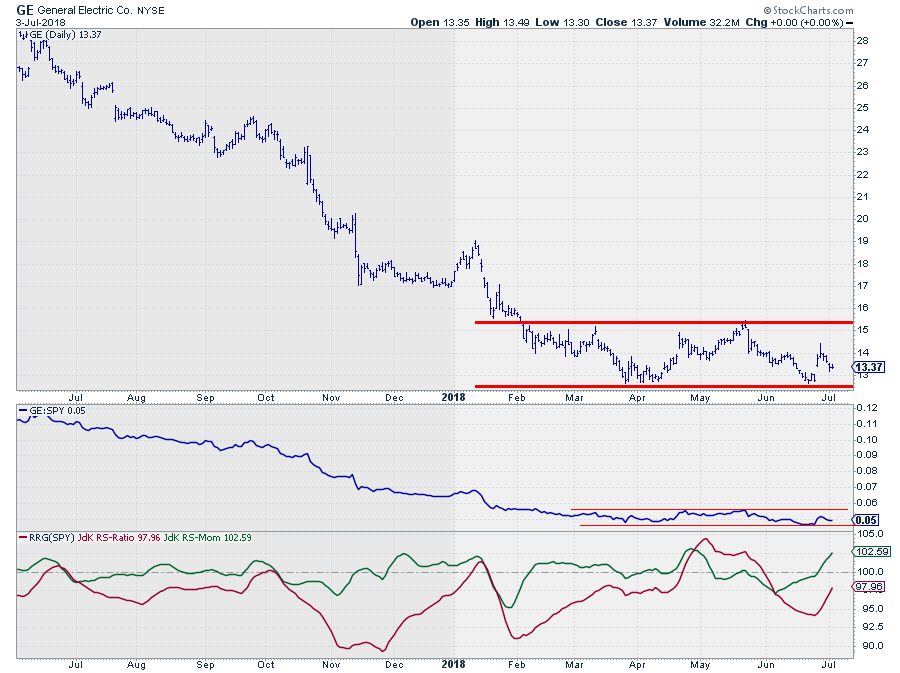 After a massive decline in 2017 and the beginning of 2018, the chart of GE started to stabilize on both the price and the relative chart and develop a trading range between $ 12.50 - $ 15.50. On a weekly bar-chart, this could very well turn into a big double bottom reversal.
The recent low on the daily chart above establishes the trading range and reinforced support that is building up around $ 12.50 and a similar thing is happening in relative strength against SPY.
In the near term, another rally towards the upper boundary of that range seems likely. A break beyond $ 15.50 will complete a double bottom on the weekly chart and unlock more upside potential.
From overseas, Happy Independence Day!!
Let me know what you think of this usage of RRG in the comments? If you want to receive a notification when a new article in the RRG blog is published? Simply "Subscribe" and leave your E-mail address.
Julius de Kempenaer | RRG Research
RRG, Relative Rotation Graphs, JdK RS-Ratio, and JdK RS-Momentum are registered TradeMarks ®; of RRG Research
Follow RRG Research on social media:
If you want to discuss RRG with me on SCAN, please use my handle Julius_RRG so that I will get a notification.