Medtronic (MDT) is a great example of a stock continually retesting the highs. Usually when these patterns break, there is a significant upside move. Medtronic has a two year ceiling that it is fighting to break through. After breaking the downtrend in momentum on the PPO, the chart shows a flat PPO wave currently. If the stock can finally push through this resistance, there is a good chance the price action can run significantly.
Why is that? Well, when the price is above previous highs, everyone who owns the stock is in a profitable position and no one really wants to sell now that the stock is in a profitable position. I have drawn the red line at Thursday's close.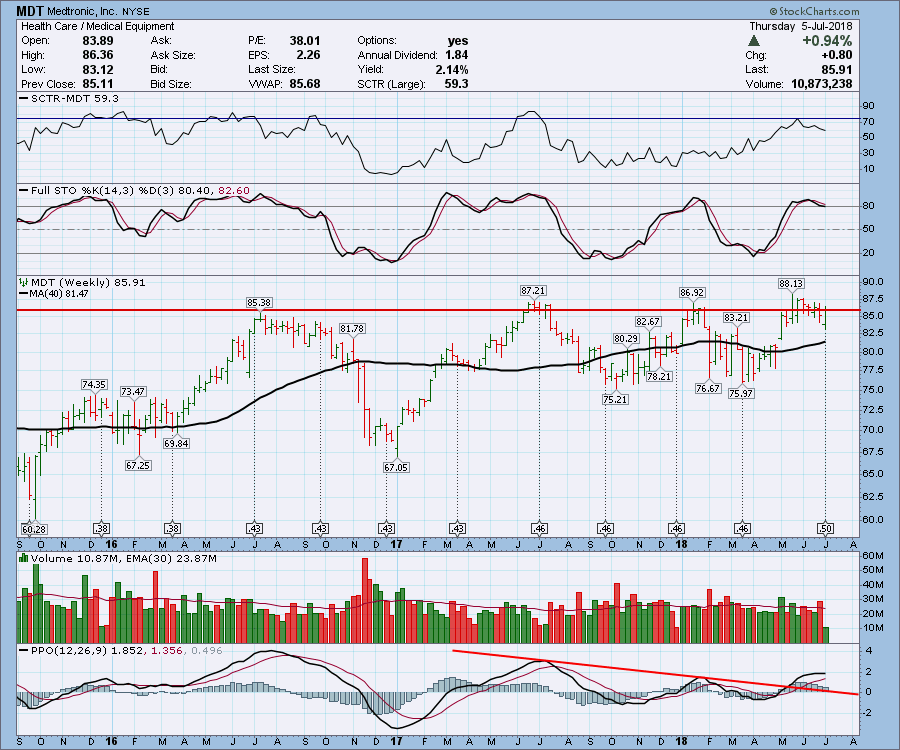 Here is an example of JPM when it finally broke through a multi-year top back in 2013. It doesn't have to be this beautiful but we can hope!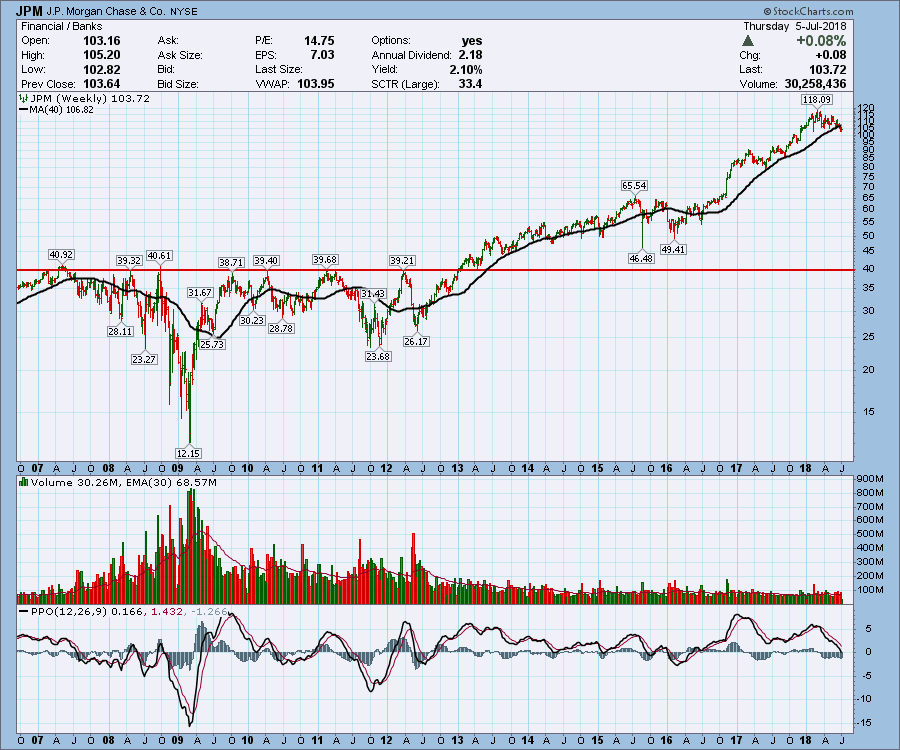 ---
Here is the half year review edition of the Commodity Countdown. I focus in on the setup in Gold and Silver. Remember, commodities should be bought near their lows! The Nasdaq and the Toronto Stock Exchange both failed to hold their breakouts to new highs so this week is important. The Bullish Percent indexes are particularly precarious.
---
The Final Bar recording For Thursday July 5th contains information on the potential for rollover in the $USD. It also covers the recent surge in the advance/decline data.
---
For Canadian investors, here is a copy of the most recent Canadian Technician video. Canada suffered a failed breakout to end June. But if you are interested in Gold and Silver stocks I roll through 40 of them.
If you are missing clues on signals in the market, follow me on Twitter and check out my Vimeo Channel often. Bookmark it for easy access!
Good trading,
Greg Schnell, CMT, MFTA
Senior Technical Analyst, StockCharts.com
Author, Stock Charts for Dummies
Want to read more from Greg? Be sure to follow his two StockCharts blogs:
Commodities Countdown and The Canadian Technician