This (DAILY) Relative Rotation Graph shows the rotation of the Health Care stocks against their XLV benchmark.
One stock really stands out because of its wide rotation.
ALGN crossed over into the leading quadrant, from improving, last May and sharply moved higher on the price chart since then while building up a solid uptrend in relative strength.
---
This push higher lasted until roughly mid-June when price and RS peaked roughly at the same time. On the Relative Rotation Graph, the tail of ALGN rolled over and started moving at an RRG-heading between 90-270 degrees after the first week of June.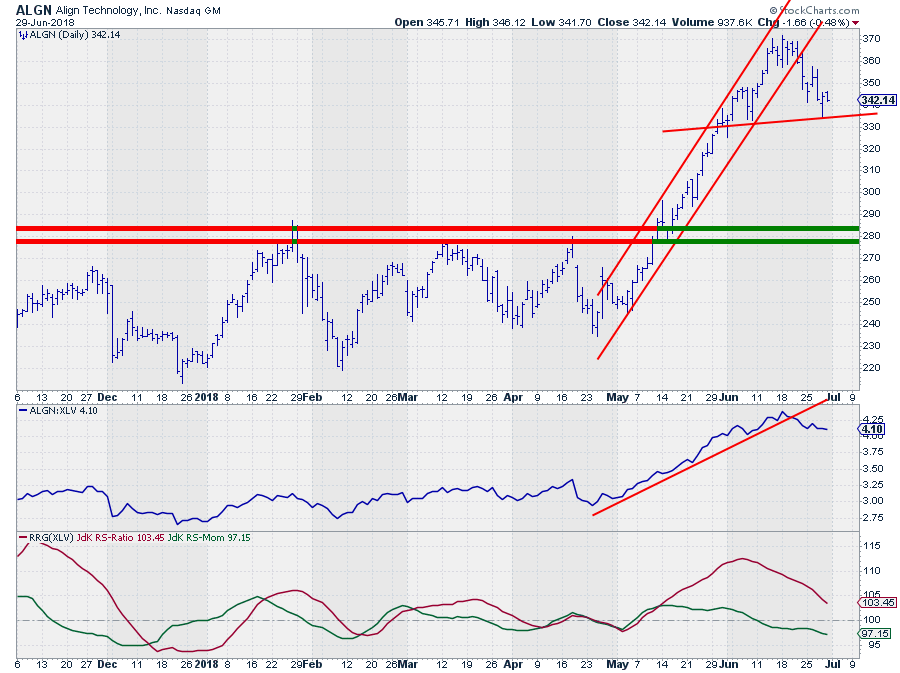 On the 21st and 22nd of June ALGN broke its rising support line on the price chart as well as on the Relative Strength chart and dropped to its recent low near $ 334 where intermediate support seems to be developing.
From a relative perspective, ALGN looks to be entering a period of underperformance on the daily time-frame.
NOTE: On the WEEKLY RRG, ALGN is still pushing higher on both axes so keep in mind that the current weakness on the daily RRG could be only a temporary setback from a weekly perspective.
Looking at the price chart a word of caution seems to make sense as a break below $ 334 looks to be the catalyst for a drop back towards the former breakout level near $ 280 where new buying opportunities could pop-up if weekly relative strength holds up.
For swing-traders, this is certainly a price move to keep an eye on.
Let me know what you think of this usage of RRG in the comments? If you want to receive a notification when a new article in the RRG blog is published? Simply "Subscribe" and leave your E-mail address.
Julius de Kempenaer | RRG Research
RRG, Relative Rotation Graphs, JdK RS-Ratio, and JdK RS-Momentum are registered TradeMarks ®; of RRG Research
Follow RRG Research on social media:
If you want to discuss RRG with me on SCAN, please use my handle Julius_RRG so that I will get a notification.