BP has been moving nicely to the upside for the last few years. This week the stock has touched an important level of support. The real question is what happens now?
First of all, all our indicators are pointed sown so we don't need to rush in to buy this dip. Everything seems to be getting weaker. What I am more concerned with is the PPO (momentum) has broken a long uptrend on this weekly chart. That would encourage me to give the stock time to make a better base rather than trying to buy it at this level.
The full stochastics is already oversold which is usually a nice place to look for a new entry but it has not started to cross its signal line even though it is below 20. This also suggests waiting for the price to start to improve to give us a better entry. Downward momentum needs to slow before the price can start to turn up.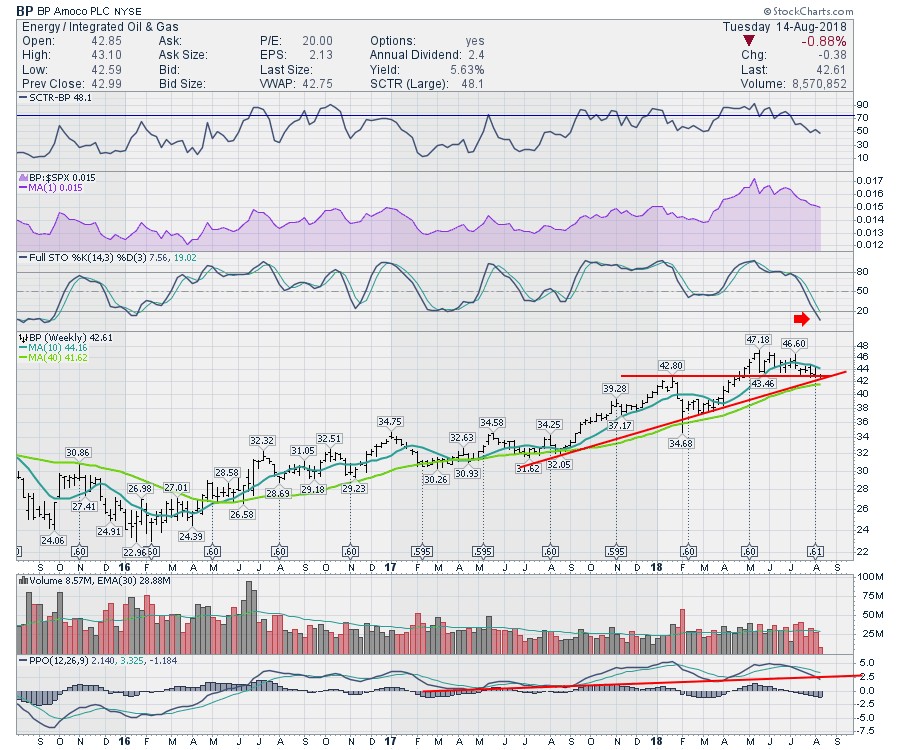 Based on the presentation I did at ChartCon 2018, this stock probably needs more time to establish a proper setup. Perhaps with the PPO down around the zero level, we can revisit the stock or check in when a Full Stochastics signal has fired to start the countdown in a proper setup.
---
Here are a few videos that are available if you are looking for some wider views of the current markets including commodities, currencies and the indexes.
The Commodities Countdown video walks through the commodities set up right now.
---
The Final Bar show from Thursday is posted here for your convenience.
---
Below is the recording of the most recent Canadian Technician Video. This video shows some great examples of how breadth breaks down before the markets weaken.
---
Don't forget Chartcon 2018. You can still get access to watch all the presenters and the question period.
If you are missing intermarket signals in the market, follow me on Twitter and check out my Vimeo Channel often. Bookmark it for easy access!
Good trading,
Greg Schnell, CMT, MFTA
Senior Technical Analyst, StockCharts.com
Author, Stock Charts for Dummies
Want to read more from Greg? Be sure to follow his two StockCharts blogs:
Commodities Countdown and The Canadian Technician