United Technologies is a member of the Dow Jones Industrial Average. While this is a high profile group of stocks, the other stocks are commonly stealing the spotlight. This week, United Technologies (UTX) pushed the penthouse button to break above the trading range.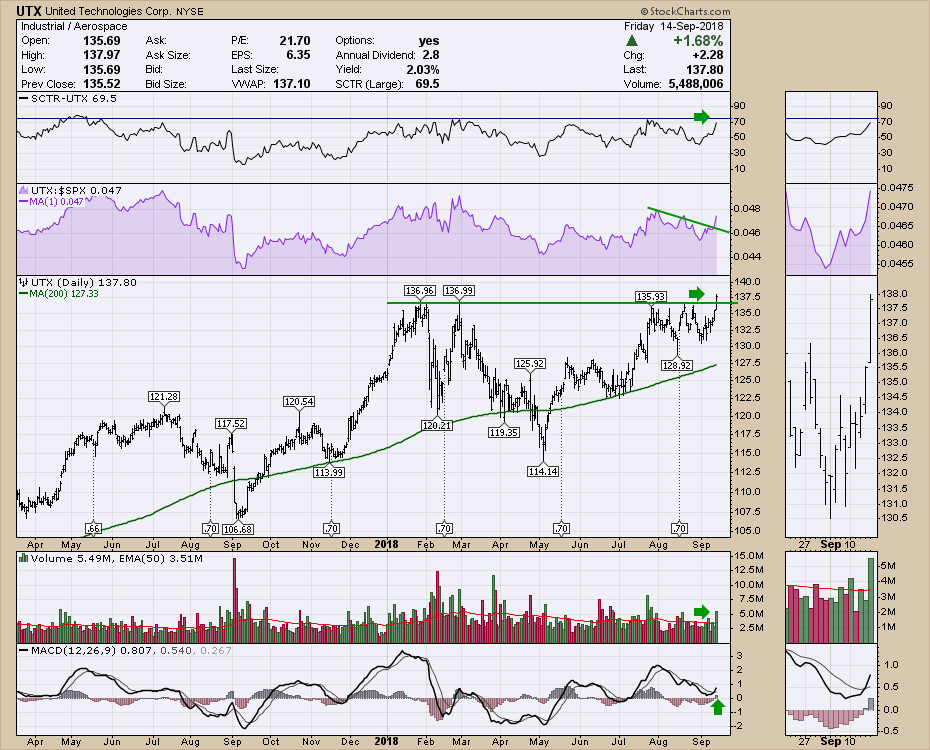 ---
The chart features a few nice technical points.
When a stock has an SCTR oscillating between 25 and 75, it is just an average stock. In this case, UTX is guilty of that, with similar price profile to the $SPX. That's not bad, but we are trying to buy outperformance not average performance. So while I do not like the SCTR setup yet, all of the other indicators suggest this move is just getting started.
The Relative Strength shown in purple, has a series of rising lows since May. This ratio also broke a small downtrend on Friday to start a new move in Relative Strength. Should the RS break above the August high this would extend an important trend. First, the stock made new three month highs in RS mid July. That is usually a good starting place. A move to six month highs in RS would probably attract a lot more attention from momentum investors.
The price consolidated nicely just below the previous highs since mid July. This is akin to setting up at the Everest base camp before planning the final ascent. Breakouts from this consolidation suggest renewed enthusiasm. The volume surge was also nice to see as it was 150% of the average volume level. Lastly, the momentum on the MACD settling back and turning up just above zero is really encouraging. A stop around the $132 level would suggest this was a false breakout, but it looks well set up for a continued move to new highs.
---
The Canadian Technician. This week the Canadian market teeters on the edge of a major breakdown. It would be great if buyers step in here at the 200 daily moving average to keep it from accelerating lower.
---
Here is the Commodities countdown video for the week.
The Final Bar. This week I reviewed a strategy for managing parabolic moves. Our latest area is the Gram-ma industry. The grams of marijuana grown have been rising parabolically as well.
---
If you are missing intermarket signals in the market, follow me on Twitter and check out my Vimeo Channel often. Bookmark it for easy access!
Good trading,
Greg Schnell, CMT, MFTA
Senior Technical Analyst, StockCharts.com
Author, Stock Charts for Dummies
Want to read more from Greg? Be sure to follow his two StockCharts blogs:
Commodities Countdown and The Canadian Technician